The Carpet Weaver: Love and art in a restless world
Nemat Sadat's novel is "subversive" because it is a story of same-sex love, the first such to emerge from Afghanistan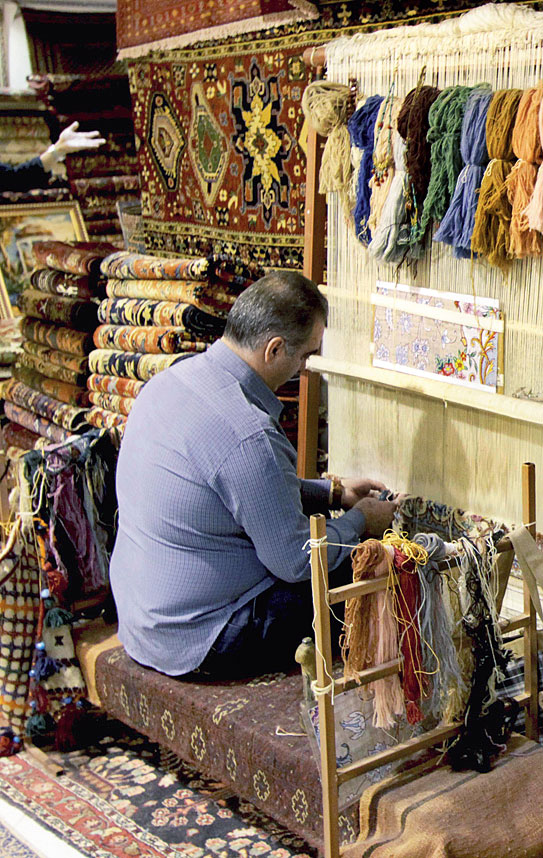 ---
Published 10.01.20, 09:25 AM
|
---
In an open letter written on his visit to India to launch his first novel, The Carpet Weaver, in 2019 Nemat Sadat wrote: "By allowing the voices of queer campaigners fighting for equal rights to be heard and letting subversive literature like mine be published, India has demonstrated that it is honouring its commitment to democratic principles and ideals." Sadat's novel is "subversive" because it is a story of same-sex love, the first such to emerge from Afghanistan. He calls India "home" in the letter, celebrating the fact that it was an Indian agent who seized upon his manuscript after 450 rejections from British and American agents. That he held on is an expression of the spirit that makes Sadat refuse to accept victimhood in what he calls the meta structure that is rigged against the aspirations of an ambitious gay Afghan refugee (in America) from Duranni Pashtun and Sunni Muslim tradition to live a fulfilling life.
Kanishka Nurzada, the first-person hero of The Carpet Weaver, embodies his creator's painful struggle to overcome the hurdles to 'be himself' in a culture that almost goes out of its way to condemn homosexuality. He never has any doubt about his own preference, and he detects, as a sharp-eyed 16-year-old who longs for sexual love and affirmation, covert revelations of same-sex attraction among adults leading apparently fulfilling heterosexual lives. For Kanishka, the situation is made even more painful by the fact that his family is loving and liberal — his Sunni father having married his Shia mother against his family's wishes — enjoying prestige and prosperity in the free-mixing, cosmopolitan Kabul that preceded the Saur Revolution of 1978. Yet even here same-sex love is prohibited and threatened with violence, in spite of which the love of Kanishka and Maihan, one of the two closest of Kanishka's school friends, blossoms in deadly secret, and is portrayed with sensitiveness, conviction, and a striking lack of sentimentality that enhances its power. In terms of space, the relationship takes up only a fraction of the novel, which is the first part located in Afghanistan, yet The Carpet Weaver is as much a love story as it is the story of Kanishka's search for a fulfilling life as a gay man and an artist.
Creativity is the other theme of the novel. It emerges almost inconspicuously from the fact that Kanishka's father runs a flourishing carpet shop, Marco Polo Rugs, close to the open-air market in the Mandawi district. Sadat's descriptions convey the rich allure of the market as well as the plush variety of the carpets in the shop. Although Kanishka has no wish to continue the family business he dreams of being a designer, creating unusual shapes and figures in his little exercise book since the time he was a child. But here, too, he receives a rude shock when his father, whom he loves and admires, tears up his drawings and insists that he should be a philosopher or a scientist, not a servant to the rich. Yet in the second part of the novel, where Sadat's flair for description unveils the horrors of the refugee camp on the border of Pakistan where Kanishka has ended up with his mother and sister in their desperate bid to escape an Afghanistan ruined by violence and disorder, it is Kanishka's art that rescues them from the ire of Tor Gul, the cruel boss of the camp, and gives them some respite from hopeless misery.
But Kanishka's story would lose much of its power without the background of Afghanistan's changing political destiny. Sadat weaves the course of the main characters' lives deftly, almost inconspicuously, into the country's history. The only direct contact that Kanishka has with politics is through his father, whose 'love story with China', where he had gone to study, not only resulted in the unusual name for his carpet shop but also developed into a form of Maoist politics outlawed in Afghanistan in 1969. Once imprisoned soon after his marriage, Kanishka's father had continued with his politics against his wife's wishes and knowledge, letting only his son into the secret. His fate is the trigger for the change in his family's fortunes.
Perhaps the first-person narrative becomes a little limiting when Kanishka is in the refugee camp in Pakistan, because there Sadat is engaged in revealing the numerous forms of exploitation and barbarity that continue unchecked in the grey areas on our maps. The scene where a group of refugees is about to be taken away because they have been sold off by Tor Gul is almost unbearable, but Kanishka's fruitless intervention in it seems contrived. What is far more realistic, and painfully honest, is his complicated relationship with Tor Gul although, once again, the plot to escape and its outcome are less convincing.
What is most disappointing, however, is the third section of the novel, when Kanishka and his family have gained political asylum in America and are among friends who escaped earlier. Kanishka's response to American peace and plenty does not ring true to the articulate personality that Sadat has built with such care. He may be reflecting his creator's ambivalent response to the country he now lives in, some of which Sadat describes in his open letter. There is an indefinable sense of loss, of unpleasant surprise at the ways in which old friends are trying to merge into the new culture, a feeling of rejection that spills out of the novel's emotional structure and is left hanging. Maybe a neat closure would not have done for Kanishka, forever seeking to be himself, or for his creator. 
The Carpet Weaver By Nemat Sadat, Viking, Rs 599