Pedalling tales from the past and present
'The Bicycle Diaries' documents India's rich cycling history and the journeys of 12 Indian cyclists' global cycling expeditions between 1923 and 1942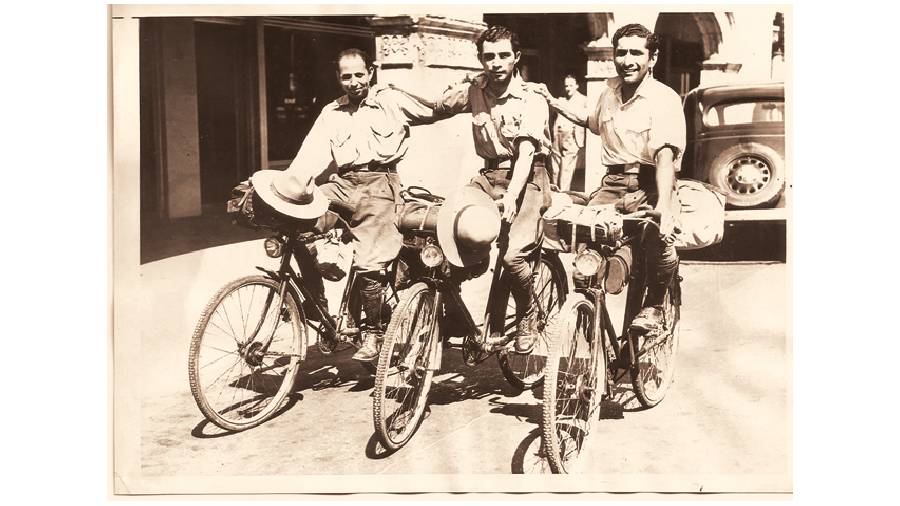 ---
---
Anoop Babani and Savia Viegas are a couple in their sixties who moved to Goa in 2005 and subsequently discovered their shared passion for cycling. What makes this avid cyclist couple's story unique is the extent of their efforts to keep alive their love for cycling and their numerous contributions to this blazing community interest. From organising photo exhibitions on global Indian cyclists and hosting a one-of-its-kind film festival showcasing films based on the theme of cycling to now publishing a new book, The Bicycle Diaries, released this year that documents India's rich cycling history and the journeys of 12 Indian cyclists' global cycling expeditions between 1923 and 1942, they have done it all.
Bicycle, the eco-friendly two-wheeler, has been a part of the European lifestyle and sports culture. It was a popular mode of transport for the urban Indian living in cities during the mid-19th century. However, over the years, with the drastic domination of automobiles in the private transport scenario in India, bicycles were disparaged back into the garage or in the spandrel below the stairs. It began to haze from India's glorious sports history too. However, the growing consciousness for a sustainable lifestyle and the restrictions of the pandemic lockdown brought the bicycles back on the streets for most Indians, only recently. And Anoop and Savia's book seems even more relevant in the context of India's rediscovered passion for cycling. As they take us on a rare historical journey through their book The Bicycle Diaries, we discover how the two-wheeler is phenomenally back as a lifestyle trend at present.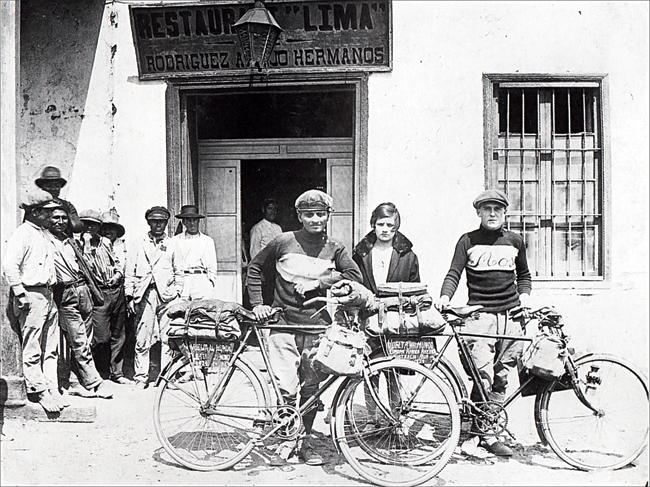 The Book's Genesis
"We came to cycling in our sixties inspired by some neighbourly encounters. In 2016, I fell off my bike, badly injuring my rib cage. Barred from cycling for weeks, I chose to read about it. It is at this time that I came to know about these expeditions,'' quips Anoop. For two years the couple spent time collecting archival pictures of these journeys from the families of the cyclists. Subsequently, they organised two photography exhibitions in 2018 and 2019 in Goa and Mumbai. "It was the overwhelming response to these exhibitions and the push from the audiences that inspired us to chronicle these journeys," added Savia.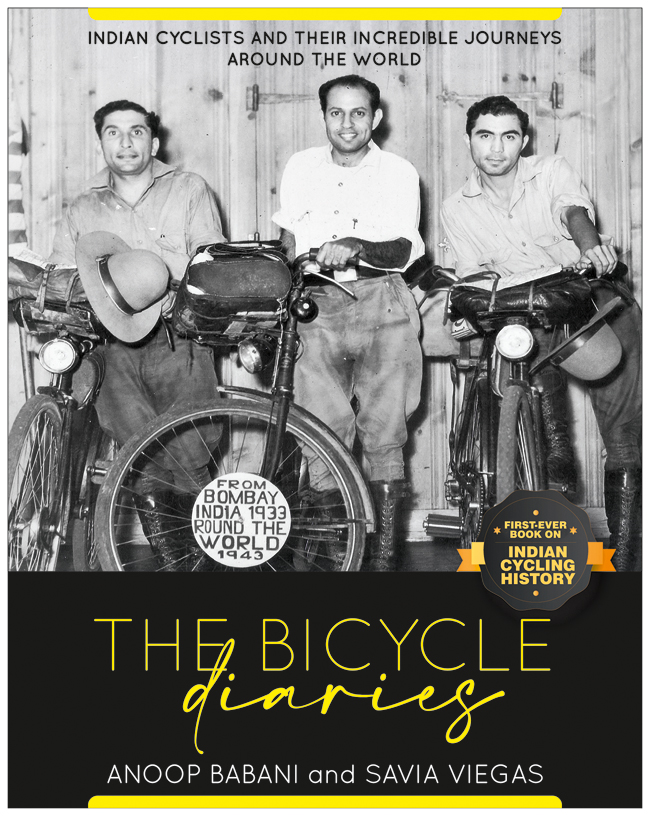 The Research
Anoop and Savia present their 160-page book in a coffee-table format consisting 140 rare archival black-and-white photographs along with the travel accounts. "Out of the 12 Indian cyclists who undertook the journey, eight of them succeeded. All of them were Parsees from Mumbai and in their early-to-late-20s. These rides were lucidly recorded, penned and pictured by them. They pedalled through Europe devastated by two World Wars, Great Depression in America, civil wars and peoples' revolutions in Asia, and abject poverty and homelessness in Africa...," said the co-authors.
Scouting for archival materials that were over a century old was a Herculean task. "The families were not only scattered in India but all over the world. Apart from the pictures, we managed to access the rare copies of their books and booklets published in the 1930s, their personal diaries, travel and signature books. The families have preserved all this archival material and also narrated stories about their fathers, grandfathers or grand-uncles, as the case may be," shared Anoop.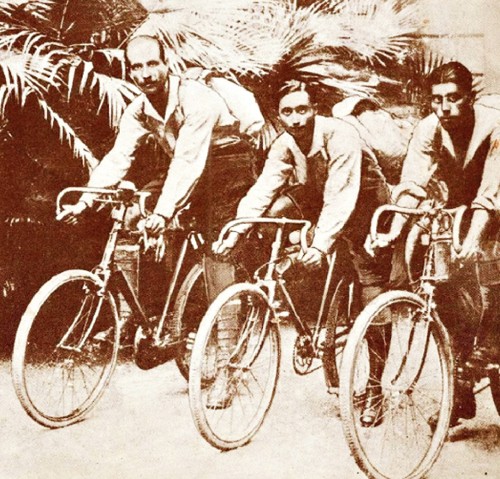 Journey and Publication
The book was a journey of five years sprinkled with numerous interesting encounters and discoveries for the authors before it finally took shape. Anoop specifically recalls meeting and cycling with Alexi Grewal (the only American to win an Olympic Gold Medal for the USA in Long-distance Cycling, Los Angeles Olympics, 1984) and discovering an invaluable signature book of those times preserved by the cyclist.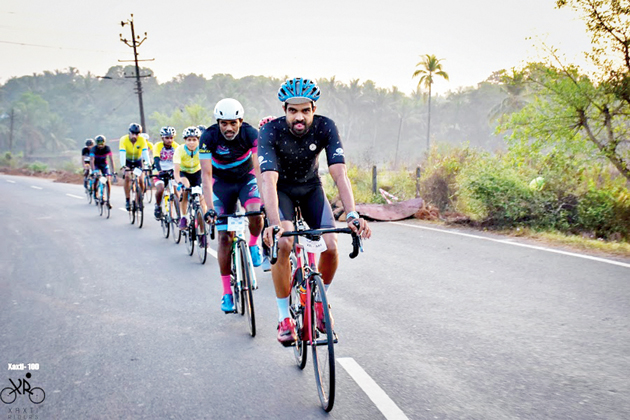 Both Anoop and Savia are active members of Xaxti Riders, a cycling club in South Goa parented by architect couple Binota and Sameer Nadkarni that operates out of Margo and conducts various cycling events. It was with their extensive help that the book could be crowd-funded and later released by Belinda Viegas-Mueller, a psychotherapist by profession and a record-holding cyclist mentioned in the Limca Book of Records for being the only Indian woman to have finished the 1,200km cycling brevet, three times in a single year. "My husband and I used to trek a lot but since he developed altitude sickness, we shifted to cycling. We had absolutely no professional training. Today we would have done things differently. We knew nothing about the diet. Each ride became training for the next. When we started cycling we hardly saw any other cyclists. Now, it is like a wildfire. It is absolutely phenomenal to see the number of cyclists today. Cycling gives me a sense of freedom. I see so many young people with depression, it is becoming like an epidemic. Cycling is good for the body, mind and soul. It is the best antidepressant," says Belinda, a resident of Goa.
Cycling as a Mainstream Sport
Savia feels cycling is reinstating itself in recent years. "Mainstream sports in India is still dominated largely by team-based games such as cricket, football, and hockey. Personally, I do not see cycling transcending into mainstream sports anytime soon. Even if it isn't a professional sport as yet, cycling has become extremely popular. Young Indians are taking India-wide and sometimes even worldwide bicycle journeys," says Savia.
Anoop adds that their primary aim for the book "was to record and preserve this small yet significant, unknown chapter of India's sports history. The ultimate message is to recognise these unsung heroes and honour them. For, it is only after cycling that we realised what it takes to undertake these journeys.We wanted to record their heroic cycling journeys for posterity."
The Need of the Hour
Considering the environmental impact due to our lifestyle choices, cycling is no longer just a cherished passion but rather the need of the hour. Cycling in fact should be the way forward to allow the planet to heal. Savia harps on similar thoughts saying, "The future of cycling is surely optimistic as this combination of health and environment is becoming increasingly appealing. And with the ever-rising prices of petrol, commuting to work on cycles is an attractive alternative. We definitely see this graph rising in the years to come, with proactive measures in terms of dedicated cycling lanes and better roads and corporates encouraging cycle-to-work programmes.''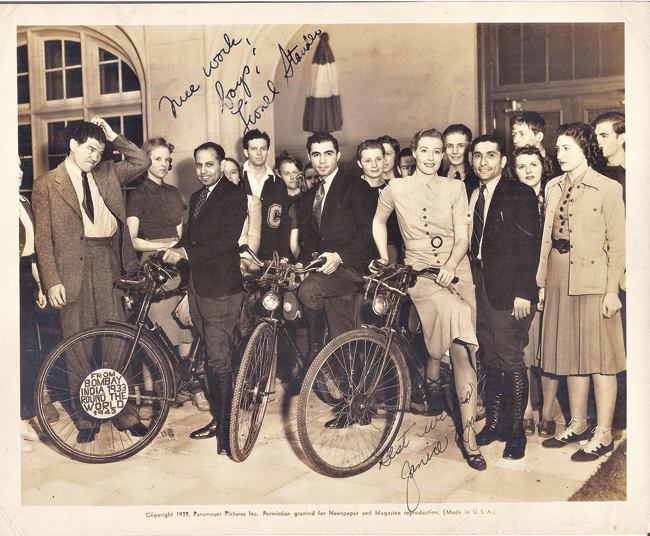 Being an active cyclist, Anoop brings into perspective how the pandemic also contributed in changing the scenario positively to some extent, "Most of the active and regular cyclists in Goa count in the 20-50 age group. There are a lot of women and couple cyclists too. We have noticed a sharp rise in the number of new cyclists, in the last 18 months or so, during the pandemic. So much so that there is currently a shortage of middle-to-upper range cycles and one needs to book months in advance." Closer home, the extensive cycling tracks found on the expansive roads of Rajarhat vouch for the same.
For Savia and Anoop, their bicycle rides are more of a spiritual experience. Six days a week, the couple ride every morning for three hours at least, cycling 35-40 km on weekdays and 50-plus km on weekends. "Today, at our age, the best expression of love for us is to care primarily for each other's well-being and health. To that end, cycling together has been the best thing that has happened to us," concludes the couple, who are a force to reckon with.
For copies, contact saxttibooks@gmail.com