Ruskin Bond talks about his new book A Song of India and the first love that is never quite forgotten
In the book, he writes about his first love, a girl named Raj, his friend's sister who soon became his badminton opponent and they played plenty of matches, none of the heart!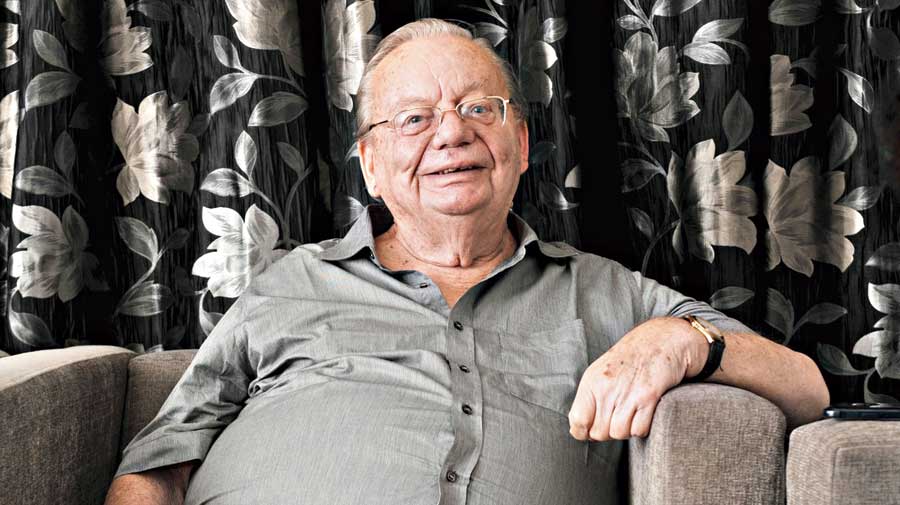 ---
Published 25.07.20, 11:19 PM
|
---
Ruskin Bond is rather saddened that he won't be able to spend this winter in Calcutta at the Tata Steel Kolkata Literary Meet in association with The Telegraph because of the pandemic. "Maybe things will go back to normal, who knows?" he hopes as he gets on a call with t2oS on an evening where it is raining in Calcutta as well as Mussoorie, which he has called home for the longest time.
His new book, A Song of India: The Year I Went Away (Puffin; 128 pp; Rs 250), has just been published, beautifully illustrated by Mihir Joglekar, and the author has been writing a series of stories during this lockdown.
It didn't affect him much, the lockdown, he tells us. "There are fewer tourists and that's why I have written so much I think! I have no disturbances or no one banging on the door, wanting to take up my time! I haven't been anywhere in the last three-four months but I am quite happy because I am surrounded by books," he adds. A Song of India talks about the year that Bond spent with his family in Dehra before taking off for England to begin his journey as a writer. Badminton, running away from home and falling in love happens to Bond in that one year that he encapsulates true Bond-style, in this book for children.
A lot of people are now keen to use this sort of downtime to hone their writing skills and become a writer. We may not know how many of those novellas, stories and novels would see the light of the day but we thought of asking Bond for some advice. "There have been writers coming up in the last few years and I know because I so often meet young people telling me how keen they are to write and get published. That wasn't the case 50-60 years back. This is exactly why I have done a book called How To Be A Writer! I get so many enquires from young, would-be writers that I thought let me put it all down. It is meant for young people and I finished it right before the lockdown happened."
News consumption on TV forms a major part of the day for the author, who turned 86 this May. Is the current political situation around the world a cause of stress or has the world seen worse, we ask. "World has gone through so much, even in my lifetime, we have gone through a couple of wars. Now they are afraid to go to war because that could be the war to end all wars. Nations have got to try and get on with each other. There are some very strange leaders in strange countries," he laughs and says without wanting to name anyone.
The eternal optimist that he is, he is not daunted by the concept of death that seems to have been a recurring thought in most people's minds at the face of this pandemic. "Being in my 80s, I have been thinking about death for a while now." However, youngsters shouldn't think too much about it, he advises, as he chooses to focus on the fact that the death rate of the disease is quite low. It is perhaps this resilience of spirit and mind fuelled with positivity that helped make Bond the legend that he is.
The humble author, however, hardly wonders about his legacy. "I can't really look into the future and I can't even be certain that I would even have a legacy. So many writers are forgotten. Sometimes even good writers. And sometimes, writers we don't expect to be remembered, continue to have a sense of existence. I have mostly written to please myself and the few who enjoy my writing. If people continue to read my books in the years to come, that's fine. And if they don't, that's fine too. It's not really in our hands!"
In A Song of India, Bond writes about his first love, a girl named Raj, his friend's sister who soon became his badminton opponent and they played plenty of matches, none of the heart! "She was a supergirl. I don't think I ever managed to beat her at badminton. After I left for England, we lost touch. She got married. Certainly in that year, before I went away, she brightened up my life. She was always a bright spark," the author reminisces about his first love. The relationship shared between the two is so poignant, even in a children's book, that a child is bound to feel and resonate with the emotions in their entirety.
However, the author never sets out to write a story for a particular audience. It is only later that the story shapes into something that might interest children. "Writing for children means you got to tell a good story and get their attention right away. Not too much padding and descriptions and also keep off the sex and all that. I don't feel the need to get into such details honestly, as post-modernists do. The main thing is to tell a good story with real people. At the end of the day, I think I am just a storyteller."
One can't help but be reminded of Bond's poem A Story of Lost Friends when he recounts the tales from his childhood, filled with bright people who add colour to his imagination and life. He is a famous man now, and the world knows of Ruskin Bond but how many of these old friendships still remain in his life, we wonder.
"One or two, yes! I mean it's 1951, a lot of people in the story who were my age or older, would have passed on. Bhim is still around, the boy I went and stayed with when I ran away from home. He lives in Delhi and went into business. He did quite well and he came up here a few years back and I met him. But Raj and her family left Dehradun and got lost in the multitude of India. In those days you couldn't stay in touch as easily as you do now. There were no mobile phones and social media. In those days you couldn't be found and now you can't escape actually!"
His dedication and love for writing shine through every day as he dedicatedly sits and pens a few pages religiously. Does our grand old man never have a lazy day, even at 86? "As a writer, I don't want to retire or stop writing. As long as the old cerebellum is still working!" Well, whether he agrees or not, for us, he and his cerebellum are immortal.