Ruskin Bond on being a single draft writer
An evening with Rusty never really gets old and Prabha Khaitan foundation helped us remember that!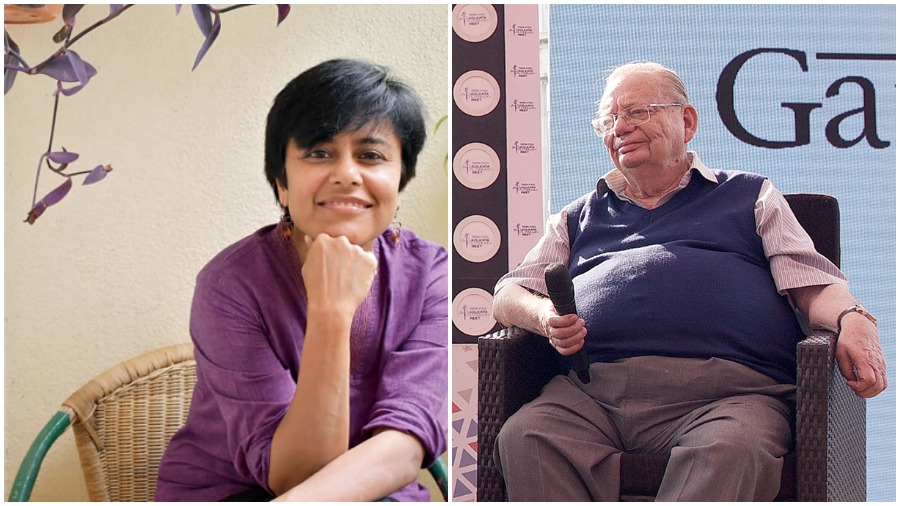 Roopa Pai and Ruskin Bond
---
Published 03.06.21, 04:45 AM
|
---
Prabha Khaitan Foundation, which aims to elevate cultural and literary experiences around the world through its various initiatives, hosted a wonderful session online on May 29, in association with their wing Ehsaas Women who joined hands to bring the effervescent and forever young grand old man of India, Ruskin Bond, for a live session for their The Write Circle initiative. He was in conversation with Roopa Pai, one of India's best-known children's authors. Lovingly referring to him as the 'Pitamaha' of children's literature, Pai fondly reminisced their previous interaction a decade back on a common stage.
A writing career spanning seven decades with no sign of pausing any time soon, there aren't any words left to describe the stalwart who has been conferred the highest civilian awards that India gives. "There is hardly an English-speaking or English-reading individual who doesn't know Bond's name," smiled and said Pai while introducing the stalwart. "You have said everything about me and there is nothing left for me to say now," said Bond with his most jovial laughter, kicking off the session.
Going as far back as The Room on the Roof, which won Bond the Llewellyn Rhys Prize at the tender age of 17, Pai asked the author to reflect upon his identity as Rusty. "The book took me two years to find a publisher and three different drafts. I haven't worked that hard on a novel since," he said. The novella set him off as a writer but the process wasn't as immediate as it appears in our psyche in hindsight. Two more years passed before he could establish himself as a writer and he expressed his desire to have young authors understand that success indeed doesn't come overnight. Working odd jobs in the Channel Islands while writing this book, the first thing the author did after he received an advance on his first manuscript was to buy a one-way ticket to India.
Such is the heart-warming charm of the author who justifiably occupies a giant space in everyone's heart. "It was after a year of my return that the book finally came out, while I was in Dehradun banging away at my typewriter," he added. It was the serialised publication of this novella that established him in the Indian subcontinent and won him a sequel commission.
The author still regularly receives letters from readers of all ages from all over the country, he revealed as he launched his new book All Time Favourites: For Children (Puffin; Rs 250). It's been five years since he has stopped typing away at a keyboard as is cutely illustrated on the cover of this interesting and illustrated compilation that also has a few new additions along with his all-time favourites. However, that doesn't mean he has moved on to a laptop, but instead, moved backwards towards writing by hand. "I am a lazy writer and I only write a single draft," he laughed and added.
His love for India oozes out from every page that he puts together and he is most mesmerised when he talks about this love. We know that the author is still left to give us many more favourites that he will keep adding to our shelves, enthralling kids.