The old scars remain: Sino-Indian war of 1967
DasGupta makes a convincing case that the Indian victory in 1967 forced a rethink by China that ultimately shaped the subcontinent
Representative image Source
Scanned from the book Watershed 1967
---
Published 04.09.20, 01:48 AM
|
---
Book: Watershed 1967: India's forgotten victory over China
Author: Probal DasGupta,
Publisher: Juggernaut
Price: Rs 599
In May, Indian and Chinese troops clashed in the Galwan Valley in the Himalayas. More than 20 soldiers may have died in the brutal hand-to-hand fighting, which was the first deadly clash between the two nations in over half a century. Considering the tense relationship between India and China over the past seven decades, perhaps the surprise is not that there was a battle this year but that it has been so long since the last one. In Watershed 1967, Probal DasGupta explains why this might be, combining astute political analysis with a gripping military history. He turns away from the well-known 1962 war between India and China, which ended with an effective defeat for India, and argues that a much less commemorated event five years later — the clashes at Nathu La and Cho La on the border between China and Sikkim — were central to India regaining control in those dangerous border areas.
In the summer of 1967, during China's Cultural Revolution, tensions rose between India and China as the Red Guards of Chairman Mao besieged the Indian embassy in Beijing. In August, Chinese troops attempted to set up installations at Nathu La, just across the Chinese border within the territory of Sikkim. By September, tensions had escalated and on September 11, Indian troops were met by Chinese machine-gun fire (the Chinese People's Liberation Army claimed that it had been attacked first.) Over the next few days, Indian troops were able to destroy the installations until an uneasy ceasefire was declared. In early October, Chinese troops made a similar attempt at nearby Cho La, but were again beaten back. 
DasGupta not only gives us a compelling portrait of the Indian officers who led the resistance to China but also offers pen-portraits of figures often left out of such histories — the enlisted soldiers. He tells the story of young men, almost boys, such as the Nepali boy who had grown up on tales of how men from his village had taken part in the legendary exploits of the Gurkhas during the Second World War. The prose is full of clipped emotion describing how it must have felt when the bullets started to fly.  "The guns roared louder and the gunfire picked out more Indians in the open," DasGupta tells us, adding starkly: "Watching [their friends'] heads blown apart struck horror among the Indians."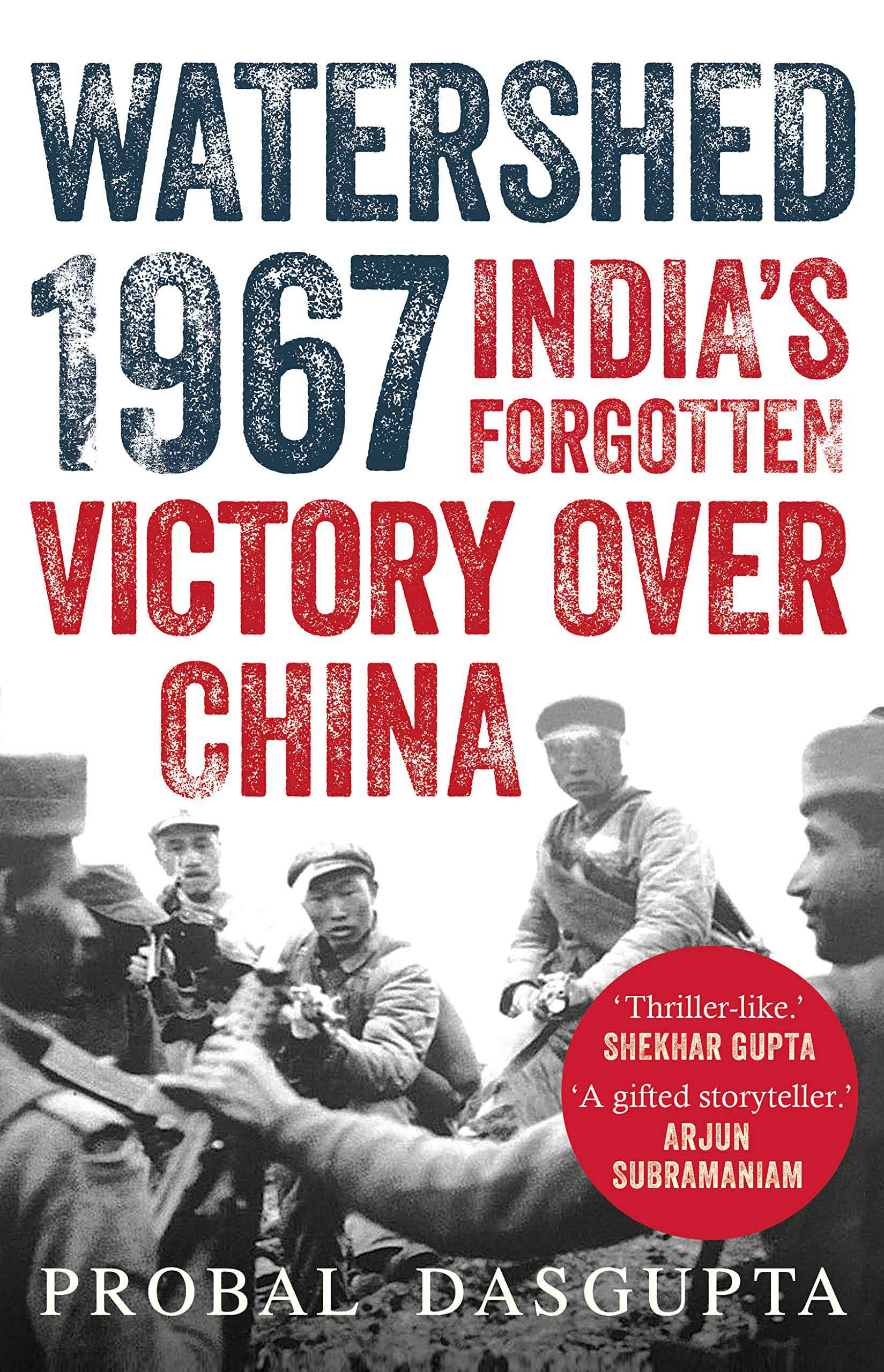 In total some 500 men were killed in the clashes at Nathu La and Cho La. The conflict has been much less remembered than the war of 1962. Yet, as DasGupta shows, memory does remain if one knows where to look. An Indian soldier, Baba Harbhajan, was killed in an accident on the border a year later in 1968. Shortly afterward, he appeared in a dream to one of his superiors, pleading for a memorial to be built to him. Harbhajan was promoted posthumously, and he became a sort of ethereal figure; his regiment made sure his boots were polished for him, and his family received his pay cheque until his 'retirement' some years ago. DasGupta suggests, rather touchingly, that Harbhajan should be seen as a talisman for the Chinese as well as the Indian dead of 1967, all of whom fell in the service of their respective countries.
DasGupta makes a convincing case that the Indian victory in 1967 forced a rethink by China that ultimately shaped the subcontinent. Had India ceded the Sikkim border zone, then the India-Pakistan war of 1971 that led ultimately to the formation of Bangladesh might have gone very differently. Chinese control of the areas around Sikkim would have made it much easier to cut off eastern India, and would have allowed China to give Pakistani forces the cover they needed to subdue East Pakistan.  As it was, India was able to support the formation of Bangladesh and moved to incorporate Sikkim into India in 1975, a move not acknowledged by China until the 2000s.
DasGupta's book concentrates on Indian and Western perspectives. It is much harder to reconstruct the Chinese side of events, although scholars, such as Taylor Fravel of MIT, have done important work in this area. Essentially, Chinese foreign policy had been upended by the Cultural Revolution, which had begun a year earlier in 1966. Even today, archives in Beijing on this period are closed, but we have a strong sense of a country confronting its enemies on various fronts, with simultaneous intensification of hostilities with the USSR and Vietnam as well as with India. By the early 1970s, minds in Beijing were even turning toward the unthinkable: a rapprochement with the United States of America, which would happen with Richard M. Nixon's visit to Beijing in 1972. DasGupta gives a sound account of Chinese motivation, although there are occasional slips, as in a note when the Chinese defence minister, Lin Biao, is identified as Peng Dehuai (who had actually been purged in 1959).
There is a poignant coda. The last words of the book, which must have been finalized last year, are "India and China haven't fought a battle in over fifty years." The clash earlier this year sadly disproved those words. Yet it's notable that both sides have moved fast to calm the situation down. During the past six months, China's increasingly confrontational diplomacy has alienated other countries. Giving India a reason to further build up its security relationship with Japan, Australia or the US would be another unforced error. This fascinating and captivating book will be an excellent guide to comprehend why the scars in the China-India relationship have not yet healed.