Book: The Age of Pandemics (1817-1920): How they shaped India and the world
Author: Chinmay Tumbe,
Publisher: HarperCollins
Price: Rs 599
Chinmay Tumbe's book is a humbling reminder of the fact that there is nothing uniquely pathetic about the present moment even though Covid-19 is being spoken of as an unprecedented tragedy. The book reveals that pandemics have been an inseparable part of human history; what we are experiencing now is far less dramatic than what our predecessors had to endure. Tumbe focuses on the period from 1817 to 1920, which covers the cholera, plague and influenza pandemics that claimed over 17 million lives.
"One of the fundamental laws of mortality in the past century has been that over time, and especially as we get richer, we tend to die in smaller proportions from 'communicable' diseases," writes Tumbe. Readers with a historical bent of mind would find it useful to chew on the curious nuggets of information he has pulled together from accounts of epidemiologists and economists, political treatises, historical tracts, statistical reports and digital archives.
Did you know, for instance, that Indian soldiers serving in Mesopotamia during World War I were reluctant to get themselves inoculated against cholera because of rumours that inoculation would lead to impotence? If this sounds bizarre, you might want to consider that the British physician, James Johnson, who wrote a chapter dedicated to 'Cholera Morbus' in his book in 1813, referred to the dreaded disease as "the orgasm of the stomach and bowels". Around this time, doctors in St Petersburg and Paris were prescribing electric shocks to cure their patients of cholera.
Despite the occasional excursion into humour and shock value, the overall tone of the book is sombre in keeping with the gravitas of the subject the author has chosen to tackle. Tumbe has put considerable effort and care into outlining the scale of devastation caused by pandemics during a historical period that is best remembered for the industrial revolution, colonial rule, globalization and armed conflicts. If you think in numbers, mull over this: the influenza pandemic in India in 1918 claimed more lives than all the battle casualties of World War I.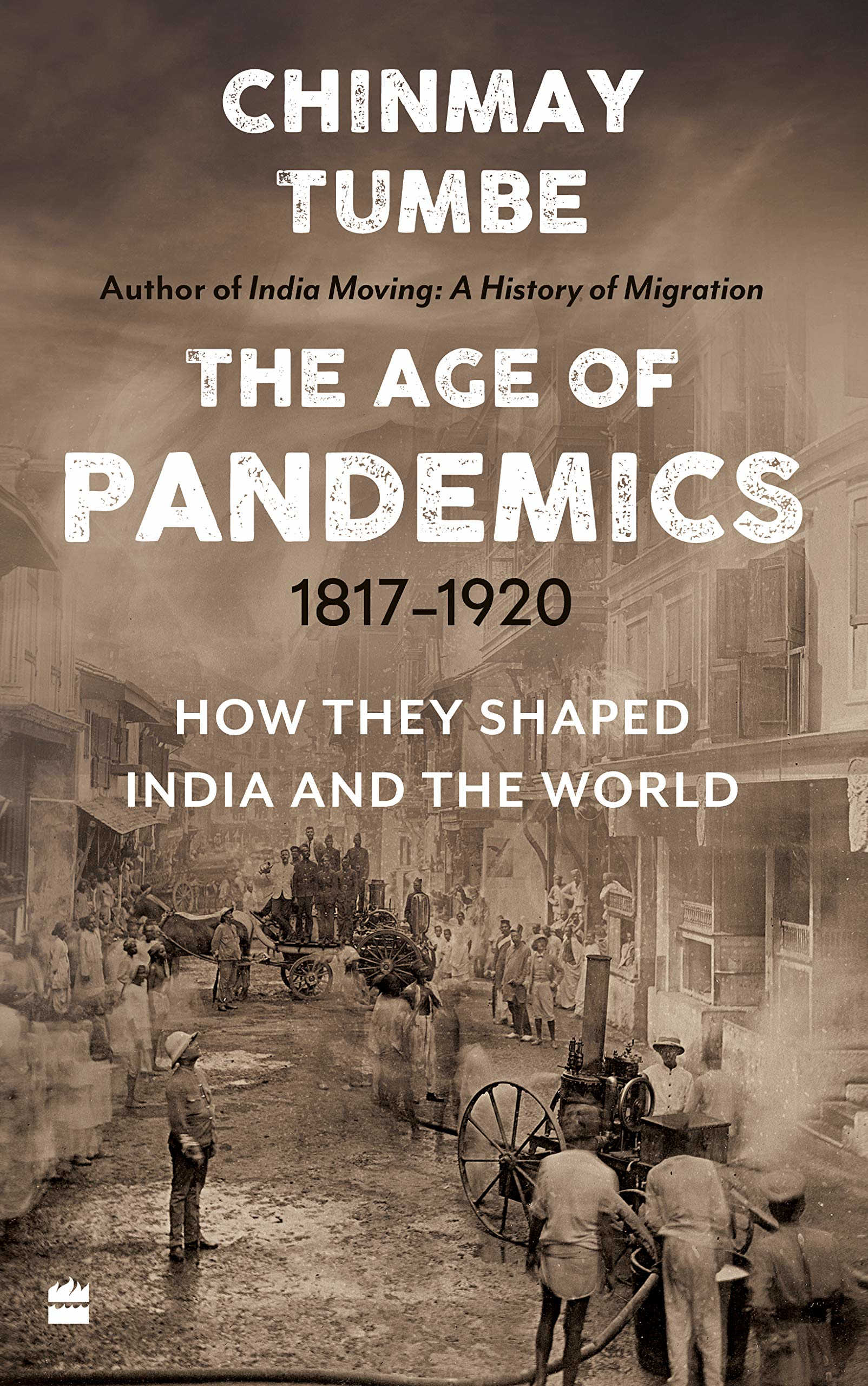 The Age of Pandemics (1817-1920): How they shaped India and the world Author name, by Chinmay Tumbe, HarperCollins, Rs 599 Amazon
Readers who prefer to engage with feeling and anecdote rather than hard data would be struck by Tumbe's wide-ranging literary references, which include Kautilya, Giovanni Boccaccio, Munshi Premchand, Rudyard Kipling, U.R. Ananthamurthy, Albert Camus, Lakshmibai Tilak, Henry Derozio, Suryakant Tripathi 'Nirala', among others. He also notes that the Russian composer, Pyotr Ilyich Tchaikovsky, died of cholera after composing his Sixth Symphony. Apparently, a glass of unboiled water consumed at a restaurant was responsible for bringing the man's life to an end.
Tumbe is not a wry commentator. It is clear that he is invested in the research. The book begins with excerpts from a conversation with his eight-year-old son, Siddhartha, who learnt about influenza from a copy of Tintin and the Picaros and ends with a note commemorating the loss of his friend and colleague, Dr H. Anil Kumar, who worked as a librarian at IIM Ahmedabad. His discussion of how urban planning in Bombay — particularly the creation of new suburbs — was influenced by the pandemics is both rich and fascinating.
Tumbe's work would also be of interest to those who are keen on studying the politics of pandemic curtailment at various moments in history — quarantines and trade embargoes, the tension between minimizing the death toll and maximizing economic growth, the rise of authoritarianism and technologies of surveillance, the targeting of minority groups, curbs on religious freedoms and civil liberties, and the emergence of leadership from civil society.