Behind the scenes
'By Many a Happy Accident' provides substantive details of Hamid Ansari's years after his superannuation from foreign service in November 1999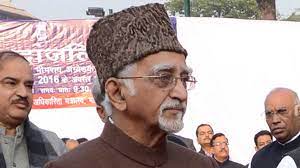 ---
Published 27.08.21, 10:00 AM
|
---
Book: By Many a Happy Accident: Recollections of a Life
Author: M. Hamid Ansari
Publisher: Rupa
Price: Rs 795
Public interest in the 'Calcutta Boy', a moniker this newspaper gave to the former vice-president and retired diplomat, M. Hamid Ansari, while reporting the United Progressive Alliance's decision to nominate him as its candidate for the elections to the vice-president's post in July 2007, enhanced substantially after the unbecoming farewell speech for him by Prime Minister Narendra Modi in August 2017. Till then, while intelligentsia on both sides of the country's ideological divide held divergent opinions on him, for the people, Ansari, like most of his predecessors, remained an unobtrusive occupant of an office that is essentially inconsequential in terms of power and authority.
Prior to Modi's backhanded compliments in the Rajya Sabha, no prime minister had belittled anyone demitting the vice-presidential office that carries little clout but remains a constitutional position. Ansari's tone and tenor in the section relating to departure after a decade-long occupancy of the office in his memoirs was keenly anticipated. Would he limit himself to the expression of hurt articulated in the preface to the 2018 compilation of selected speeches, or would he be more explicit?
Ansari restrained himself despite weighing in on Modi's barbs. The prime minister suggested that because the outgoing vice-president had spent a major part of his diplomatic career in West Asia, he had become inward looking. Furthermore, Modi said that even after retirement (before becoming vice-president), his professional engagements were restricted to issues pertaining to religious minorities. Consequently, he may have found the constitutional position 'restrictive' and post-demitting office, "have [the] freedom to work and talk according to his basic ideology".
Ansari put it on record that Modi virtually made no reference to his tenure as chairman of the upper House and his diplomatic career was "pigeonholed".  He is of the view that the prime minister's "tilt" and reference to "your ideology" could hardly be "attributed to poor staff work". He writes in the book that the "intended message of the seemingly laudatory remarks" were picked up by party officials and publicized in social and mainstream media.
The prime minister's ire fell upon the outgoing vice-president because he articulated concerns regarding rising insecurity among minorities in India. In a public speech and a media interview days before his tenure was to end, Ansari voiced a "sense of unease" among minorities. Ansari, however, does not state this, restricting himself with dignity to the bare narrative of the episode. Ansari lets out a secret in the book that indicates why Modi took offence at the former vice-president's assertions. Barely had Ansari settled into his new position in 2007 that Modi, the then Gujarat chief minister, was an early caller. Pleasantries over, Ansari politely prodded why Modi allowed the "post-Godhra happenings". He retorted that people were unidimensional and that few noted his initiative to promote education for Muslims girls. Asked why not publicize it, Ansari quotes Modi, "that does not suit me politically". Likewise, did it serve a political purpose by lacing his farewell speech with sarcasm?
Ansari joined the profession he made a mark in accidentally — the book gets its title from this — because he switched from physics to humanities in St Xavier's College and, subsequently, took the civil services entrance examination. Similarly, it was an accident that after Partition, when disturbances broke out in Shimla where a 10-year-old Ansari was living as his father was posted there, the family arrived in Delhi and sought refuge in the official residence of the Congress minister, Rafi Ahmed Kidwai. This house where the family camped was eventually converted into the vice-president's official residence. Ansari does not dwell on the poignancy of this accidental coincidence. He, however, mentions an old mosque within its compound that is protected under the Places of Worship Act, 1991. The house is due
for demolition because of the Central Vista project. No information is available if the mosque would
survive.
The family's decision to continue living in India after Partition was no accident. His father wrote back to M.A. Jinnah that he did not "wish to change his country". It was this spirit that became a recurrent theme in Ansari's mind. It was reflected in his advocacy of Maulana Abul Kalam Azad's "successful synthesis of Islam and nationalism" in a lecture he delivered at the invitation of the Iran Research Institute of Philosophy.
The book is a repository of diplomatic vignettes and offers an insider's perspective on diplomatic nuances, Indian concerns, and anecdotal details in places of his postings, including the critical years in the United Nations. In between diplomatic postings abroad were eventful years as the chief of protocol for five years between 1980-85. He worked with two presidents and two prime ministers besides getting his first official introduction with Sonia Gandhi who was drafted in, possibly at her mother-in-law's behest, into a committee to refurbish the public areas of the Rashtrapati Bhavan.
The book provides substantive details of Ansari's years after his superannuation from foreign service in November 1999, ending an association of almost 38 years with the ministry of external affairs. In the years before he became vice-president in 2007, he had tenures in Aligarh Muslim University as its vice-chancellor and in the National Minorities Commission. Besides these, he headed a Working Group on Kashmir. When the UPA government started — with good intentions — working on issues related to minorities and on countering majoritarianism, even though Manmohan Singh found merit in the group's recommendation he "demurred" on implementing it "for political reasons".
The book details why the UPA years were wasted insofar as erecting a bulwark against the Hindutva viewpoint was concerned. Ansari substantiates, by listing incidents, how this government devalued Parliament and its practices. He also details the time when Modi walked to his office in Parliament to ask why bills were not being passed amidst din in the upper House as done in the Lok Sabha. Ansari asserted this was because the treasury benches were in a minority in the Rajya Sabha. Although he could have been more forthcoming on several issues, the book is valuable for those interested in diplomacy, politics and policy-making.