Returning to meet the spirits
We should read this chronicle as a forewarning against the possible horrors of building new detention camps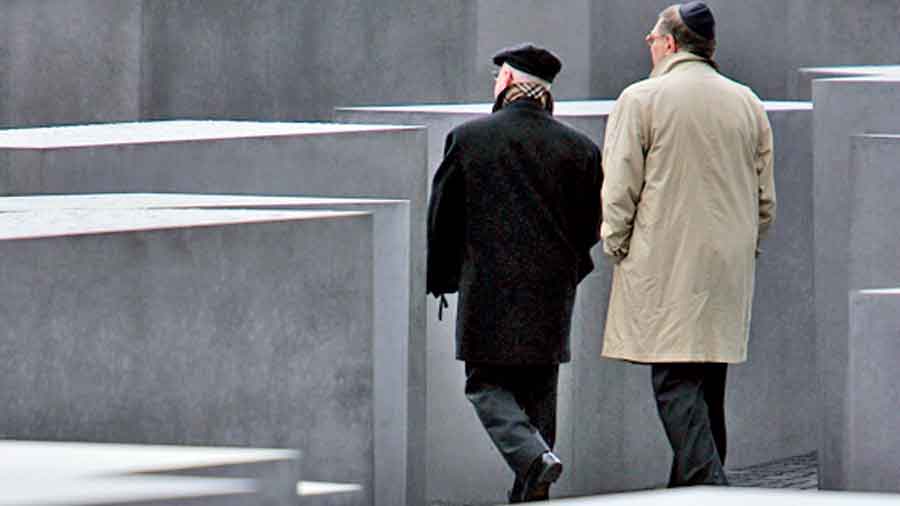 Two visitors walk among the approximately 2,700 stellae of the Holocaust Memorial in Berlin, Germany
Sean Gallup/Getty Images
---
Published 15.04.22, 12:48 AM
|
---
Book name: The Berlin Shadow: Escaping the ghosts of the kindertransport
Author: Jonathan Lichtenstein
Publisher: Scribner
Price: Rs 599
At the age of 12, Hans Lichtenstein had escaped from Berlin on one of the last of the Kindertransport (rescue service for children in Nazi-controlled territories) bound for England. So far as he knew, he was going on a holiday from which he would return to his mother in a couple of weeks. His father had committed suicide and his sister, Toni, had been sent off to Holland, where she would start working on a farm and join the Dutch resistance. Their shop in Berlin had been demolished in November 1938 during the Nazi pogrom known as Kristallnacht (the Night of Broken Glass). He would not see his mother for another eighteen years.
Nearly seventy years after his departure, Hans allows his son, Jonathan, to persuade him to retrace his escape route in reverse with the hope of drawing a truce with the ghosts of his past. Jonathan Lichtenstein's The Berlin Shadow is ostensibly the story of Hans's journey back to Berlin, but it also emerges as an attempt to build a functional relationship between father and son as they negotiate intergenerational trauma. Chapters that describe the journey are interspersed with flashes of Lichtenstein's own memory that help readers piece together something of a family biography.
For the most part, the journey is a success. Hans, who had been reluctant to allow his family access to memories of displacement, responds to objects and sites from his past as he retraces his steps. Lichtenstein's empathetic writing subtly suggests that Hans may never have narrativized his experience, as he seems to discover the existence of certain memories for the first time only when he is about to re-enter the associated space: a flower-shaped bell he had seen at the Harwich railway station, the first point in Britain where he set foot, or the Baumkuchen, a multi-layered chocolate cake that he loved as a child.
The Berlin chapters, in particular, present a richly nuanced view of how the past is encountered in different ways through physical spaces. One of their first destinations in the city is the Berlin Jewish Museum, designed by Daniel Libeskind not only to preserve for posterity the horrors of the Holocaust but to also recreate feelings of "confusion, estrangement, anguish" among its visitors. Jonathan's indignation at people wearing bright colours to the museum is dismissed by Hans, who sees in it a comforting reminder that life goes on amidst evil. Like the Museum, the Sachsenhausen concentration camp — although a reclaimed and repurposed site — offers a curated experience, which ends in Jonathan touching a stretcher meant for the incinerators, before regretting his impulse sorely.
Ironically, accessing the sites of personal memory (as opposed to historical), proves more frustrating. At his old apartment, Hans is turned away by a woman in her eighties ("No. We can't let people like you in."). His father's old shop at Number 6 Tauentzienstrasse too is being rebuilt but they sneak in through a gap while the construction crew are on a break. There is some peace, however, at the Weissensee cemetery, where they locate the grave of Hans's father, Walter, and carefully place on it a few stones that Jonathan had carried from Wales. He records some of these moments in his book in grainy photographs that remind one of W.G. Sebald's The Emigrants.
The contrast between the responses of Hans and Jonathan is apparent at every juncture. Perhaps because Hans experienced the events unmediated by the historical knowledge of how things played out, his memory carries a hint of optimism. More importantly, being aware of what he narrowly escaped, he considers himself lucky compared to his sister and countless other witnesses to the Holocaust. He is often bemused — even irritated — with Jonathan (reminiscent of the relationship between Vladek and Art in Spiegelman's Maus), who lies down at the sites and kisses the ground. Although there are potentially poignant parallels between the Holocaust and the images from Jonathan's memory, such as that of Hans burning cockroaches, or his own fear of drowning, he resists direct analogies and leaves them more as suggestive montages. The very technique that he adopts for the narrative, then, becomes a compromise between their world views, a step towards arriving at a shared language.
During their museum visit, Hans recalls his first glimpse of anti-Semitism on the gate of a ferry which said "No Jews allowed on the ferry." "That is how it starts. It starts with signs," he sighs. Although The Berlin Shadow does not rehearse a naïve celebration of the Kindertransport (as several accounts before it did), it is more than a powerful exercise in memory-writing. We should allow it to haunt us through more recent images — perhaps of the three-year old Syrian refugee, Alan Kurdi, whose body had washed up on a Turkish beach in 2015 — and forewarn against the possible horrors of building new detention camps.