R N Kao: India's first and foremost super spy
Kao who was later handpicked to set up R&AW, got his first break in 1955 when he investigated the crash of an Air India plane, the Kashmir Princess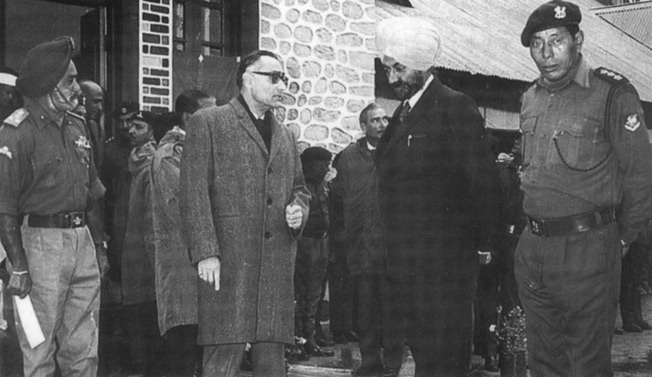 ---
---
The Bandung conference, which RNK was coincidentally attending, gave him the first opportunity to observe international meetings, protocols and false egos at work. As he entered the main plenary hall, RNK was taken to Prime Minister Nehru who briefly instructed him and moved on to meet others.
'This was my first presence at an international meet and I was impressed with the solemnity of the occasion and the gravity which seemed to hang in the air. At that time, China had not widely been accepted as a respectable member of the international comity of nations, and as we (India) were one of the few countries that had established diplomatic relations with China, Prime Minister Nehru had taken upon himself the responsibility of introducing Zhou Enlai on the world scene. Or, at least, so he thought. In later years, I learned that Zhou Enlai had mentioned to some reporter that he had not met anyone as arrogant as Jawaharlal Nehru and in support of his statement, he had said that it was incredibly presumptuous on the part of the Prime Minister of India to have introduced the Prime Minister of China on the world scene. Well, whatever Zhou's ego might have been, the fact of the matter is Nehru did help China to gain recognition in the international field. In fact, in that process, we (India) earned a lot of odium,' Kao observed.
RNK also had a couple of other interesting anecdotes to share from his first international conference. 'I have a distinct recollection that Mr Mohammed Ali of Bogra, who was the then Prime Minister of Pakistan, was also there. He had brought along with him his wife, and as the proceedings started, I realised that Mr Mohammed Ali seemed more intent on teaching his wife how to use a cine camera to cover the proceedings, rather than to take part in it,' Kao remarked.
He also observed the egoistical behaviour of President Gamal Abdel Nasser of Egypt, who had hitched a ride on the Indian plane with Prime Minister Nehru to and from Bandung. 'It was interesting how unconsciously—although, I do not know whether it was unconscious—I got the impression that President Nasser was keen to give the impression that he, as a political figure, was at least as tall as Jawaharlal Nehru. Nehru himself being much older than Nasser tended to take him under his wing and brought him along in the aircraft. An interesting point of protocol was that normally when VIPs travel by aircraft, when you arrive at the place, the most important VIP first sets out of the aircraft. Similarly, when you are departing, everyone else is supposed to board earlier than the most important VIP. When they were leaving Jakarta for Bandung, Nehru put his hand around Nasser's shoulders and encouraged him to board the plane, but he would not do so, because he was keen on going up the stairs at the last. Finally, they decided to go up together,' Kao noted.
R N. Kao was India's first and foremost super spy. He started his career in the Intelligence Bureau but in 1968 Mrs Indira Gandhi decided that India needed a separate organisation for external intelligence and Kao was handpicked to set it up. That led to the founding of Research & Analysis Wing (R&AW) and Kao – in the best traditions of the secret service – was its low-profile chief of whom only a few photographs exist. Under him, two of R&AW's greatest triumphs during the 1970s were during the Bangladesh War and the Sikkim merger in which it played a key role.
Kao had been marked out as a rising intelligence world superstar right from the start of his career. In the 1950s he was in charge of Prime Minister Jawaharlal Nehru's security for a time. He got his first taste of working outside India after the crash of an Air India plane, the Kashmir Princess. During the investigation he had several meetings with the then Chinese Premier Zhou Enlai who was the intended victim of the Kashmir Princess bomb. An extract from R.N. Kao: Gentleman Spymaster by Nitin Gokhale.
***

As he reached Bandung, RNK was directed to the conference hall where the session was on. K.F. Rustomji, then a Deputy Director in the Intelligence Bureau and in-charge of the prime minister's security detail, immediately took RNK to Prime Minister Nehru. Nehru, at whose insistence RNK was told to join the investigation, had also arranged for RNK to meet the Chinese Premier that very evening. RNK was with Zhou Enlai for over an hour and then retired for the night.
RNK made an interesting observation during his first meeting with Zhou Enlai. 'Though he was wearing one of those boiler suits, it was clear that the material was neither ordinary nor was the cut. In spite of the cloth's colour and rather loose trousers and loose sleeves, all the Chinese leaders at the time sported a look keeping in mind the Mao style. Zhou Enlai was an impressive figure. He had an interpreter all along. He was a Harvard-trained Chinese who spoke English well. Though Mr Zhou Enlai spoke only in Chinese, his knowledge of English was better than he would acknowledge. At this meeting, I was, for the first time, exposed to Chinese green tea and various small eatables like dried lychee and other titbits. What struck me was the formal rectangular arrangement of the sofa and chairs. Opposite to the chairs, there was a table with plenty of ashtrays, with spittoons also provided near each chair. That, I later realised, was a standard Chinese décor.'
During the meeting, Zhou Enlai came quickly to the point and asked RNK to give an up-to-date information about what he had learned from the survivors. Based on what Pathak and Karnik had told him, RNK described the details of the bomb, where it was placed and what effect it had on the plane's engines that led to the crash. As RNK was explaining the sequence of events, he offered to draw a sketch too and took his fountain pen out.
What happened next can be best described in RNK's own words. 'He agreed with this enthusiastically. I took out some paper from my briefcase, which I was carrying, and I had a fountain pen in my pocket. I unscrewed the cap. I did not have much experience of air travel. Before I realised what was happening, I got a lot of ink on my fingers that had leaked out of the fountain pen while flying from Bombay to Singapore, Singapore to Jakarta and Jakarta to Bandung. Hence, I got ink on my fingers and I looked at it and tried to take out some white blank paper from my briefcase to wipe my fingers. Mr Zhou Enlai, without a word, rose from the sofa and left the room. This puzzled me but within a few minutes, he came back accompanied by an attendant who was carrying what looked to me like neatly folded wet towels. As I had never been exposed to Chinese wet towels, I looked at him inquiringly. He motioned that I should wipe my fingers on them. I was most impressed by his courtesy in taking the trouble of getting up, going out of the room and getting those towels for me to wipe my fingers. This was only the first of many polite, generous gestures that Mr Zhou Enlai made during my meetings with him.' RNK remembers Zhou as a man who spoke briefly but to the point. And also, candidly. At one point, he insisted that RNK should not inform the British authorities of anything that was shared with him. Zhou, however, told RNK to proceed to Hong Kong and then visit Canton, where further arrangements would be made for him to meet Zhou.
April 1955 was considered to be a turning point in R. N. Kao's (RNK's) career, when he was assigned a case that gave him a big boost and proved to be, in his own words, an 'important landmark'. The case had international ramifications and took RNK to five different countries and gave him an exposure to different cultures, policing approaches and detective works.
This was his first major assignment abroad—one on which RNK spent 6 months abroad. It presented him the opportunity of seeing new lands and meeting a number of foreign dignitaries, the most distinguished of whom was Zhao Enlai (Chou en-Lai, as spelt in those years), the Chinese Premier. RNK's duty took him to Singapore, Indonesia, the Philippines, Hong Kong and China. In his own words, 'This was my first exposure to South East Asia, which, by all accounts, is a fascinating world in itself. It is so close to us, yet about which general knowledge in India is poor.'
The investigation was about the crash of an Air India aircraft named Kashmir Princess.
There is a back story to the entire incident. Prime Minister Nehru had conceived an Afro-Asia conference to be hosted in Indonesia at Bandung. It was scheduled to be held between 18 and 24 April 1955. The Air India International Super Constellation plane was chartered by the Chinese Government to carry its delegates for the inaugural conference, along with the Premier. Zhou Enlai's adversaries, looking for an opportunity to assassinate him, planted a bomb on the plane during its halt at Hong Kong. The plane crashed in South China Sea. RNK was deputed to represent India in the subsequent investigations.
According to RNK—he put in his own effort at piecing together the sequence of events—the plane took off with 8 crew members and 11 passengers from Hong Kong for Jakarta. About 5 hours after take-off, a muffled explosion was heard. At that time, the aeroplane was flying at about 18,000 feet over the sea. Soon after the explosion, smoke started entering the cabin and fire was detected in the starboard rig behind the third engine. The captain of the aircraft, Captain Jatar, decided to ditch the aeroplane and for this, the prescribed drill was quickly and methodically carried out. The descent was rapid, and its final stage was carried out under extremely difficult circumstances.
The aeroplane fell into the sea, with the starboard hitting the water first and the nose sinking almost immediately. The aircraft was burned and destroyed as a result of the impact and out of the passengers and crew members, only three crew members survived. The survivors were flight navigator Pathak, aircraft mechanical engineer Karnik and co-pilot Dixit. The captain of the aircraft, Captain Jatar, who was one of the most experienced pilots of Air India international, died in his seat and, in fact, when the salvage operations took place later, his body was found in the captain's seat. The very first accounts received also confirmed that the airhostess, Miss Glori Asponson, had acted most heroically. She maintained her calm in that extremely trying conditions and, as was later confirmed after examining the dead body that was recovered, she issued lifebelts to every single passenger as well as member of the crew, before the aircraft actually hit the water.
It was clear, almost from the very beginning, that the aircraft, Kashmir Princess, had been the victim of sabotage. This incident assumed great importance as a number of countries were involved. The aircraft was Indian, but the passengers were all Chinese. It had taken off from Hong Kong and had crashed in Indonesian waters.
R.N. Kao: Gentleman Spymaster by Nitin Gokhale. Excerpted with permission from Bloomsbury