Parmesh Shahani firmly believes that people who have the power to bring change while communicating with a large audience, need to learn the steps to be more inclusive of the queer community and thus, his new book Queeristan: LGBTQ Inclusion in the Indian Workplace (Westland Business; Rs 499) is a corporate guide sprinkled with real-life instances, part memoir-part-travelogue style, for the corporates of the country.
The Massachusetts Institute of Technology-educated entrepreneur and educationist is a man of many talents. A TED speaker, reformer and author, Shahani heads the coveted Godrej India Culture Labs, while also acting as vice president to Godrej Industries Ltd. He reminisces a time after his graduation, his "personal Swades moment" if you will, when Anand Mahindra decided to ask him to join the Mahindra group of companies, with the privilege of choosing his own designation. He has since moved through various other organisations in leading roles, editing magazines and creating conversations about LGBTQ+ rights in the country. Releasing his book in both hard copy and audio book format with Audible India, he wouldn't have had it any other way. "The book is so conversational yaar, listening to it also packs a punch and is equally enjoyable as reading it," said the author who had immense fun recording episodes at his makeshift studio at home.
Coming back to India and putting in efforts to make the corporate space and then the world at large more inclusive, Shahani is on a meaningful journey that is only further accentuated by his fabulous sartorial choices and a positive attitude where the "glass is always half full", he tells us. Excerpts from a phone conversation with the spunky author and change-maker…
If you had to make an elevator for your book to the readers, what would you say?
It's a complete Bollywood-influenced song-and-dance, masaledar book which is also an incredible business manual for why you need to be inclusive and how one can go about it. It's a business book but slightly different because it is also really fun to read. Hema Malini meets Homi Bhabha!
You have very categorically defined who this book is for — basically everyone! But did you have a possible outcome in mind as well from this book?
Essentially, the book is for those who are already in the workplace or on the verge of joining it. Also, think managers, human resources and people who are running these corporates. These decision-makers have so much power to influence... if they read this book and understand the points I was trying to make, we could really shape a great LGBTQ+ inclusive future. This book would also be a great resource for those studying business and will soon join the workforce in important roles. The future of business is being inclusive.
There are 10 chapters in the book meant only for business people but there are 10 more chapters which are meant for everyone because there is a lot of my personal journey in there, terms that one needs to know, the law, history, importance of family setting and for everyone interested in the changing face of India. I have had my LGBTQ friends call me after reading this book saying 'Arrey we didn't know this about ourselves'. But the primary audience was always people who have the power to make change.
How does one initiate a conversation with a boomer uncle in the family who is reluctant to listen, whether you are queer or just ally?
This is why I have peppered my book with real-life instances so that I could bring the conversation down to their level to explain my cause better. This is also why so many of these movies are so important, like Shubh Mangal Zyada Saavdhan where they show how the joke is on the parents for not understanding love is love. Or Ek Ladki Ko Dekha Toh Aisa Laga, where Anil Kapoor sees how his daughter and her love is the most important thing. I have found that older parents understand better when you can show them examples of good behaviour. Role models are important at every level, reel and real. Expect to find stories of people who have transitioned and had their parents re-introduce them at a family gathering proudly as her daughter, who was previously her son, or that of an old mother not understanding the complexity of the situation of her lesbian daughter but came to understand that her happiness is more important than getting her married to a man.
They feel a bit of alienation from the concept so one can't approach them with condescension. One has to be patient with them and build bridges of love. Sharing powerful stories and touching their heart instead of their mind, be it family or corporates, is the only way forward.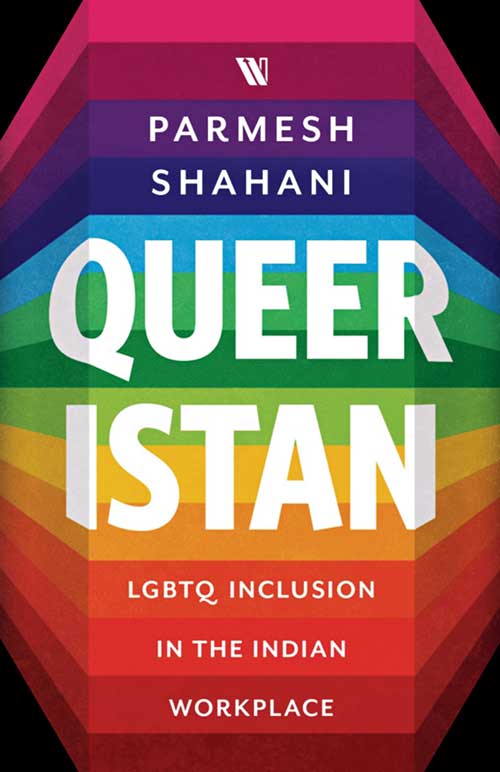 The author describes the book as 'masaledar'. Book cover
In your book, you have quoted from the Harry Potter franchise while J.K. Rowling has been rightly been at the receiving end of social rants after her very controversial remarks admitting to being a TERF (trans-exclusionary radical feminist). So do you believe in disassociating the art from the artist?
From my media and literature studies, I have indeed learnt to believe in work in its entirety, taking out meanings from texts, which the author perhaps never even imagined. I mean, did Ramesh Sippy ever think that Sholay would be read as a gay romance by queer communities? So my position is that the work and what we do as audiences with the work are very separate. As I give an example of the Harry Potter alliance, the universe is being used by queer people in a very positive manner, to inspire young people to become change-makers. So irrespective of what J.K. Rowling said in the past year, that doesn't take away from young people using the text to imagine a more equal world.
Has there been an acceleration of rate of progress for the community post the scrapping of Article 377 in 2018?
I am an unabashed optimist and while I am conscious that the glass is half empty and I would like to make it completely full, I like to celebrate that it's half full. Not just 377 but in the context of the 2014 NALSA judgment (which declared transgender people to be a 'third gender'), gave so much hope. That kind of opened the door and achieved a landmark in what it envisaged for the transgender people of India. Also the 2017 Right to Privacy judgment. So I think the 2018 judgment was on the shoulders of these two judgments. These just helped to unleash the positive energy that so many people had about being inclusive.
Whether it be companies coming out in droves and embracing the inclusive agenda, whether it is state governments like Chattisgarh, Kerala, Tamil Nadu or even Maharashtra which has set up a trans welfare board last month, whether it is politicians on the party lines speaking up for inclusion, or even schools and colleges like Tagore International in Delhi and Tata Institute of Social Sciences in Mumbai, there has been progress. There are so many events happening in Raipur, Chattisgarh, Manipur, Assam, Kerala, all across the country. People only notice the Mumbai pride but there are hundreds and thousands of people marching in the smaller cities as well. So the 377 took away a mental barrier for those who were willing to get involved and be an ally for change.
On the other side, the downside is people assuming that with 377 gone, everything is all right because the truth is everything is not all right. 377 maybe gone but we still have a very problematic transgender act. The spirit of NALSA didn't translate into a holistic trans act. It has to reflect the aspirations and ground realities of our trans citizens. We still don't have anti-discrimination legislation. "Why should I not be able to marry my partner and hang that certificate on the wall? Why should we not be part of the inheritance?" All those things that heterosexual people take for granted in our country, queer people don't have.