Mahatma Gandhi and the art of disobedience
The Disobedient Indian: Towards a Gandhian Philosophy of Dissent asks if society is nurturing the questioning mind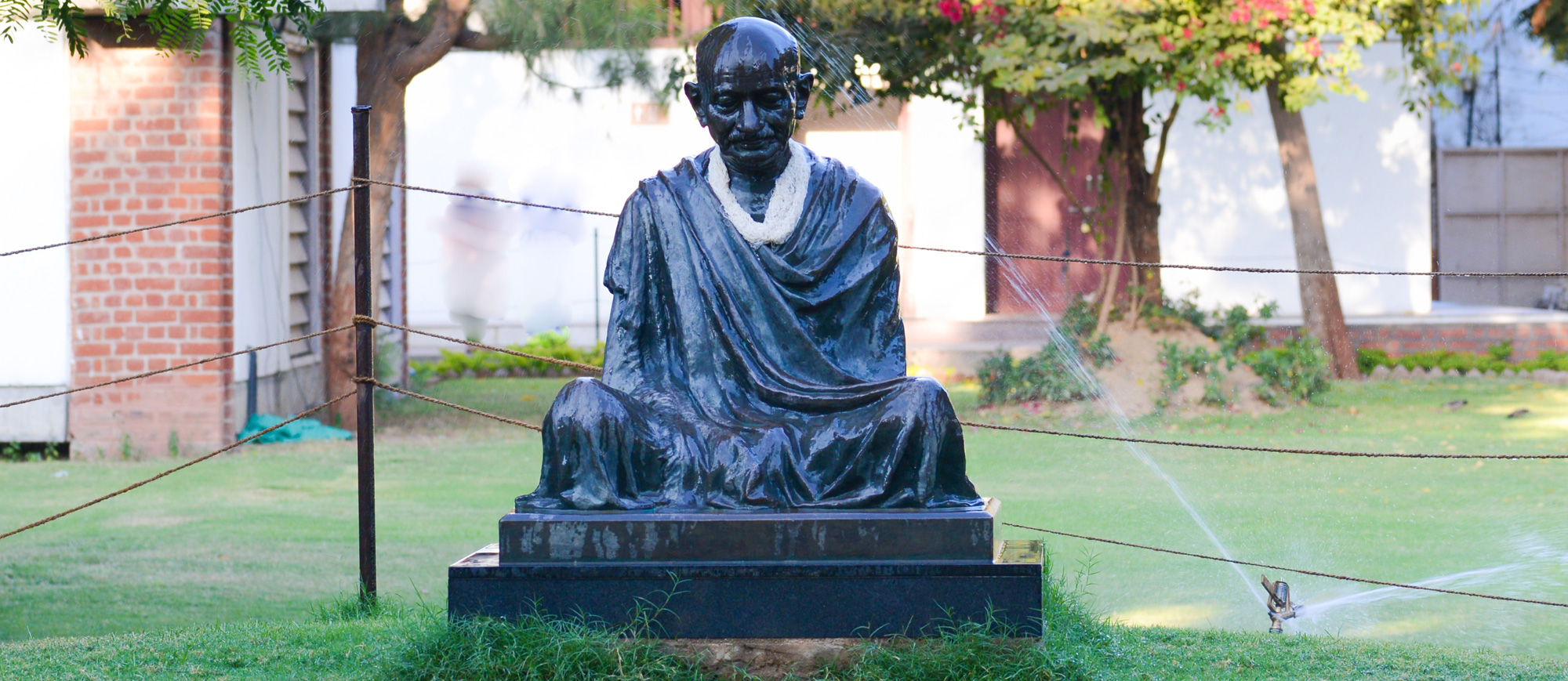 A statue of Mahatma Gandhi on display at Gandhi Ashram
Image: Shutterstock
---
Published 21.02.19, 07:32 PM
|
---
"If India remains a great nation, it is not because of its gurus, politicians, corporate leaders or Bollywood actors, but because it is the birthplace of a disobedient Indian, who gave rise to a new order of values and a new manner of mind."
The disobedient Indian is none other than Mohandas Karamchand Gandhi, who is respected as the moral conscience of mankind in modern civilization. It is over 70 years since Gandhi died, and the world has undergone considerable transformation since his time. Yet Gandhi is increasingly being sought for around the world as a beacon for those who are fighting tyranny, intolerance, injustice and fanatical prejudice. It is the Gandhian philosophy of resistance, albeit peaceful non-violent non-cooperation, which is the greatest weapon in the armoury of the protesters from Nelson Mandela's South Africa to Lech Walesa's Poland, Martin Luther King Jr's America to Gandhi's homeland, India. It is this philosophy of disobedience that is the subject of enquiry in the book under review. Ramin Jahanbegloo, the author, is an acclaimed Iranian philosopher in exile who has learnt from his own experiences the value of "the Gandhian philosophy of dissent".
How do we approach disobedience or dissent in our everyday life? Do we teach our budding citizens to develop the habit of "questioning the reality of the world without necessarily taking it for granted"? In every society, Western or Eastern, modern or traditional, the major thrust of socialization is always to encourage a strong sense of obedience to or conformism with existing social norms, value systems and institutions. Disobedience is hardly encouraged; rather, the disobedient person is punished.
Yet without nurturing the practices of disobedience and questioning, power in any socio-political formation, including a democracy, tends towards authoritarian conformism. Can a democratic society flourish in the absence of disagreement and questioning? Certainly not, says Jahanbegloo, warning against such darkness in today's techno-capitalist world. We live in a socio-political and cultural milieu that is characterized by aggressive consumerism on the one hand and blind and illiberal conformism on the other. Particularly important, the author argues, is how the world of politics seeks to drive the people with narrow, sectarian and irrational passions and idioms that result in the institutionalization of 'un-doubt'. In the process, society is overrun with all kind of lies and propagandist claims, and people become habituated to these without protest or reservation.
For the promotion and survival of a free, democratic society, the practices of disobedience and dissent not only need to be encouraged but protected, too, through the creative role of citizens. If humankind is looking towards a future, it requires convictions and commitments. It also requires Socratic rebels of mind and action, who have the courage to swim against the tide. It is against this background that the author introduces Gandhi as the greatest pathfinder of modern times. Not only as a great thinker-philosopher but as a brilliant activist as well, Gandhi exemplified the beauty of resistance and disobedience against all kinds of power, including British rule in India and South Africa.
The core idea of Gandhi's philosophy of resistance is that it is a crime to extend our obedience to people in power without testing the viability of their authority or actions on moral and ethical grounds. Every individual must have the freedom and courage to question and speak out against authority, including the religious and the political. Citizens or subjects must learn to question and disobey unjust laws and institutions. True swaraj stands for this enduring honest and courageous spirit rather than the mere freedom to form a government through routine elections or freedom from colonial rule. Jahanbegloo says that Gandhi and no other philosopher in modern times tells us this more forcefully and convincingly.
The Gandhian moment of dissent and disobedience is Socratic in nature. The Athenian philosopher represented truth, courage and disobedience, embracing death by standing firmly against his unscrupulous judges. Jahanbegloo concisely discusses the Socratic tradition of free thinking in the history of Western political thought. To arrive at Gandhi's position, he examines and reflects on the ideas of Aristotle, Hannah Arendt, Karl Jaspers, Erich Fromm, Cornelius Castoriadis and many others. In the process, several issues such as freedom, political power, violence, tolerance, religious dogmatism, citizens' right to protest and question have been reviewed and examined. Readers will be immensely benefited by the way the author introduces a rich corpus of philosophical ideas related to the principles of disobedience and resistance as developed and nurtured through ages.
The book has five chapters, with an introductory discourse as well as a thought-provoking Foreword by Ashok Vajpeyi. It is divided in two sections: one dealing with disobedience through the ages, and the other reflecting on Gandhi and disobedience. The author makes a distinction between 'the political' and 'politics'. The political is the space of autonomous action of human beings in a historic context while politics is the space for the struggle for power and authority. In the political space, Gandhian principles of dissent can lead to courage and questioning which can earn freedom, while modern politics is guided by the motive to turn citizens into irrational, unquestioning and servile human beings. The book is especially valuable in our troubled times.
The Disobedient Indian: Towards a Gandhian Philosophy of Dissent, By Ramin Jahanbegloo, Speaking Tiger, Rs 499