Looking into Ayelet Tsabari's 'Art of Leaving'
An engaging conversation with Julie Banerjee Mehta for the Bengal Club Book Club session gives the reader a peek into her life and struggles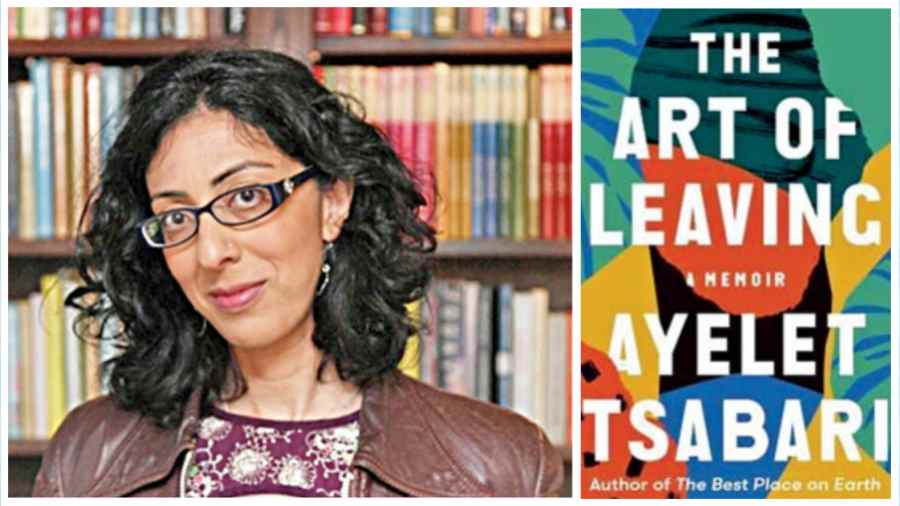 Ayelet Tsabari (left) and the cover page of her book 'The Art of Leaving'.
---
Published 10.08.22, 01:49 AM
|
---
Yemeni-Jewish-Israeli-Canadian writer Ayelet Tsabari who recently released her memoir The Art of Leaving, was in conversation with Julie Banerjee Mehta as part of Bengal Club's Book Club session on August 4. The engaging virtual session on Zoom gave the audience a peek into the life and struggles of the author.
At the age of nine, Tsabari's father passed away, and the memoir begins with his funeral. A sense of disorientation resulted from her loss as she struggled with her identity as an Israeli of Yemeni heritage living in a society that had repressed and undervalued the traditions of her family. Art of Leaving is Tsabari's narrative, which begins when she was a child, and ends when she was drafted into the Israeli military. Travelling the world, she falls in and out of love with different locations, in search of convivial places and people, as well as drugs and alcohol. She refuses to settle down in any one place. She talks about her first marriage, her struggle to define herself as a writer in a new language, her decision to become a mother, and finally her rediscovery and embracing her family history, which is marked by generations of headstrong women who struggled to choose between their hearts and their homes. It was only through this process of self-discovery that she can finally come to grips with her history and her father's legacy. We all want a place where we feel like we belong and Tsabari's lovely meditation on bereavement, the universal quest, and the feeling of home we discover inside ourselves makes for a lovely read. "It's interesting, you know, I can't necessarily say that I knew what I was doing while writing about grief, I hate that it sounds all about my father, my dead father because it is, and at some point, my life split into what was and what could have been. My books and writing kept coming back to this all the time. Writing is a form of therapy and I would recommend it for everyone, but that's not what I was doing; as a writer and a storyteller, I was concerned about the story, the art! Making things beautiful and translating experiences into art. After I completed writing the book, I felt a sense of release, I felt better than I was feeling before, I knew it wasn't the intention, but it happened that way," said Tsabari.
The session saw Tsabari speak about her father, racism, the Jewish diaspora and the aftermath. She spoke about the struggles of language barrier, the Hebrew-English conflict on her writing, her family life and how she manages to swim through it all.
She said, "This is the way we (my family) live in this house, you know, it has no rule or reason. The other day our neighbour asked whether we speak English between us, and my daughter said 'Oh, we never noticed'. The bilingual convention has become a part of our lives."
She spoke about the discrepancies between her culture and the way she was raised, and how difficult it was for her to talk about her family's history with others. She said as she relates with a close friend of hers: "We are immigrants! Of course we come with a backstory!" She resorted to not just Canadian literature, but to writers of the world, as she discovered more about other writers penning about diaspora, cultures and struggles.
She said, she stopped following guidelines and rules. "I had a major breakthrough! I had tossed all the guidelines and rules, and I said, I am just going to do my own thing, if they are going to like it, that's great! It was a sense of self-betrayal, it was a sense of defeat, in what I was writing previously, but after I wrote The Art of Leaving, it was a sense of joy that I felt after finishing the book. The entire experience resonated deeply within me."
Tsabari visited India, Europe, the United States, and Canada over the course of over a decade. From job to friendships to interactions with others, it wasn't long before leaving became the norm. Tsabari was forced to revaluate her choices and her sentiments of longing and displacement as a result of a dramatic chain of circumstances. She continued to speak her language through her writing, her voice and her struggles with cultural differences, her grief and letting all of it go, at once. When asked about the thought process behind the book, she said, "I figured, If I leave everyone, If I leave my family, my country, then I'll be safe, I won't get hurt.... It was almost a child-like perception of things, which makes sense because it is when the loss happened, it took quite a while because I am kind of a later bloomer and it took me a while to see that."
Tsabari is an inspiration to many bilingual multicultural writers. She is the recipient of Sami Rohr Prize in 2015, the 2016 Edward Lewis Wallant, and was long-listed for the Frank O'Connor. She won The Canadian Jewish Literary award for memoir for The Art of Leaving and was a finalist for the Hilary Weston Writers' Trust Prize for Non-fiction. Essays from the book have won several awards including a National Magazine Award (Silver) and a Western Magazine Award in Canada. Her reviews, essays, and op-eds have appeared in The New York Times, The Globe and Mail, Foreign Policy The Forward, and The National Post.
She is also known for her prowess in short stories, namely The Best Place on Earth, Borders, Say it Again, Say Something Else, and more.