All about Dahlia Sen Oberoi's debut book 'Ashramed'
The book is a hilarious and contemplative account of 30 days in an ashram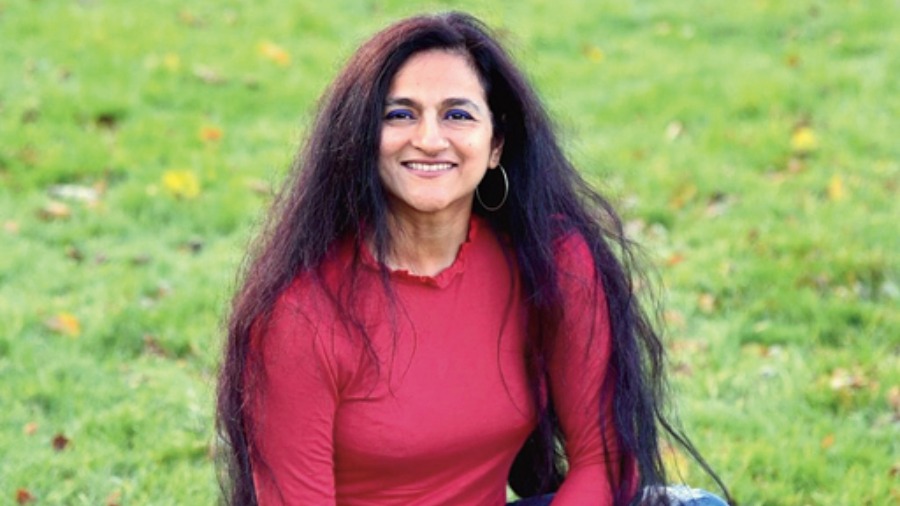 Dahlia Sen Oberoi
Picture: Akshat Sharma
---
Published 03.06.22, 02:14 AM
|
---
Dahlia Sen Oberoi's career as a prolific IP lawyer in India has long witnessed a close association with the publishing industry. Her love for literature and the dream of writing her own book someday led her to IP cases for various authors like Khushwant Singh for starters. Never one to limit herself to a singular vocation, aside from frequent court appearances, she has also managed to marry the two passions of her — yoga and dance — into a wellness outfit called DahliaNritYog where kathak and yoga are used to embark on a path to betterment. Sen Oberoi has finally realised her dream of being an author and has written her first book, Ashramed: From Chaos to Calm (Hachette India; Rs 399). The book chronicles her month-long journey at a yoga ashram in the southern part of India where at the 'ripe age of 52' the author embarks on a soul-searching journey leaving behind her retired surgeon mother, her worried husband and her two sons at a college in UK.
The first thing one notices about Ashramed is the author's innate ability to not take herself seriously. It is perhaps this characteristic that allows the author to be flexible to new ideas and experiences. She is candid about her drastic departure from work (albeit for just 30 days) and her 'family failing to keep up with endless paths to 'self discover''. However, her determination is stronger than her trepidations, so much so that she is unwilling to read the online reviews posted about her course of choice and embark on her journey with a completely open mind. That a journey of 30 days could be so exhilarating is evident in Sen Oberoi's light tone and her ability to find humour in every situation. She chronicles in grave details her experience that often borders on ridiculous, while also keeping a steady outlook on social issues. She rolls her eyes at her California-return foreign yoga teacher who pronounces 'mantra' as 'man-traah' and she is distracted by the collective lack of effort put into Indian pronunciations. She is quick to judge herself upon realising she is the oldest in her group of workers assigned various tasks throughout their day but then follows up with a joke about appropriating ageism. She remembers being chastised by her older son for her judgements and stops herself from saying something inappropriate and through it all, she makes the book as much a social commentary as it is a personal account.
The book is not just a candid and hilarious account of a poised woman who is well aware of her privileges but has worked for 28 years to allow herself this snobbery. This book is about a journey that an urban workaholic has heard about but has scoffed at with good judgement while secretly willing themselves to dream about it. We firmly believe that refusing ourselves the temptations that mire our mundane existence of privilege like technology, food, instant gratification and more will perhaps be the ever-elusive path to peace. However, few are willing to actually explore and even fewer willing to record their entire experience for others to scrutinise. Sen Oberoi does this and more with Ashramed.
So lively is our protagonist in Ashramed and so real are her emotions that one doesn't realise that this book is as much about yoga and spiritual unlearning as it is a hilarious account. She beautifully ties in the art into her narrative as she struggles to do a headstand without support! Never once does her detailed narrative get tiring and her writing style keeps you hooked and how. Readers are compelled to live through the experience week on week. "We are now in the second week, which some murmurs have indicated is the worst. Some say it is the third week. I am bewildered. For me, each day is like climbing Mount Everest and back. How much can it get worse from here? Also doing Kilimanjaro on the way back?'' she writes. You will find yourself rooting for her as you pick up on the tidbits of emotional wisdom that she scatters across her story. It is a journey that you will definitely not regret taking. For every stressed person on the way to work who is trying to strike a work-life balance, this book is the breath of fresh air you need to convince yourself you deserve that break. You will absolutely love the one Sen Oberoi takes!