'Kumbh of literary festivals' goes virtual
JLF 2021 raised curtains to its digital show with a small get-together in New Delhi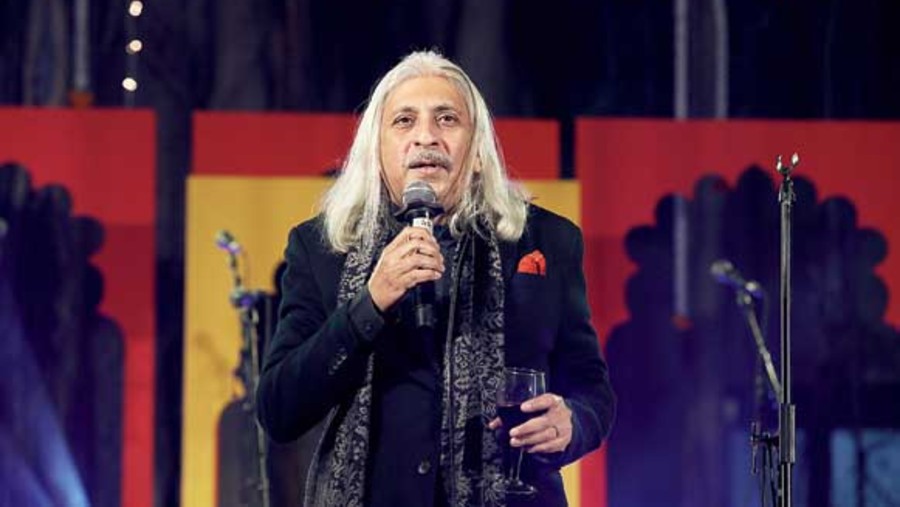 ---
Published 08.02.21, 11:39 PM
|
---
Remembering this time last year when Diggi Palace in Jaipur was bustling with people traversing from one stage to the other, we timidly entered the beautiful venue of 1AQ in Mehrauli, New Delhi, for a curtain-raiser for Jaipur Literature Festival 2021, which has now decided to go digital, adapting to the new normal. Spread over two weekends from February 19 to 28, the festival this year has managed to curate one of the strongest lineups in the history of the 'Kumbh of literary festivals'! It was to mark this occasion that the directors decided to host a small gathering of authors and media to spend a safe and socially distanced weekend of debates, conversations, music and food at New Delhi. Welcomed by the bright colours, as is signature to the festival, The Telegraph spent a few great days reminiscing the festival and gearing up for the weekends to come.
One of the most sought-after sessions this year has to be that of Mark Haddon, author of The Curious Incident of the Dog in the Night Time and A Spot of Bother, who will speak about his inspiration behind his novels. Philip Pullman, the author of His Dark Materials trilogy, will speak extensively about his vision of augmented reality. Writers Deepa Anappara and Annie Zaidi, whose books Djinn Patrol on the Purple Line and Prelude to a Riot respectively, took the literary world by storm last year and will deep-dive into the Indian society to discuss its injustice and partisanship. Basking in the glory of her recent Booker nomination for her novel Burnt Sugar or The Girl in White Cotton, Avni Doshi is all set to come back to the festival this year.
At the preview this year in JLF 2021, we caught the recording of one of the sessions between Pawan K. Varma and Wajahat Habibullah about the time he spent with former prime minister Rajiv Gandhi. An intriguing conversation all set to be telecast on the days of the festival, we can't wait for the world to discover what we learnt. JCB Prize for Literature 2020 winner S. Hareesh, and his award-winning translator Jayasree Kalathil will be found in conversation with author Aruni Kashyap about his novel Moustache and its roots in history, geography, politics and folklore. Strong female characters continue to form the crux of this year's session as Chitra Banerjee Divakaruni will discuss all things Rani Jindan of Punjab from her latest book The Last Queen, while Kishwar Desai will speak at length about her 15-year-long research on Devika Rani and her subsequent book The Last Kiss that has recently been released.
Some other prolific names in the lineup this year includes Albie Sachs, Anne Applebaum, Bibek Debroy, Camilla Townsend, Carlo Rovelli, Cauvery Madhavan, Chinmay Tumbe, Colum Mccann, Craig Brown, Daniel Simpson, Dharini Bhaskar, Doireann Ní Ghríofa, George H. Packer, Harish Trivedi, Hermione Lee, Himanshu Prabha Ray, HM  Naqvi, John Zubrzycki, Marina Wheeler, Mehr Afshan Farooqi, Michael Puett, Michael Sandel, Moin Mir, Moni Mohsin, Navtej Sarna, Nikesh Shukla, Oliver Craske, Patrick Radden Keefe, Peter Frankopan, Priyanvada Natarajan, Prasoon Joshi, Priya Atwal, Ramachandra Guha, Ranjit Hoskote, Robert Macfarlane, Rupert Snell, Sarbpreet Singh, Shashi Tharoor, Shylashri Shankar, S. Hareesh, Samira Shackle, Samit Basu, Samanth Subramanian, Simon Winchester, Sonia Faleiro, Sujit Sivasundaram, Stephen Brusatte, Sunil S. Amrith, Tansen Sen, Tim I. Gurung, Vincent Brown, Yamini Aiyar, Yashaswini Chandra, and Zorawar Daulet Singh.
Another name that JLF 2021 is waiting to host with bated breath is perhaps Priyanka Chopra who will discuss her book Unfinished with author and columnist Shobhaa De.
On the second day of the preview festival happening on-ground in New Delhi, the audience was enthralled by a band Rehmat-e-Nusrat where singer Sarvjeet Tamta sang the lines written by lyricist Deepak Tiruwa which went, "Logon ka much miljhul ke rehana theek nahi, chal baant abhi, hoal baant abhi; Jhoothi baat ko cheenkh ke kehna padhta hai, jo sach bole chal daant abhi chal daant abhi (People shouldn't survive united, divide them now, divide them now; People are having to scream out their lies. Those who speak the truth, scold them, scold them now). It is difficult to not be political when surrounded by the minds that come and replenish the vessel that is Japur Literary Festival and this politics seeps into every performance, every food item and every conversation that the event witnesses. We can't wait to see what this year unearths!