Joy of listening to your fav actors read
As Storytel forays into Bengali audiobooks, browse through the titles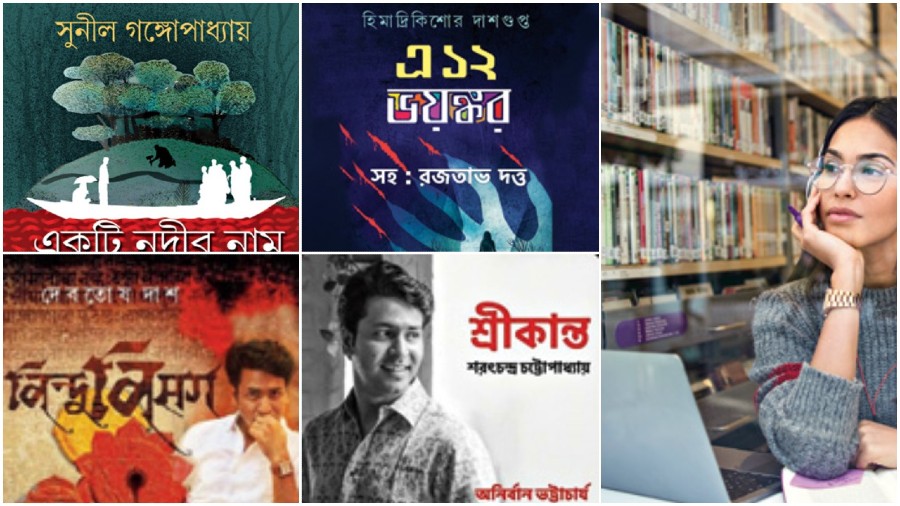 For the Bengali literature lover, the audiobook platform Storytel has launched Bengali audiobooks that bring you a mixed bag of stories
Telegraph Picture
---
Published 08.12.20, 12:16 AM
|
---
A lazy winter afternoon filled up by the booming voice of grandma or grandpa reading out old stories all over again, or perhaps new ones picked up from the shelf, to a little girl or boy huddled close by, all ears and eyes wide open, swept into a different world and time.… If this familiar image of the oral and aural culture of stories through the figure of the storyteller seems a thing of the past, revisiting the concept with spin of digital media is the way ahead. While couched up in a quiet afternoon at home, or while on the go to office or when heading towards a vacation destination as adults — slipping in a book or two in our bag for a read is now replaced by a click on the phone and you can get back to your story from where you left off. Even before the pandemic pushed us to increased homebound time, audiobooks have been slowly picking up pace as the go-to for a good story time, relayed to us in the voice of what is the modern avatar of the storyteller.
For the Bengali literature lover, the audiobook platform Storytel has launched Bengali audiobooks that bring you a mixed bag of stories and other forms of fiction narrated in the voice of your favourite Bengali actors who have taken up the role of the modern storyteller for you. Browse through acclaimed titles like Sarat Chandra Chattopadhyay's Srikanto, narrated by Anirban Bhattacharya, along with contemporary bestsellers like Ebaro Bhoyonkor by Himadrikishore Dasgupta, narrated by actor Rajatava Dutta. Storytel brings you titles from well-known publishing houses of Bengal like Dey's Publishing, Patra Bharati, Dev Sahitya Kutir and many more. From renowned Bengali authors like Shirshendu Mukhopadhyay, Sunil Gangopadhyay, Bani Basu to popular ones like Pracheta Gupta and Debarati Mukhopadhyay, there's a title for everyone. With Samik Bandopadhyay narrating Padma Nadir Majhi, Anirban Bhattacharya also narrating Bindu Bishorgo by Debotosh Das, Rwitobroto Mukherjee narrating The Alchemist and more of such titles added to the app every month, Storytel will immerse you in the old-world charm of listening to stories in the new-age format.
"Storytel came to India on November 27, 2017. The brand's vision has been to make the world a more empathetic place with great stories to be shared and enjoyed by anyone, anywhere and anytime. India has a rich oral tradition and Indians love listening to stories. We grow up listening to our parents or grandparents tell us stories. The idea behind coming to India was to keep up the same and share the love of stories. With the growth of the Internet and increase in usage of smartphones, we are experiencing a lot of acceptance to audiobooks. We are seeing an increased interest in audiobooks as a whole. Given the current situation there is more time in hand and it has encouraged users to catch up on their lost reading. Audiobooks are preferred since they allow one to go hands-free; you are now enjoying a story while running your daily chores. More and more people are signing up for a trial with us and are listening to stories. We added Bengali as a language to our service with an aim to have stories reach more and more people," says Yogesh Dashrath, country manager, Storytel India.
Author speak In Bengali literature, a commercial, professional platform to bring out Bengali audiobooks is perhaps not that popular as titles of say English literature but Storytel intends to seriously tap into Bengali literature. During the lockdown, we have moved towards the habit of listening to audiobooks and being on smartphones, which has nurtured the culture of listening to stories all over again and even more so. People have narrated stories on Facebook and so on but Storytel's launching of audiobooks of Bengali titles has taken this ahead in a commercial way to promote the popularity and purchase of audiobooks.
The very idea of golpo is there from the primitive days and listening to stories is in our blood. Everything around is in the form of stories, directly or indirectly, be it our traditions, superstitions, science, thought, inventions. The tradition of listening to stories in a joint family set-up, from our grandparents in our childhood, was furthered briefly through storytelling sessions in schools. Later, gradually, the pressures of an academic syllabus took away the time to listen to stories. Listening to stories inculcates the penchant for reading stories; I know many who listen to audiobooks while say on a long drive and then they are pulled to buy the book as well along with some other book too perhaps. So listening to stories and reading stories are complementary to each other.
The passion for experiencing stories in whichever form that might be, which is the audio form brought back through platforms like Storytel, is welcome in Bengali literature because while listening to the story in the voice of a writer like me, the reader-listener or pathok-srota will get to experience the nuances of both forms, by listening to the stories first, then grabbing a physical copy to read them all over again — Pracheta Gupta whose Onabrito and Raate Porben Na are already available in Storytel.
Narrator speak The Telegraph caught up with Rawkto Rawhoshyo actor Rwitobroto Mukherjee for a chat on his collaboration with Storytel.
Can you please take us through your association with Storytel — your experience of narrating The Alchemist?
So I was very intrigued by the idea of Storytel because there were all sorts of advertisements regarding Storytel where renowned actors from cinema and theatre alike were actually narrating stories and it first caught my eye when I saw Anirbanda, Rajatava Dutta and a lot of famous theatre actors and directors were reading audiobooks for them, so I was genuinely intrigued by the idea. Then, suddenly, I got a call where they asked me if I was interested to do a reading of The Alchemist. So I was very interested because I was also discussing this with Anirbanda one day that because we started with theatre, we love doing audio stories and it is so comforting as an actor to do an audio story and because in a Bengali household, we are brought up listening to stories from everyone — be it our grandmother, grandparents, parents, siblings, so I absolutely loved the experience of collaborating with Storytel for narration of The Alchemist.
How do audiobooks and audiobook platforms like Storytel alter our literary experience?
What is different is I believe storytelling is actually via audiobooks which are different from audio stories. Audio stories can have a background score, music, and sound effect to the text. But audiobooks are very different because there is no music to support the text, no sound effect as such, just someone reading out the book and that gives us the feel because when we used to listen to stories in our childhood, we did not have any background score, it was left to our imagination. When I was narrating The Alchemist for Storytel, I could even use up my own imagination to think about the situations where this character could have been in.
For an actor also, if there is no background score or sound effect as such, it is so soothing while you are reading them out and you can read in so many voices and in so many different characters as the narrator, it is really comforting. A lot of stories from Storytel have already been a success and I believe it will be big because people love listening to stories and it is like reading stories on the go.
The pandemic has changed a lot in the world in many ways, do you think our reading habits have changed and there is more space for audiobook platforms like Storytel now to take it from there?
The pandemic has definitely fuelled the trend of listening of audiobooks because when I was growing up also, I have seen this trend of listening to audio stories begin with radio. It fuels your imagination so much and there is a popular culture regarding audio story. There has definitely been a lot more work on audiobooks during the pandemic, and I believe Storytel's work will be also very important because of a few reasons — they are choosing their texts very carefully and they are also choosing renowned theatre actors to narrate these stories that will definitely be a hit and people will obviously want to hear these stories in the voices of their favourite actors.