Of dystopia, patriarchy and punching out negativity
Durjoy Datta, Rasika Dugal and Prateik Babbar chat with The Telegraph on their Audible release The Last Girl to Fall in Love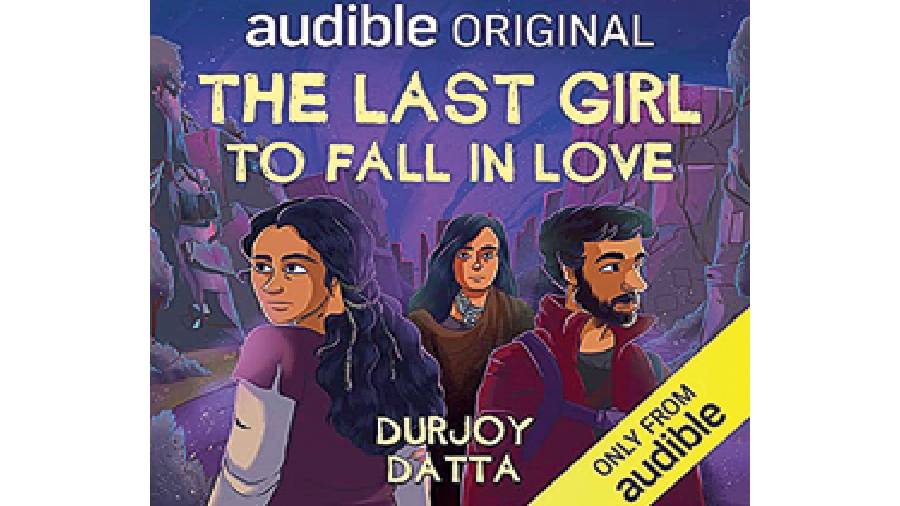 Sourced by the correspondent
---
Published 21.06.21, 02:26 AM
|
---
Durjoy Datta
He might be a bestselling author with 499k followers on Instagram, but there is an innocence about Durjoy Datta that is so charming. Candid and self-deprecating, his simplicity has an X factor. We caught up with him on the launch of The Last Girl to Fall in Love on Audible. What kind of feedback have you got so far?
The feedback has been largely positive but I am very cynical. So, I keep saying that when a new book comes out, your core fan base buys the book and they cloud your judgement... 'oh the book is very good'. After a few months new readers join in and they give their reviews. That's the real testing time. A lot of my core readers are happy that I am writing books in this genre. I also enjoy writing this. To have that validated is extremely encouraging.
These two audio (books), The Last Boy to Fall in Love and The Last Girl to Fall in Love, once you get into it, you know it's a dystopian world. The main characters are a guy and girl, but it's far from a traditional romance. I wrote this as an audiobook because I have always felt that to write in genres which are out of the ordinary, you need to have the language to back it. When I heard it, I felt I could have underwritten it a lot more. The foley effects create a vivid imagery, making my job way easier.
Have you always been this humble?
It's a severe case of imposter syndrome. I was never meant to write books. When you are brought up in a middle-class family, you are told, it's okay, but can you do it? There is also a huge gap between what I read and what I write. Of course I want to write the books that I am reading and the kind of writers I follow, I find their writings so much better than my own. I am modest, but I am not that modest. If I were to pick up a lot of books written by my contemporaries and read them, I would say my books are better.
What was your mindspace writing these books?
The funny part is that the first book came out way before the pandemic. I wanted to write because it was an interesting idea and for me, just to see what will happen if something like this happens, was interesting rather than saying 'okay this happened 30 years ago'. Most dystopian novels are written like that. Or, there are zombie pieces which are a moment and violence. I wanted to write a book which is in the middle of that, which we are living right now. A doctor friend of mine read it and he said people are dying very quickly in your book. When a virus hits, everyone is going to get prepared really quickly and that'll slow down the deaths significantly. I want to call him every day to remind him, but it's too sadistic.
It's uncanny!
I want to thump my chest and say that I foresaw it, but I was also inspired by a lot of other books that were written about the same.
What was the genesis of the second book?
The idea again was 'what if'. We have the vaccine now but what if it only worked for women. In the book it works for men for a small period of time. So, power structures will change and power corrupts everyone. I don't think I am qualified to preach in my books. I found it very easy to sort of say oh look what men are doing by just flipping it and saying that women are doing this. Whenever a guy reads the book, he'll be like, if we give women so much power, this is what they will do. I'll tell them I wrote about what men do right now.
Have you been able to focus on that notepad of yours?
I'll be honest that for the first five or six months, it was right up my alley, because I am always home. Now the best part is that I don't have to go out and socialise. Suddenly, at one point of time, my productivity dropped. There were distress calls from people who have lost jobs and people who have moved back with their parents and now have friction happening. Luckily when this year started, we shifted into a bigger house. Now my trick is to get over with the writing bit early in the morning when no one's up and then reach out to everyone and re-establish some of the connections.
What kind of reading has kept you sane?
I am not saying this because I have come out with audiobooks, but I really got into listening to audiobooks in 2020. I have listened to 60-70 of them. I started with non-fiction... anxiety and how to handle it.... Once I got into it I realised that finishing an audiobook gave me the same kind of high that finishing a paperback does. Then I moved to fiction and now I listen every day.
What is the difference you feel?
Earlier I had this mental block that with audiobooks, you had to be really in the moment listening to it to enjoy it. Then I realised that I could listen to an audiobook doing 10 different things which I cannot do with a paperback.
So, what are your recommendations?
Read my book! (Laughs) There are two things that work best. Either you read non-fiction that is not really heavy or you hear short stories. What happens with short stories is that you have already read many of them before and even if you are distracted you'll still follow the story.
You seem like a happy family man. What about being a dad and a husband give you a high?
This is something I have thought about a lot. Why do I find it easier than a lot of other people (to be a dad) and it has a strange explanation. It is such a dumb thing to sit with a child and repeat the same thing over and over again. Just pick up a crayon and colour outside the line for one hour straight. It is relaxing. They (kids) can be very annoying, but you can shut off your mind and they are amused by the littlest of things for the longest period of time. This has become a go-to trick for anxiety... I just join my child in whatever she is doing.
What about being a husband?
It comes naturally to me. Most relationships are an extension of the kind of house you grew up in. My parents would have fought for five times in my entire life (laughs) and there was also a pattern to it. I would say it is not ideal because then you grow up to be a conflict-avoiding person.
Rasika Dugal After The Last Boy to Fall in Love, Rasika Dugal has now lent her voice to The Last Girl to Fall in Love. The Out of Love actress tells The Telegraph what she loved about the process and more.
What do you enjoy about recording audiobooks?
It's a very interesting experience. The thing that I enjoyed most about it is that I don't have to do hair and make-up. I am happy to turn up for a recording in my pyjamas and that's the most relieving thing. (Laughs) On a serious note, it is an interesting experience to work with your voice in isolation because otherwise as actors, we have so many tools to work with... hair, make-up, costume, lighting, just the creation of the visual, body language. But in this case, you have this only one thing to work with. It teaches you a lot as an artiste because I always feel that while I don't believe in being so conscious of what tool you are working with while I am shooting for something, but I believe as an artiste and as an actor, it is a learning experience to sort of learn that in isolation, whether you choose to use it or not in your work later. It taught me how to use my voice effectively.
If you have read any of Durjoy's work and especially with these two, because there are two people narrating their point of view and it's a kind of stream of consciousness... so there are very long sentences, which I like because I also tend to construct my sentences like that... so with audio recording, I learnt how to keep the pace of something without losing clarity, how to make something sound intimate without losing volume, which are always useful things to know as an actor.
Did you discover anything about yourself as an actor?
I really enjoyed the recording experience because it's almost like being backstage when you are doing theatre. Everything around you is making sure that you can work peacefully. Whereas a shoot is so chaotic. Ten people are shouting instructions to each other and you are supposed to feel intense moments.
This time when I narrated Last Girl, there were all these lovely women and because of the way it's written, which is true for any good writing, I felt I could find a piece of me in each one of these. Whether it was Sandhya or Veera or Sagarika... all different women and in power in a world where roles have been reversed. What I took to was the fact that while it is a story of roles being reversed, it tells something important and fundamental... which is that the cycle of oppression always continues. Doesn't matter who is in power, the oppressed will become the oppressor. So the idea of perfect equality or freedom is probably something we can only desire or work towards. A world which is run by women might not be as equal and free as you might have imagined it to be. The idea is to overcome discrimination and not about which gender should rule.
The polarisation of gender in terms of just male and female is the kind of conversation that we need to sort of get out of. There are so many gender identities which need to be normalised in regular conversations.
Do you consider yourself to be a woman or just human?
I don't think I subscribe to any gender role, but of course we have all grown up in a patriarchal society. So, there are subconscious things that are always present and sometimes I am surprised by them myself that in spite of the fact that I may think that I am above any kind of prejudice, but I think the important thing to understand in this entire experience is that it's not about being prejudice free. It is about being able to question your prejudices. That's the constant struggle and that is something that all of us must be aware of all the time. The problem with discrimination is that it is always subtle, especially on the basis of gender. That is why it is very hard to identify and fight. That is why it is deep-seated.
How were you brought up?
Very difficult question to answer. Even though things might seemingly look liberal, there are so many elements existing in a patriarchal society that much of it seeps into your subconscious and gets reinforced in any act by you or by people around you. It is difficult to claim that I was brought up in a liberal environment. Are any of us brought up in a liberal environment in a patriarchal society? Having said that, growing up in my house, things were largely dominated by women. I have a sister... my mother... and we always outnumbered the men in my family (laughs). I grew up with a lot of love and affection, which eliminated any kind of discrimination from my life. Even though it might not have been a well thought-out political ideology, the love and affection superseded any other thought and that was a beautiful way to be brought up. That really holds you in good stead for life... that sense of security, to be able to then counter or speak up against discrimination.
Much of my political ideas were formulated by the institutions I studied in. Lady Shri Ram College where I did my graduation from in Delhi is a strongly feminist college. The lovely women I had the opportunity to meet were so much more 'woke' than me because I come from a small town. I was so mesmerised by the things people knew, the way they communicated, the theatre they did, the music they sang. I had some wonderful teachers at the time I spent at Sophia's (College for Women), a year after LSR.
Which female characters would you like to bring to life through your voice?
Oh wow, there are so many, but I would love to narrate Jane Eyre. I have been looking forward to doing work in Hindi and Urdu. Audible is working with the Hindi language. I love Hindi and Urdu for the lyricism of the language. For example, I would love to narrate Lihaaf by Ismat Chughtai or works by other progressive writers.
Prateik Babbar Prateik Babbar has something endearing about him. The breakout star of Jaane Tu... Ya Jaane Na chats with The Telegraph on recording an audiobook for the first time and getting his mother Smita Patil's name tattooed.
Congratulations on this new experience...
Thank you! Yes, very excited. I have never done this before, but it felt very rewarding and although I feel that if I keep doing this, I will get better, I am looking to do more such gigs and projects where I am lending my voice to characters.
What was the bit you enjoyed most about recording an audiobook?
I think being with oneself was therapeutic for me. Here you just have a script which hasn't been done before and it is right there for you to create from scratch.
What can you tell us about Manav, the character you voice?
He is an extremely simple guy living in a chawl and you know how life in a chawl is. They are not exposed to as many opportunities. He understands that about himself and knows that someone is going to run his life in the given circumstances. I would say he is quite righteous and he believes in the truth and the right thing and he would rather face the consequences of speaking the truth.
Do you read a lot?
Yes and no. I do have my moments and phases, but I am going to explore listening to audiobooks more because my attention span is that of a newborn child when it comes to reading (laughs).
Who are some of your favourite authors?
(Haruki) Murakami. I like gore... I like this... Durjoy has an absolutely crazy, wild imagination. This book is up my alley.
You have been busy...
I finished four-five projects in a span of six months, from October. We finished a very special film called Cobalt Blue, Bachchan Pandey with Akshay Kumar, a film for Madhur Bhandarkar called India Lockdown, extremely relevant to today's times.... I finished a zany, crazy show with Lara Dutta for Lionsgate Play's first Hindi show and then lockdown happened. We pick up with Four More Shots Please! season three as soon as the world opens. Besides the pandemic and the mess that we are living in, I think professionally it is an exciting time for me. I am looking towards a bright future and I have been working extremely hard for the past few years. It is work in progress.
So, the mop of blue was for Cobalt Blue?
That was just me! I don't have blue hair in the film, but it was just a symbolic thing for me. I finished the film and I wanted to colour my hair cobalt blue.
Mentally, it has been tough to adjust to the times for all of us. You have never been shy of talking about your demons. All of us are fighting our own demons. And, the more isolated you are, the more these things play on your mind. What would you tell everyone who is in a similar situation?
It could be anything that people could be battling with... substance abuse, addiction, family problems, personal problems, marriage problems, but the key is to talk about it. Confide in someone you trust or even (go for) professional help. Everybody is talking about it and understanding it, especially after incidents like Sushant Singh Rajput. It is relieving to see everyone so aware about the need to talk about things that you are unhappy about. Kudos to us.
I just put out an open letter to whomever it may concern... the country, the fans.... I wanted to talk about all the dark things that happened. It is important to get things off your chest, accept that you are wrong and allow people to guide you on the right path.
We have to ask you the tattoo you have of your mom's (Smita Patil) name. That must be special...
It happened recently. It is something I had been contemplating for a very long time, over 10 years. The thought process was even more beautiful. I had just finished shooting for Madhur Bhandarkar where I play a migrant worker and I had some extremely intense and heartbreaking scenes in that and my mother played such characters. Lots of people were reminded of my mother while I played that character...
Biggest compliment...
I am ecstatic, but that will not make me complacent. I will be hungry for the rest of my life. I felt I had taken a piece out of me after doing this character and somehow sent that to my mother, maybe through my thoughts and prayers, it was communication with her... 'this one's for you mom' and the very next day, I got that tattoo.
You love boxing. So, if life was a boxing ring, what would you punch out of your way?
Negativity. If it punches you and you drop down, you gotta get up and punch it back (laughs).