Human library: Can the human performing as a book replace the book?
The human library project seeks to replace the idea of borrowing books with one that involves "lending" humans — men, women and children who narrate their life stories — to a select audience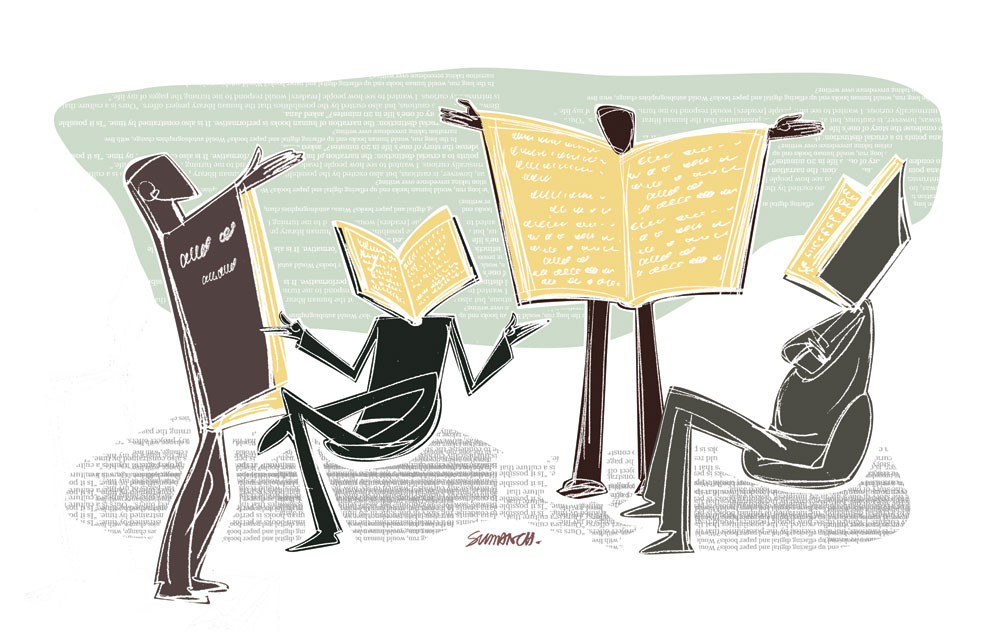 ---
---
Conquerors have usually been allergic to libraries. The Mongols had laid to waste some of Baghdad's greatest centres of learning and libraries, including the House of Wisdom, in the 13th century. This virulent strain — of striking at the heart of institutions that are considered to be repositories of knowledge and, often, of dissenting beliefs — has mutated over time. Those who destroy founts of knowledge need not be invaders: India has its indigenous variety of library-hunters. In 2004, the Sambhaji Brigade, a fringe outfit that fancies itself as the protector of Marathi asmita, had vandalised Pune's Bhandarkar Oriental Research Institute, damaging many priceless books and manuscripts.
But then libraries are also resilient creatures. They have learnt to evolve with time in a bid to beat time and other enemies. Books made of paper are perpetually threatened by the passage of time and conquistadors, as well as by inclement weather. But digital libraries — now accessible at the click of a mouse — are, in a sense, indestructible, hence immortal. E-books, however, are not the only example of evolution as far as libraries are concerned: there is also the concept of the human library.
Started in Copenhagen in 2000, the human library project sought to replace the idea of borrowing books with one that involves "lending" humans — men, women and children who narrate their life stories — to a select audience. The goal is to sensitise "readers" (or should it be listeners?) and inspire them because many of these human books have endured and overcome significant hurdles. At present, the initiative is operative in over 60 countries. Calcutta, too, has joined this special list; the city chapter of the human library project was inaugurated in Rajarhat in the first week of January.
Altruism, evidently, lies at the heart of the project. Deblina Saha, founder and book depot manager, Human Library Calcutta, said, "We would like to create a society that is not judgemental, one that is less prejudiced." A welcome thought, given the polarised nature of New India, one would think.
Jagadish Jana, one of the human books, knows a thing or two about breaking stereotypes and boundaries. In his late 30s, Jana was diagnosed with HIV in 2006. "I decided to be a part of this project because I want to raise the awareness of people regarding misconceptions about HIV as well as alternative sexuality through the story of my life," said Jana.
Lipika Biswas, 50, an employee with the railways, is another human book confronting a different kind of stigma. Biswas is skilled in adventure sports but has realised that the journey for a woman on this road could be very difficult. "I was asphyxiated by the patronage, condescension, surveillance and protectionism that I encountered as a woman enthusiastic about adventure sports. The human library project offered me an opportunity to tell the story of a journey like no other," Biswas said.
But telling stories can be a tricky business for human books. These are not ordinary tales: they involve the retelling of experiences that are bitter-sweet — maybe more bitter than sweet. Can this kind of storytelling be inimical to the notion of privacy?
Jana is unfazed. "I know how to tackle my vulnerabilities," he said confidently. However, he does recognise the importance of informed consent of the human books. "I will not encourage everyone to be a human book," he added.
Saha is adamant about protecting the sensitivities of human books. The respondents are entitled not to answer a query if they so desire.
Biswas, however, is cautious, but also excited by the possibilities that the human library project offers. "Ours is a culture that is intrinsically curious. I wanted to see how people [readers] would respond to me turning the pages of my life," she said.
In the long run, would human books end up effacing digital and paper books? Would autobiographies change, with live narration taking precedence over writing?
Biswas disagrees. "Writing," she said, "is a far more difficult and intimate act."
Jana points to a crucial distinction: the narration of human books is performative. It is also constrained by time. "Is it possible to condense the story of one's life in 20 minutes?" asked Jana.
So, hypothetically speaking, if they were given a chance to let the world know of the story of their lives and the hurdles they have crossed, would they choose to write a book or perform as a human book?
"Books are more tangible," conceded Jana.
But Biswas is hopeful about the power of narration too. "After I shared my experiences of solo travel, I received a number of responses, particularly from women, who said that they had been inspired by the tales that I had shared," she said.
Saha is unperturbed about the debate pitting books against human books. She is confident that the human library, peopled with men and women with tales to share, would widen horizons and broaden minds.
Just like the good old library has done over the ages.