Holistic approach to your child's sleep habits
Kerry Bajaj doles out tips and tricks that could change the way parents lead their lives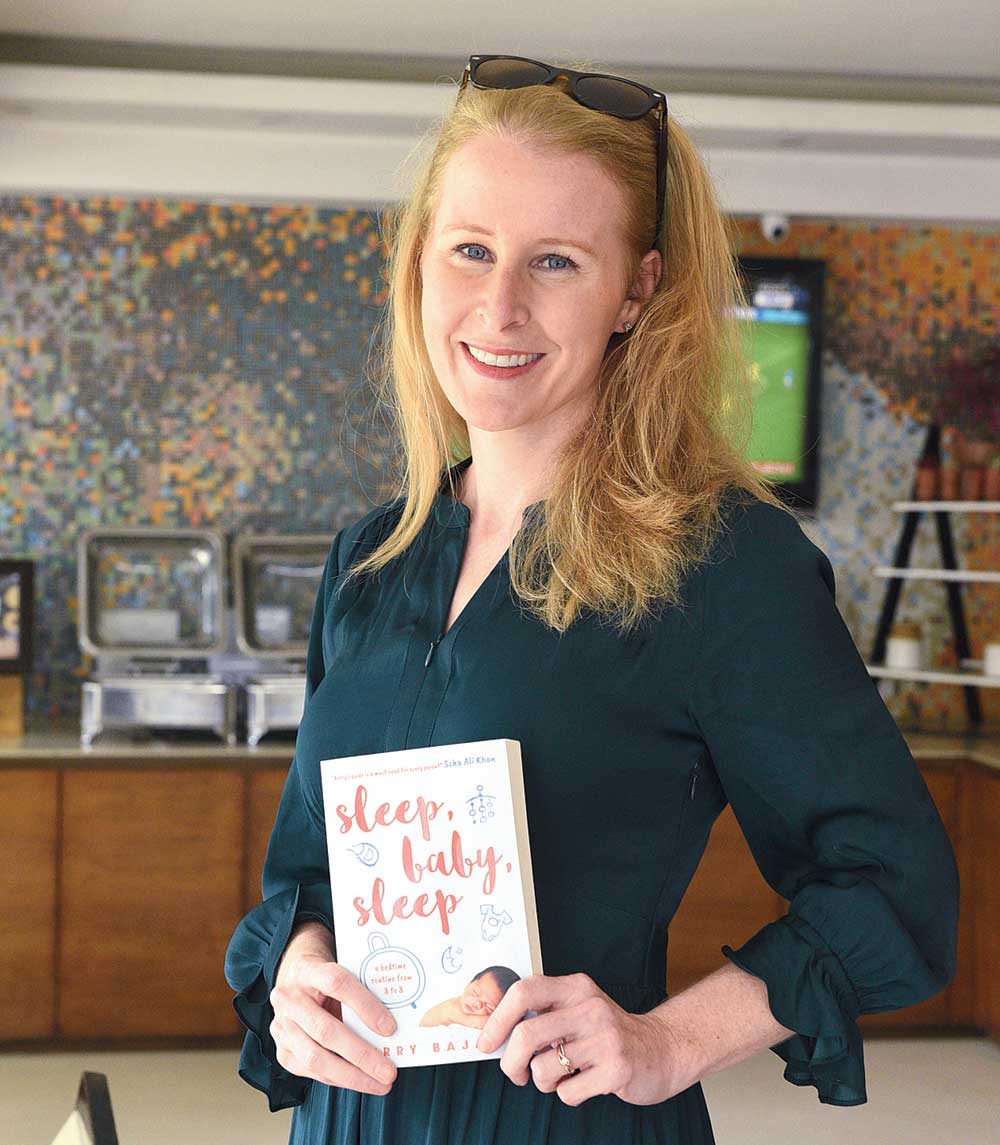 Kerry Bajaj
Picture: Rashbehari Das
---
Published 16.03.20, 04:33 PM
|
---
Kerry Bajaj, the author of Sleep Baby Sleep and a sleep consultant for kids — from newborn to toddlers. Having studied infant and child sleep in the US, she is now a member of the Indian Society for Sleep Research. Making lives of new parents easier one session at a time, this American settled in Mumbai has managed to create a niche market for herself, by doling out tips and tricks that could change the way parents lead their lives. And one can completely trust what she has to say, having navigated parenthood twice! In town for a workshop for new parents, we caught up with the author for a quick chat. Excerpts.
What is sleep consultancy?
A parent will come to me and hire me to help them understand how their child can sleep better. It's a very age-dependent process. For some new parents, it's about understanding what it takes to build a foundation for good sleep. Sometimes parents of older babies will come with real sleeping problems which require resolving. There are some interesting differences between a kid that is in a cot and a slightly older child. Or kids that are verbal versus kids that are non-verbal — that age difference is a big marker, as the former can participate in the process and make certain changes themselves.
Could you take us through the process of a consulting session?
Usually I begin with an intake of sorts where I speak to people and try and understand what ails them and their lifestyle and this helps for them to understand what kind of changes I might suggest, just so that expectations are not wildly different from reality. I map a little bit of how I would proceed and then I give them a really detailed intake form to help understand everything about them — their baby, where they sleep, who they sleep with, what the pain points are, what the goals are, the sleep environment. And I also slightly nudge them in the right direction by asking questions like "how many hours is your child exposed to light after sunset?"
So there I am planting the seed that they shouldn't be exposed to artificial light so much. In the intake form, I also want to understand the type of family, the in-laws, who the caregivers are, nannies, maids — a clear understanding of who is touching the baby and who gets a vote. I also ask for pictures or videos of where the baby is sleeping. Most of my work is over the phone, so I need those pictures to help understand. Then I schedule a one hour session with them where I understand their problems at a larger depth and give them a written sleep plan that they can follow. Some are, as I like to call them, "the low hanging fruit". The few things that they are clearly doing wrong and that need to be changed immediately. These changes bring immediate effect and that is what helps parents trust me, instead of me bossing them around.
The next phase is going a little deeper.
What has the reception in India been like?
It has been unbelievable. People are so happy that they have someone to talk to about their child's sleep and that there are solutions and that it's not just a phase that they will grow out of in a couple of years. It is an emotionally cathartic process for them to be able to share. People understand that they can resolve an issue much quicker instead of just surrendering to it. That 'terrible twos' and other such concepts need not be internalised where you just accept that this year is going to be terrible.
It's been amazing word of mouth and waitlists right from the beginning. So the response has been really positive.
How much cultural influence is your consultancy dependent on?
Cultures vary and so do sleeping habits. The only thing that matters is that I don't judge whether you are co-sleeping or not at all, what your habits are and how you choose to bring up your child. People essentially come to me with a problem or a pain point and I try to work my way around it. People come to me because they choose to have a different life. One theme I see is someone coming to me and saying, 'I have seen my sister do this and I know that is not what I want. I want to do things differently. Help me map out a path please.'
How much of a baby's diet is dependent on the path you map?
A lot! The entire process is in consultation with a paediatrician. We talk about night-feeds and how many is permissible. A toddler who is two or above, definitely doesn't need night-feeds, and I don't need a paediatrician to tell them that. There is a scope of practise so I can also refer people. There is a lot of distraction feeding (giving the child a screen to keep them distracted) happening and the issue with that is I don't want any screens in front of the baby two hours before bedtime. That is indeed a blanket rule. You can't afford to have a huge power struggle right before bedtime and that is where I step in.
How did the book come about?
The book is because there are a lot of people struggling with sleep and I felt that there was no answer that could be helpful in this cultural context. For my own kids, I knew a fair amount but then I became a certified sleep consultant. If a parent in India was struggling with sleep, they would have to read a book by a Western paediatrician and that would be of limited usage because they won't be talking about the late hours or joint families or co-sleeping. For me, it was a little bit of a puzzle. I wasn't going to tell them how to co-sleep so that everyone is well-rested or how to handle the joint family but I knew other people had done it well and I wanted to interview them. Out of that intensive research which lasted one and half years, this book was born. I wanted the book to be a really useful tool that someone could give their partner or mother in law or any other caregiver.
The research was very interesting because I was going inside bedrooms, as sleep touches everything — relationships, sex life, all of it. It was pretty interesting.

5 quick tips:
Blackout curtains; keep the room dark
White noise machine to drown out all the noise
Bedtime is 12-13 hours after the morning wake-up time
No screen time for two hours before bed
Don't keep your baby up longer with the hope that it would help them sleep better