For Kunal Basu, history is a goldmine ready to be robbed
In a candid conversation with Sayan Mukerji, the writer talks Marxism, his new novel and how trial and error has come to define his life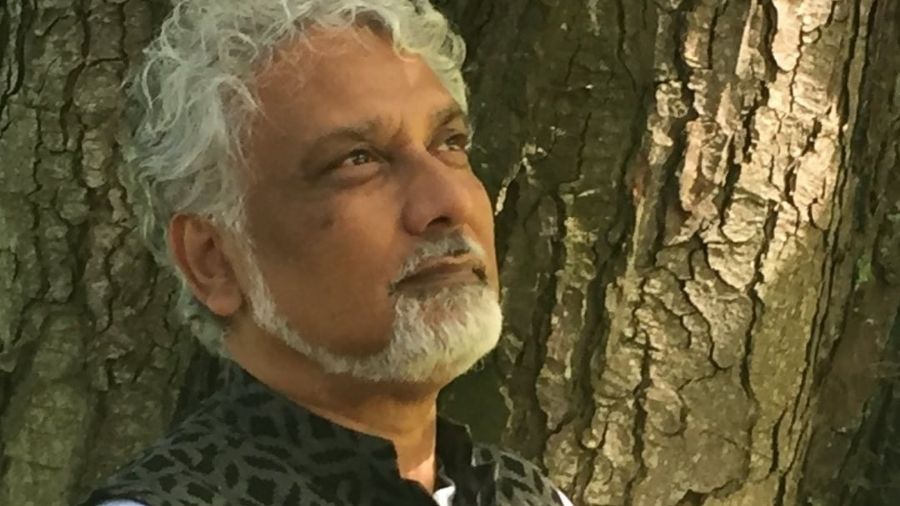 ---
Calcutta
|
Published 13.08.21, 03:17 PM
|
---
Early next year, Penguin will publish a new novel by Kunal Basu. He is working on An Ideal World, a gritty and fast-paced novel, it explores a variety of themes relevant to the current times—college politics, family, crime investigation and fanaticism. Basu is the author of several critically acclaimed books and short stories, including The Japanese Wife, which has been made into an acclaimed film.
In a candid chat with Sayan Mukerji, who runs his own website CheiroTaurus.com to explore various nuances of arts, ideas, chess and philanthropy, Basu narrates his literary journey after starting out as an engineer and an academic and the "rules he broke to be where he is today." Excerpts:
Early days: 'Born in a study…'
Born in Calcutta to Sunil Kumar Basu, litterateur and publisher, and Chabi Basu, author and actress, Basu was deeply influenced by the Left ideology which is reflected in his writing and life. "My birth was rather unusual. My mother, an author, had a strict deadline to meet. So, she thought of finishing her manuscript by writing through the night and then going to the hospital in the morning. But it seemed like I didn't want to wait for the clock. So, at the crack of dawn, she realised that it was too late. Hence, a theatre of birth was created in my father's study, where I was delivered by my aunt, surrounded by books. Luckily, we both survived despite any medical help," laughs Basu as he narrates the anecdote. In the excitement, his father forgot to register the birth – "Let me be candid, I don't have a birth certificate till date."
Childhood memories
While talking about his alma mater South Point High School, Basu recalls that he was a shy child, but was exceptionally good in Mathematics, a subject that he never cared about. "I was a good student and would score high marks in subjects that I never cared about. When we were kids, we were told if you didn't become a doctor or engineer you would be unemployed, so I didn't want to be unemployed and studied science to become an engineer."
Favourite subjects and Marxism
"My favourite subject in school used to be history. As a child I read a lot of history books, my mom was a historian. But I took up mechanical engineering. The historian inside me is weeping after all these years." On being nudged to elaborate on his Marxist influence, Basu says, "Post World War II communism was spreading globally in a big way, especially among intellectuals across the world, who were searching for an alternative world ravaged by war. The ideology of the Left was both enlightening and an alternative to a feudal society, where people were empathetic towards each other. So, yes, the Left has influenced the way I write, the seed was planted when I was 10."
Jack of all trades?
Before venturing into academics, Basu tried it all, from doing theatre with Utpal Dutt, directing a documentary, to reviewing novels for The Statesman for Rs. 40, only to realise that his calling lay elsewhere. "Trial and error is a running theme in my life. I have been a wanderer, adventurer, and have committed errors to get clarity on what I want," he admits.
On writing
"My first four stories are linked with history. As a creative writer, I believe history is a goldmine ready to be robbed, as the gaps that it has provides an opportunity to a creative writer to develop stories. But then I have also written contemporary stories." Elaborating on his novels, he says Kalkatta's story idea came when I was seated at a juice shop on Sudder Street, while that of the Japanese Wife came when I was visiting a south Bengal village. "I was standing on a jetty with a friend, who pointed at a nondescript man, stating that he was a village school master, who had a Japanese wife. I was intrigued but I am glad that I didn't ask the story. Many years later, on a stormy cold night in Montreal, I penned the story, which I never published. Years later, a chance encounter with filmmaker Aparna Sen made me take it out of the cold storage to have it published and also have it made into a movie."
New novel
On being asked about his next, he says it is a contemporary novel set in India. "A novel of our time, it addresses the chasm we have been experiencing in society. Today, a chasm exists between two opposing views of what India is and what it means to be an Indian. There are certain ideologies and political formations which are saying to be an Indian you must be this way and this way alone. Then there are political parties that say you can be whoever you want to be. The story is about a family that had to face this divide for the first time. It's short but relevant for the present times we are living in."
Struck by a pandemic
On being asked about him not being at his Oxford home, Basu says, "I am still at my Kolkata home. We had come for an all-India tour for my last novel, Sarojini's Mother, when the pandemic struck. So we are still here, waiting for the travel restrictions to ease so that we can travel back to our Oxford home."