Evening tales with Sabarna Roy
A candid chat with the author on the eve of Poila Baisakh was revelation of him and his works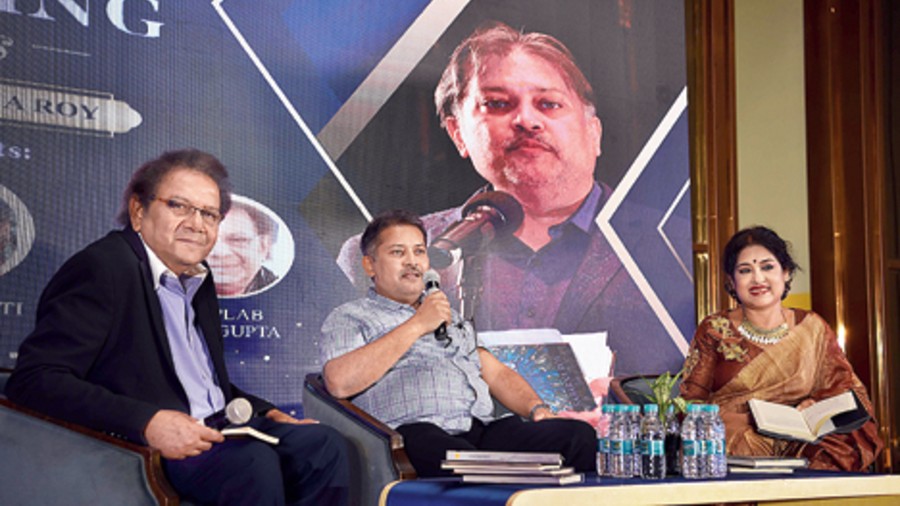 ---
Published 22.04.21, 12:48 AM
|
---
Evening Tales with Sabarna Roy in association with The Telegraph at JW Marriott Kolkata on April 14 was an interactive session that opened a few windows for the readers to the otherwise reticent author's thoughts. Educationist Madhumanti Maitra, actress Churni Ganguly, who joined the session virtually and actor Biplab Dasgupta, the moderator for the evening's discussion, graced the panel.
The discussion of the evening was opened by Biplab Dasgupta introducing the author. "It is an evening of perceptions and perspectives, two major pillars of consciousness. Sabarna is a civil engineer who mastered the inner engineering of the mind," said Dasgupta. Churni Ganguly spoke on the randomness of his journal entries that keeps the reader engaged and read out an excerpt from Roy's book Fractured Mosaic that inspired her during these trying times. Madhumanti Maitra continued the discussion by recalling a past meeting she had with the author, where they spoke about his chosen genre (musings or mosaic). "It is always wonderful when the author shares his convictions and the kind of inspiration and direction he wishes to take his work into with the audience or the reader," said Maitra.
On his chosen genre
Referring to one of his favourite authors from childhood, Roy said, Oscar Wilde never exposed his journal entries but used to carry them while traveling by railway for the simple reason that there should be something sensational to read while on the journey. He added that writings that you once wrote intended for yourself, surprise you. "Nietzsche said, normally a mind does not think, thoughts come to the mind. The mind works on genres, thoughts, subjects in a random manner. I write for myself. If readers read the book that's fine. My favourite genre is writing conversations as I feel I am good at it," said Roy.
On Bengali protagonists and his Bangaliana
"I am deeply Bengali. I did not take up a job at the UN headquarters because I thought I would become dysfunctional. I studied English and Hindi, so my journal entries were in English.... When I started writing in 2007, I thought if I think in English, writing in English would be best. I love writing on Bengali people as those are the people I know best," said Roy.
On his disengagement
Madhumanti referred to Beckett when the author made this confession: "I am a great fan of Beckett. I am not only disengaged with my readers, beyond a point I am very very disengaged with what I write. When I am writing I am deeply engaged. It is good to disengage but the craft of writing improves if you engage with your readers. Now, I go to literary meets." Much was revealed when an audience member asked how he manages to feel the pulse of the readers with his musings, a widely appreciated genre that's easy to read. "The secret is out! (laughs) When I was planning on Random Subterranean Mosaic, it was like reading three-four pages of the book before going to sleep. Many people actually did and told me so. So, to say I do not engage with my readers would be a wrong statement. I think Madhumanti di said it right, I write on my own terms. While the topics are quite engaging, critical but it is easy to read. I always wanted to be lucid," said Roy.
On the shift of genre
"The eighth book is a play and I want to write something romantic. I am getting old and have not written anything romantic, I want to live my desires through a play. I will be able to do justice to the plot if I write a play," said Roy.
The curtains were drawn to the discussion with Biplab Dasgupta's narration of Networking from Roy's book, summing up the evening session in a capsule, and a cinematic audio-visual presentation dedicated to Roy's father in his own voice of Death Rattle Clan from Winter Poems and the story of Pabitrababu and Parashuram from Random Subterranean Mosaic: 2012-2018.
Picture: B. Halder