Cricket country: The original men in blue
Cricket Country: The Untold History of the First All India Team by Prashant Kidambi provides an engrossing account of the All-India XI's tour of England in 1911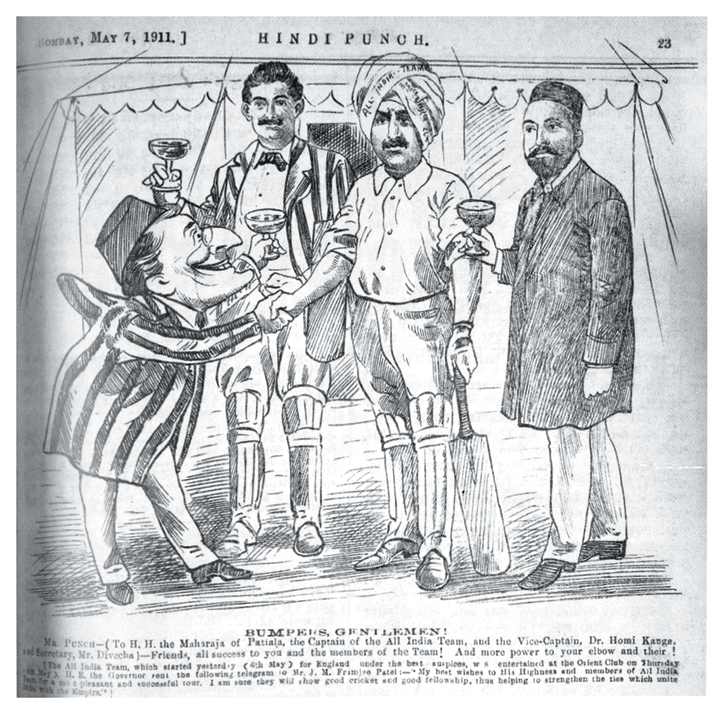 ---
|
Calcutta
|
Published 11.11.19, 12:22 PM
---
The year, 1911, is believed to be a signpost in the history of Indian football. Mohun Bagan, laymen and historians know it well, sent shivers down the English spine by beating their fancied rivals, the East Yorkshire Regiment, to lift the I.F.A. Shield. But 1911, Prashant Kidambi shows in this remarkably researched book -- Cricket Country: The Untold History of the First All India Team -- was also a turning point in the annals of cricket in India. That year, 16 men — Hindus, including two Dalits, Muslims, and Parsis — journeyed to England as representatives of the first All-India XI. They were the original Men in Blue.
The account of the tour is engrossing enough, even though the results were, expectedly, far from inspiring for the visitors. But Kidambi, as is the wont of an inquisitive mind, refuses to present a linear narrative. Instead, he chooses to dexterously build on the intricate historical settings. There are thus detailed accounts of the preceding tours by Parsi pioneers. Again, these Indian cricketers were not the only sportsmen on English soil in 1911. Their visit coincided with the presence of several international athletes — a Punjabi Muslim pehelwan and the racquet-bearing Jamsetji were among them — pointing to the "increasingly transnational character of sport in the age of imperial globalization".
It is this technique of widening the scope of the central narrative that enriches the appeal of Kidambi's work. He proves that fledgling patriotism was not the glue that held this team together. The intersection of diverse interests — sociological, political and personal — helped materialize the visit of these rather gentlemanly competitors. Bhupinder Singh, the ruler of Patiala and the captain, found himself at a crossroads with his imperial minders and sought to use the tour to make amends. The motives of some of the entrepreneurs of colonial India were equally selfish. Around the time of these sporting fixtures, India, Kidambi argues, had witnessed the violent sacrifices of radicals, and princes and public figures sought to project this sporting initiative as a sign of the colony's continuing fidelity to the Empire. Then, there were the English and Anglo-Indian patrons: they must have imagined cricket to be the route for India's entry into colonial modernity.
Bhupinder Singh and Palwankar Baloo, the regent and the plebeian, dominate the chronicles of players' biographies. But Kidambi is a fair selector: he provides pithy sketches of their teammates as well, resurrecting figures that are likely to fascinate the reader and the researcher. The obscurity of Shafqat Hussein or Maniksha Bulsara would, hopefully, be purged now.
Yet, one wonders whether this obscurity is the result of historical oversight only. Kidambi shows that these players were puppets in the hands of forces far greater than themselves. The challenge for a post-colonial polity, given its sensibilities towards the raj, would be to decide whether their powerlessness made these cricketers lesser men.

Cricket Country: The Untold History of the First All India Team by Prashant Kidambi, Viking, Rs 699