Blockchain, AI, Internet of things
Radhika Marwah discusses all things tech through a few book suggestions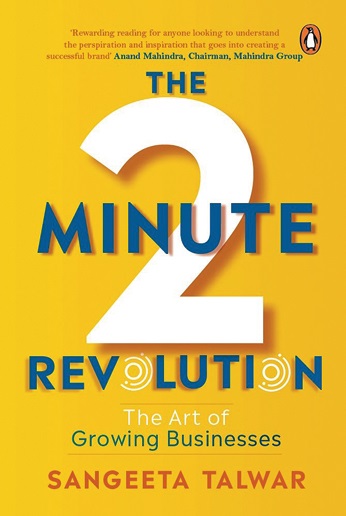 ---
Published 04.10.20, 05:52 PM
|
---
With the pandemic affording us one slight silver lining — some flexibility and extra time snatched for ourselves — I attempt here to recommend a few books which you can immerse yourselves in. So set aside that TV remote, give Netflix a break, turn off your phone's notifications, and prepare to become better versions of yourselves because these books can teach you a solid thing or two, and in such times we can all do with a bit of upskilling.
Technology is at the forefront of forces which are fast transforming our world. If you've seen the recent documentary The Social Dilemma on Netflix, you're probably horrified by how completely technology owns us and how smoothly it can be manipulated. Rather than deleting apps from your phones, educate yourself and arm yourself to bend this beast to your will.  
If you are thrown by new technologies like blockchain, AI, and the Internet of Things, then there is really no better man to turn to than the tech whisperer himself — Jaspreet Bindra. His aptly titled book The Tech Whisperer: On Digital Transformation and the Technologies that Enable It will help you understand the basic principles of digital transformation and the technology forces that enable rapid customer and business environment changes.
Until recently, Jaspreet was the senior vice president, digital transformation, at the $20bn Mahindra Group of Companies, helping drive digital and technology transformation across the Group's businesses. The Tech Whisperer, as the name suggests, demystifies and simplifies emerging technologies like AI, blockchain, Internet of Things, virtual reality, etc. and narrates how companies can employ these to drive their digital transformation.
Technology, in its various manifestations, raises some deeply philosophical questions and it is impacting some of our greatest ideas and institutions. Work, jobs, love, relationships, currency, privacy, democracy — all of these are changing around us. Each of us is part of this monumental transformation. And that's where Atul Jalan's Where Will Man Take Us? come in. A science storyteller and futurist, Jalan is the founder-CEO of a pioneering AI venture, Manthan.
"Man's relationship with technology is complex. We always invent technology, but then technology comes back and reinvents us."
In the 7 million years since our descent from the tree, we have evolved more than any other species. But never in our history has the transformation been this rapid or its consequences so dramatic. Where Will Man Take Us? looks at the primary drivers of this change —  Artificial Intelligence, bio-engineering and nanotechnology. It looks at how in our quest to bring human-like cognition to AI, we are forced to look at ourselves and answer some of our oldest questions — what is it to be human, what is self-awareness, what is consciousness.
AI's ability to crunch data and math's ability to find patterns, could also help us unravel some of our greatest mysteries — astrology, aliens, the secret to unbroken eternal happiness. The book also looks at the advancements in genetics — the ability to edit the genome truly marks the beginning of man's next avatar.
Now that you've grappled with tech and the rapid evolution of world as we know it, it is time to look within. The other big area for improvement, while you have a somewhat flexible schedule and hopefully no flights to catch, is the SELF. There's been a big uptick in self-help book, and that's in part because people realise the need to introspect and spend time in building better versions of themselves.
The challenge is that most books languishing in the self-help corner of the bookstore are merely a clever title, attractive font, and lip-service that can change your life. There are a few seriously useful books though, and I personally swear by Catalyst and Get Better at Getting Better by corporate veteran Chandramouli Venkatesan. These two books are prescription drugs for anyone in a career and with genuine desire to excel at their workplace.
Mouli, as he's fondly known in the industry, is a corporate veteran with over 26 years of experience in the industry. His first book Catalyst has sold nearly 100,000 copies, and his readers attest to the effectiveness of his advice. A lot of people think that they are well equipped to enjoy a great career. They probably have a great education, are in a good job, reasonable IQ, EQ, they work hard, and so on. They are bound to be successful. Right? Well, as it turns out, actually, no. Mouli argues that these are just ingredients. To truly excel at your career, you need the right catalysts to convert these ingredients into bonafide success.
Which then brings us to the million-dollar question: What are the catalysts required to become successful? I would urge you all to pick up Catalyst and find out.
Get Better at Getting Better is based on the insight that success is not about how good you are but how powerful a model you have to improve how good you are. Chandramouli calls it the Get Better Model, or GBM.
If you are by now completely overwhelmed by all this talk of being hyper productive and want to be regaled by some good old-fashioned business stories, may I suggest the infinitely entertaining and highly illuminating book on the Haldiram Group — Bhujia Barons. Written by Pavitra Kumar, this is the first book to map the family from its roots in Bikaner to the conglomerate valued at Rs 21,000 crore. Shrouded in secrecy and intrigue, this is the first time that the Agarwals have opened up to any journalist and shared their story in its entirety. A delight for anyone interested in family business dynamics and the Indian way of doing business.
In the early 20th century, young Ganga Bhishan Agarwal, aka Haldiram, gained a reputation for making the best bhujia in town. Fast-forward a century and the Haldiram's empire has a revenue much greater than that of McDonald's and Domino's combined. The Haldiram's story is not an average business story, it's chock-full of family drama with court cases, jealousy-fueled regional expansion, a decades-old trademark battle and a closely guarded family secret of the famous bhujia.
Another story which would resonate enormously with Indians of all ages is The Two-Minute Revolution by Sangeeta Talwar. Told by the first woman in FMCG, this is the story of the launch of Maggi noodles in India, the woman who heralded this path-breaking snack, and the magic woven behind this much-beloved brand. Unlike usual business books, The Two-Minute Revolution provokes you to think big about innovation as well as excellence in on-the-ground execution. Talwar draws from decades of first-hand experience in Nestle, Tata Tea and Mattel, and prescribes a plan of action that includes tactics such as keeping all the balls in the air, executing to perfection, being consumer obsessed and pivoting on profitability. Insightful and packed with fascinating examples — from creating and launching Maggi noodles to spearheading the highly effective Jaago Re campaign for Tata Tea — this book suggests tried and trusted strategies for building extraordinary brands.
In these strange strange times that we find ourselves in, reject the mindless cacophony emanating from your screens. Choose a book. Like Fran Lebowitz said: "Think before you speak. Read before you think."

The author is commissioning editor at Penguin Random House India