Author Satyarth Nayak documents everything that made Sridevi 'eternal'
'For me it will be how Sridevi touched the lives of everyone she worked with'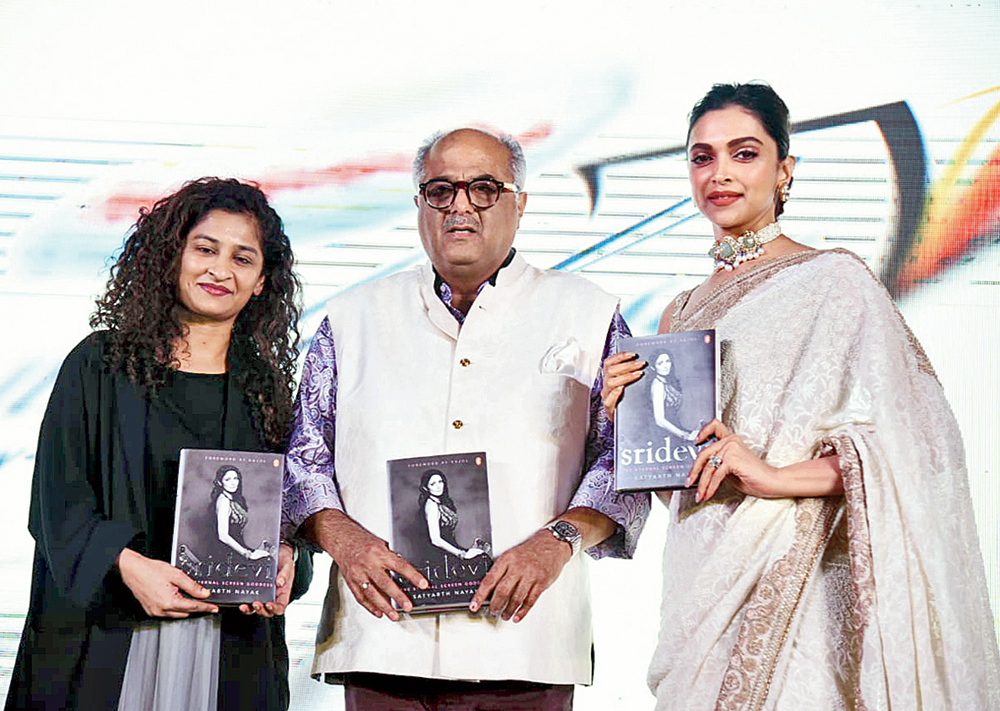 ---
---
Two years back on a February morning, India woke up in utter shock to the death news of the silver screen megastar Sridevi. Even a day ago, social media was flooded with her pictures of attending a family wedding — elegant in her poise and charming in her attire, the actress was captivating hearts at age 54. While speculations on her sudden, mysterious demise carried on for days, fans had an opportunity of catching up on her vast body of work being played and re-played across Indian television — from Julie (1975) and Himmatwala (1983) to Mr. India (1987) and Chandni (1989). Almost all 90s kids have at some point in their childhood emulated the steps of her fanning herself with her hands in the song Hawa hawai from Mr. India. From her animated acting skills to her stellar dance performances in the songs of her films — her versatility was admirable and undeniable. Mumbai-based author and screenwriter Satyarth Nayak, known for his debut as a writer in the genre of historical thriller with his book The Emperor's Riddels in 2014, launched a biography of the "eternal screen goddess" recently, titled Sridevi. Nayak, a cinephile by his own confession, meticulously analyses the landmark performances of the actress and takes us through the journey of the shy 'crowd-hater' child growing up as the Bollywood diva, challenging the patriarchal norms of the industry, balancing well the reel and the real. The Telegraph caught up with the author for a short chat on the book and beyond. Excerpts...
What was your first impression of Sridevi when you met her for the first time in 2012?
I was fortunate to meet Sridevi in 2012 when she had come to Delhi to promote English Vinglish. That's my only meeting with her and I shall always cherish it. One had heard that she was famously reticent in real life. While that appeared true, the fact that she was amidst people she was fond of and her film had got a stellar response had eased her up. We clicked a picture together and it was she who directed us to right spot with good lighting. This was one of the lesser known facts about her that she was technically astute about things like how to judge the correct lighting for a shot.
When did you start writing the book and how long did it take?
It took me one-and-a-half years. I started the book in mid-2018 and it finally released in December 2019. Given the prolific nature of Sridevi's career that spanned five languages, 50 years and 300 films, this was a book that needed its own time. Finally, Deepika Padukone launched the book in Delhi and Karan Johar launched it in Mumbai.
What are some of the major challenges you faced in encapsulating a 50-year journey in a 250-page book?
Condensing her gargantuan journey in a book was quite daunting but also fun. Another big challenge was writing it in her absence. If she would have been alive, the narrative would have been even more personal. Thankfully, I had a huge stack of film magazines from the '80s and '90s that are filled with interviews of Sridevi through various stages of her career. In her absence, those quotes have become her voice in my book. I also wanted to interview as many people as possible who had worked with her. While that seemed challenging initially, I was able to finally interview over 70 personalities, including some of the biggest names she had worked with.
Your chapters are very interestingly titled. How did you come up with the idea?
The idea was two-pronged. While each chapter title captures the phase of Sridevi's career narrated in that particular chapter, the titles one by one give you a chronological evolution of the actress. The quotes that appear below every title, are lines culled from her film dialogues or song lyrics and also symbolise the nature of her journey described in each chapter.
Did you ever feel the need to restrict the fanboy in you or were you satisfied with writing an ode to the "screen goddess"?
Given that my subject was a screen legend who had been voted "India's Greatest Actress in 100 Years'' in a nationwide poll on the centenary of Indian cinema, the fanboy in me was happy to celebrate her journey.
Having said that, I have also been quite critical of several aspects of her career in the book. Many of her film choices were not up to the mark. Also, despite being unhappy with the quality of roles she was getting in mainstream Bollywood in the '90s, Sridevi never explored parallel cinema with the likes of Shyam Benegal or Govind Nihalani. Also, when she made that historic comeback with English Vinglish, she seemed to have imposed restrictions on herself about the kind of roles she would now take up.
Have you watched all her films?
I have certainly watched as many of her films as possible to ensure a comprehensive documentation of her journey. Given her massive corpus of 300 films, I don't claim to have watched them all but I certainly saw huge bulk of her performances across all the five languages she worked in to create a definitive book on her. In the process, I also discovered some incredible work she had done down south.
Was it challenging maintaining a balance between the reel and the real since they are almost two different personalities — the versatile, mature actress aware of her worth and the innocent, reticent, person in real life who never had the chance to grow up?
It was a tough act but I was clear from the very beginning that besides the performer, the book will also explore the person Sridevi was. The fact that there was this fascinating dichotomy about her, that she was shy off camera but would come magically alive on camera was wonderful to probe. She was famously called the 'switch-on-switch-off'' actress.
Also, given that she started acting when she was merely four and became a leading lady at the age of twelve, it was interesting to explore the personal side of her journey. You will also find personal anecdotes about how Sridevi coped with her father's sudden death, her tender relationship with her sister Srilatha, her mother's botched up surgery in New York and her subsequent marriage with Boney Kapoor.
Your book begins with you quoting the dialogue from Chaalbaaz, that gets echoed throughout the book as you tell us her journey of being a star and her ability to maintain her individuality in a patriarchal industry. Was it a conscious choice to keep this aspect in focus?
Absolutely. How Sridevi challenged patriarchy in the Indian film industry in the '80s is one of the most fascinating aspects of this biography. She had the guts to refuse films opposite Amitabh (Bachchan) unless she had an equally solid role. Amitabh had to woo her by sending her a truckload of flowers to finally get her to act opposite him in Khuda Gawah.
She became the 'hero' of her films and raised the status of the Indian film heroine to a whole new dimension. Today we talk about misogyny, sexism and toxic masculinity in the industry and Sridevi had battled it all in the '80s and emerged victorious. She was respectfully addressed as 'Mai' in Bollywood. She had become more powerful than her male co-stars and was even paid more than many of them. It's even more relevant today and I want it to be a big take-away for the readers of this book. By becoming a truly pan-Indian megastar, Sridevi achieved what many of our biggest heroes could not.
To you which was the most striking part of her ever-evolving journey?
For me it will be how Sridevi touched the lives of everyone she worked with. You get to read about that in all the fascinating memories and anecdotes shared by those I have interviewed for the book. Like while Kamal Haasan reveals the pranks he pulled on Sri, Anil Kapoor reminisces about the Marwah wedding night in Dubai when he met Sri for the last time. While Rajinikanth remembers moments from his first film with Sridevi, Nagarjuna reveals an incident that somewhat forewarns the manner of Sri's tragic demise. While Chiranjeevi shares what he learnt from Sridevi, Karan Johar recollects her personal traits that he discovered watching her on sets. While Raghavendra Rao talks about a near-fatal incident that happened with Sridevi when she was a child star, Ram Gopal Varma shares his favourite Sridevi moment off-screen. And while Shruti Haasan shares the life lesson that she picked up from Sri, Kajol and Vidya Balan tell you why she remains their biggest inspiration. Many such rare anecdotes form the beating heart of the book.