A worthy session with the wordy Shashi Tharoor
Shashi Tharoor on his book, 'The Paradoxical Prime Minister: Narendra Modi and his India'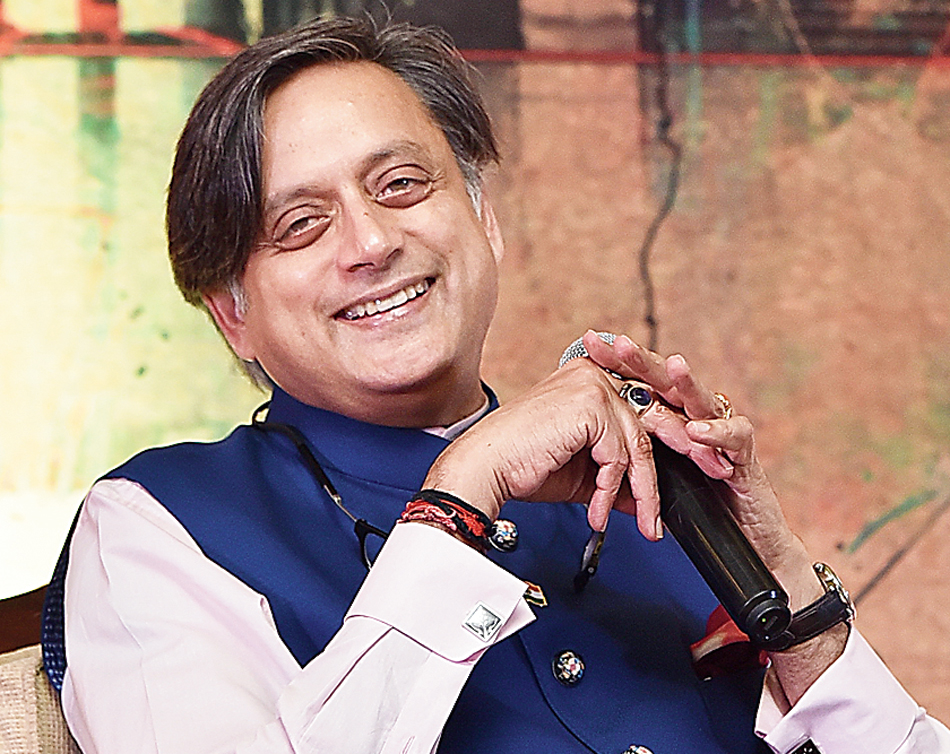 ---
---
With his quick wit, flair for the spoken word and signature hair-flip, Shashi Tharoor floored a room full of ladies at Taj Bengal in Calcutta recently. The occasion was a session titled Shashi Tharoor Unplugged, presented by YFLO Kolkata. On the occasion of the release of his book The Paradoxical Prime Minister: Narendra Modi and his India, Tharoor stopped by last month where he tackled questions on everything from becoming fodder for Twitter trolls to "floccinaucinihilipilification" — the latest addition to his collection of tongue-twisters (of course made popular before him by Satyajit Ray in his film Agantuk). Excerpts from Tharoor speak...
Being back in Calcutta
It's wonderful to be back as I have really happy memories here. I went to high school in Calcutta (St. Xavier's Collegiate School) and if it weren't for the political violence on campus here, I would have stayed on. I went to St. Stephen's in Delhi and never quite came back. But it is always enjoyable to be here. For me, more than physical memories in places in Calcutta, it's the intangible memories of what I have learnt growing up in the city and its heart. I was in the much more materialistic and seemingly proficient Bombay before coming here and this is the city where ideas, culture and policies matter.
Purple patch of publishing
I have published five books in 24 months actually but the first one took me a year-and-a-half to write. My publisher had been demanding — there's this old friend I have known since my 20s and he published me in Penguin and some of my most successful books, I have to admit, are books that he prodded me to write. During the last few books, this friend had left Penguin but I am basically a loyal person and so I stayed. But my friend wouldn't take 'no' for an answer so he pressed me to write something for Aleph. When my Oxford speech went viral, he called me up and pressed me to write on it. I told him that everyone knew about it and there was nothing more to write on it. But he said, "Clearly, people don't know about it and that is why the speech went viral!" And that was when I said "yes". The speech went viral in July 2015 and the book (An Era of Darkness: The British Empire in India) came out in October 2016. So the 10-minute speech became a book but a lot of re-reading and researching was required to re-substantiate the old biases. I have never had the luxury to take out a lot of time to write books but I took almost two full weeks off and went off and sat in a cottage in Bhutan that His Majesty kindly lent me. I wrote 18 hours a day but the draft I wrote in Bhutan was essentially only half the eventual book. The next book, Why I Am a Hindu was much more personal, much more my interior reflections about my faith and concerns about India. This book (The Paradoxical Prime Minister) is of course much more political with elections less than six months away and therefore the mad urgency to finish this book.
Global pattern of muscular leaders
We will probably be able to identify maybe half-a-dozen leaders like that and I think it's partly a backlash against globalisation. Globalisation had two dimensions — it did not only mean the disappearing of boundaries but it also had cosmopolitanism, which led to the rise of the global elite. This caused a fair bit of resentment and a section of society said that the cosmopolitanism was leading to elitism and there was a need to defend our cultures, traditions and religions of our countries. We have seen this in (Donald) Trump's America, Turkey, Brazil and less successfully in countries like France, Austria and The Netherlands where such parties are second or third and haven't come to power as yet. But it is important for us to be conscious of this phenomenon.
Being a "bibliomaniac"
This is certainly one of the words that defines me but not all of me but I definitely have more books than I can finish reading in this lifetime, I think. The books have outgrown my library shelf and now are spread on the floor and corners and I keep asking the interns to sort this out and they all eventually give excuses sooner than later and get out of it. Even if the younger generation who are immersed in their smartphones consume text on it, it's good but books simply offer you a much larger world and requires a little more attention. The rewards are also far greater. I grew up in an India without television and so essentially all I had were books. And I was also an asthmatic child and when you're stuck in bed, your friends are books. I read my parents' books and then would often go to the library and finish the book in the car on my way back. Books are like a toddy tapper's hatchet because they cut through the rough husk that enshrouds our minds to tap into the exhilaration that ferments within.
Becoming a granddad
He was born in February and lives in New York and I have managed to see him five times this year. This is not the best phase because, I mean, all babies look like a cross between Winston Churchill and E.T.! But it's precious when they start moving and even better, when they start talking. So I am looking forward to that. His parents are writers and so words and books will definitely be a big part of his life but I am looking forward to introducing more to him. He is at that age when confronted with a book, his first instance will be to chew it and I hope the books will survive him.
Twitter trolling
I think I started the trend of politicians being on Twitter in many ways and I think the mainstream media resents me for that because they were completely taken aback by the idea that a politician could completely bypass them and go straight to the people through social media. And as a result, literally anything I was saying was whipped up into a controversy. In those days, I was interacting with people I wanted to and those numbers were far less — there were no trolls who are paid to organise themselves to abuse you every day, which is what I am getting now. I wonder about the mentality of these people. They must lead such sorry lives that they get their jollies by launching such vicious barbs from a safe distance. I hope the good people eventually outnumber the trolls.