Watching the waves
Varun Desai's show begins with physics as its raw material, harnesses technology as its crafting tools and ends with a frisky trimming of Op Art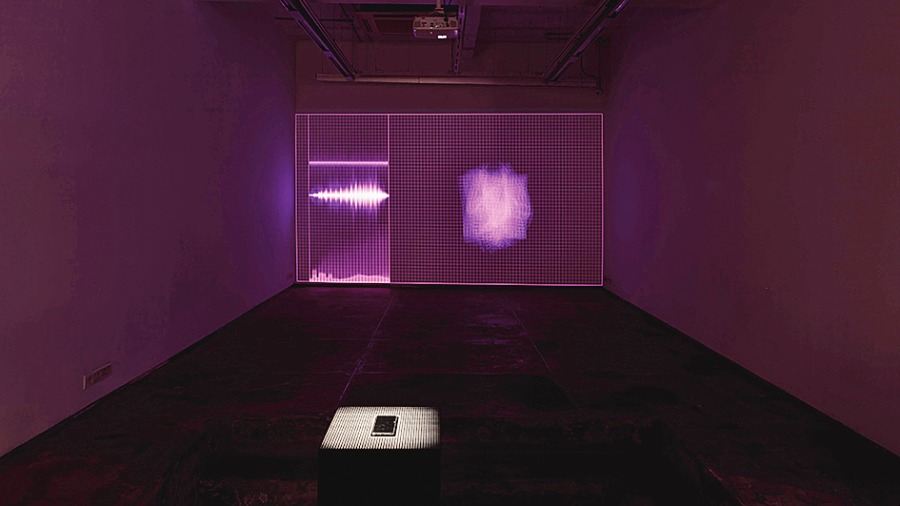 Radiation by Varun Desai
Experimenter
---
Published 05.03.22, 01:34 AM
|
---
What, you may ask, is a sound engineer doing in an art gallery? Not as a technical adviser but as the focus of a show?
But wait. Show, did we say? Could the recent presentation of Experimenter (Gariahat Road), which ended on February 8, be called a show, per se? It would, rather, be more appropriate to term it a game of sorts, introducing to gawky art-lovers an aspect of the fathomless wonder of the universe as probed by science. It begins with physics as its raw material, harnesses technology as its crafting tools and ends with a frisky trimming of Op Art.
In other words, what the sound engineer, Varun Desai, does is to take hard-core science to woo art through the mediation of technology as he maps electromagnetic waves for the human eye, turning  immaterial reality into form, nothingness into visible being. Hence, the title, Spectre.
Sure, every science — and, indeed, non-science — student knows about light and sound waves and has seen or done experiments to profile their energy in physical and digital terms. Every lay person who's stood before an X-ray machine has been an unthinking witness to the benignly intrusive power of electromagnetic waves that might turn malignant under certain circumstances. But to actually see their invisible presence translated into callisthenic patterns of lines on a wall, generated by your own mobile phone is, for the tech-idiot, like walking into a sci-fi parable that warns of thoughts being similarly tracked from brain impulses in the future.
Desai's three participatory presentations draw you into a notional magnetic field as you enter the gallery to watch kinetic art on display. The first of them is Radiation (picture). An innocuous mobile phone is placed on a stand. But watch out. For it tirelessly emits pesky signals that are now heard as bizarre, unsettling noises. In front of the stand is a laptop fielding, processing and projecting them as a sedate graph on the facing wall that twists and turns in sprightly, quite riveting  acrobatics.
For the second arrangement, described as "a four channel inverted video passageway", there are four monitors suspended at eye level. They play out a low-key drama of agile blinks of ceaseless pixilation on the screens. But what is it that's fragmented into pixels unless it's the empty air? But then, there's no empty air, is there, unless it's a vacuum in space? Cameras fitted above the screens catch the silhouettes of intruding heads: an unnerving taste of the surveillance now ubiquitous, employed both by State and non-State agencies. Is this a prediction of more refined, more inquisitive Metaverse data tracking and collection in a Web 3.0 universe?
The far corner of the gallery is reserved for Almost Immersion, labelled a sound installation. But it's not what usually comes under such a category. There's a black box with
a broad slit for your hand to slip in. A small device inside seems to pick up the imperceptible friction of an object moving in the air as sonic signals and transfers them on a screen in changing patterns of lines. Hence, when you insert your hand into the slot and move the fingers around, the steady graph on the screen stretches the lines around with elastic agility to carry out quite a mesmeric exercise.
Be warned, world: you've been ambushed by the future already.