Delve deeper: Chitrangada's story today
THEATRICAL FILM: The portrayal is a richly textured aesthetic presented through sophisticated set design, meaningful use of lights and evocative use of colours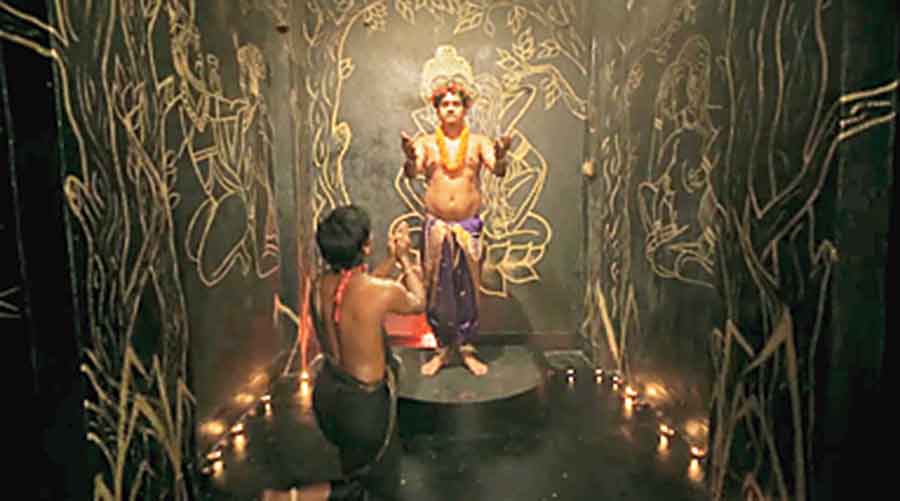 ---
Published 07.08.21, 12:17 AM
|
---
Santoshpur Anuchintan's Chitrangada: The Story of a Hermaphrodite is an adaptation of Tagore's Chitrangada designed in a theatrical film format. The performance, directed by Gaurav Das, touches upon the complex issues of gender, displaced love and choice as embedded in Tagore's text but also attempts to situate the story within contemporary palimpsests of gendered experiences. This half-an-hour-long film delves directly into the central conflict that the warrior princess, Chitrangada, is faced with when she falls in love with Arjun. Tagore, in his dance-drama, Chitrangada, has dealt with the deeply philosophical idea of how one's sense of beauty is intrinsically connected with the conditioning, priorities and choices of the inner self. It culminates, symbolically, in a moment of reconciliation with an inner sense of beauty that is not tethered to the expectations of cultural norms of gender. Santoshpur Anuchintan's adaptation draws upon this philosophical insight but falls short of reaching a poignant moment of transcendence in the staging of the play.
The story is made to unfurl in a richly textured aesthetic presented through sophisticated set design, meaningful use of lights and evocative use of textures and colours. However, the ostentatious design was overwhelming and impeded me as a viewer from immersing in the nuanced conflict that lies at the core. The performances appear to embrace the aesthetic of the film rather than truly embody the struggles of the characters. If viewed outside the context of the text, it is inspiring to watch how the maker creatively engages with visceral experiences to depict erotica — elements of smell, colour, touch and sounds. It would have been more relatable if the performances were made to foreground the nuances of how sexualities and gender identities are caged within bodies steeped in prescriptions of culture. The power of abstraction in Tagore's original play does not find an appropriate translation in this cinematic adaptation that relies more on the corporeal.
This piece does offer a delectable experience of music, ranging from traditional repertoire to original compositions.