Sourendro & Soumyojit share their musical journey
Having performed in more than a thousand concerts and crossed many memorable milestones, the duo has a career spanning 15 years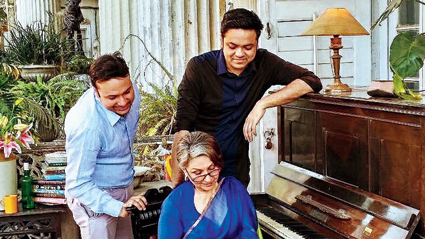 ---
---
How do you look back on your journey of the last 15 years?
Sourendro: It went by in a musical blink — because the friendship that we share have 1,500 shades of grey. The differences between us brought more happiness that music alone could have made possible.
Soumyojit: The gift of dreaming brought us together. We lived so many beautiful moments together: a few albums, a bagful of concerts, some larger-than-life collaborations, a couple of awards, a world of connoisseurs, and miles and miles of travel. And yet the thirst to dream wakes us up every morning and takes us towards our next destination. I still don't know if it was music that was reason behind us coming together, or if it was our staying together that made music.
What are some of your favourite musical memories?
Sourendro: Our performance turned memorable when the football legend, Pele joined us on stage. The first phone call that came from Asha Bhosleji, when she called to let us know that she liked the composition we had made for her, and agreed to sing it for us.
Soumyojit: We had just missed our train to our very first concert at Jamshedpur way back in 2005. Stranded, we rushed to the station master at Kharagpur for help. After asking us to perform for him in his little control room, he went out of his way to get us seats in the army coupe on the next train. He blessed us, and said that he had high hopes for our future. Then there was a goosebump-inducing experience singing Ekla Cholo Re to a packed Eden Gardens at the Pink Ball test match. We can't thank Sourav Ganguly enough for that wonderful opportunity.
What were your initial goals when you started 15 years ago?
Sourendro: Our initial goal was just to stay together. Our ultimate goal remains the same: to stay together. It is this togetherness that brings in the other aspects: our music, our imagination, and the strange journey called life.
Soumyojit: For me the initial goal was to come up with something new. Over the years, the destination changed, but the motto to surprise both ourselves and our audience remained constant.
What kept the two of you going for 15 years?
Sourendro: Being together allows us to think creatively and explore all the little things that our imaginations desire. It is our integrity that has helped us walk together through 15 years of sun and rain. We were able to derive happiness from the most insignificant of things because we were together.
Soumyojit: Initially it was the fun of making music and celebrating friendship together. Later our friendship became the medium by which to chase our dreams. Until we realised that we couldn't have done anything but what we were already doing.
We have done more than a 1,000 concerts, and travelled half the globe.
What did you discover about each other?
Sourendro: I thought Soumyojit was a student of classical music, but found out that what he sang best were songs by Elvis Presley! I'm still trying to convince him to trust me and explore his baritone and I am sure that his intelligence one day will outshine mine. I hope that I discover that he has begun to wake up at dawn.
Soumyojit: Without practising at all Sourendro could play with a skill that I thought required a lot of practice. This ability fuels the soundscape we have put together over these years, and yet this un-rehearsed in-born talent stands at odds with my ideas of discipline and rigor.
I hope that one day I discover that our dear Mr. Cinderella is awake at two in the morning to witness the life as I live it.
When it comes to making music do you agree on all things?
Soumyojit: We are always having disagreements. To the extent that one of us walks out of the studio with the decision to never come back again. And whenever such a situation arises, we know there is beautiful music on its way.
Sourendro: At times I find him to be absolutely illogical. But at the end of the day, if I ever face a complicated situation — whether personally or commercially — he also comes up with the best and easiest solution using his ultimate weapon, "his absolute honesty".
What are the five things that you brought to the Calcutta music scene?
Sourendro: 1) When we perform, it is not just our music but the entire artistic vision that expresses our thoughts. Our costumes — in particular our insistence on wearing dhuti panjabi — have become essential components of the image we have worked towards crafting.
2) It's not often that we see an acoustic piano on stage in the city. We have made a consistent effort to bring the piano back to the city's stages.
3) The annual world music day concert that we conduct on behalf of the city on June 21. This year marked our 10th year. We are happy that this has been an annual affair, and that people look forward to it and its consistent effort to present something new.
Soumyojit: 4) To look at Tagore and his music through the lens of world music, and beyond the conventional guidebooks of Rabindrasangeet.
5) Even when we do covers we try to make them our own performance — by not distorting the original, but interpreting it and embellishing it through Indian classical music. It is a high point in our concerts when Badtameez dil and Laga chunari mein daag walk hand-in-hand through the strains of Bhairavi.
Forthcoming projects?
Sourendro: We would love to weave together the 196 anthems of the world to experience the diversity and integrity of the world through music. And leave behind the only document on earth in which all the countries of the world will have equal shares.
Soumyojit: A couple of years ago we were invited to perform at the Victoria Memorial to celebrate an installation of the moon created by British artist Luke Jerram, in association with NASA. I decided then that our next step should be to perform on the moon. Of course, on a full-moon night!
Would you like to do more film music or reach out to a pan-Indian audience?
Sourendro: Composing is our passion. What excites us is the challenge to reach new audiences. This becomes particularly exciting given our current digital scenario.
Soumyojit: Our objective as artistes has been to build a relation with our audience. If there is a way that our art can enhance a film, or any other medium for that matter, we are always open to the idea.