Horn Please: The kitschy world of truck art
A celebration of the beast that rules our highways and those who drive them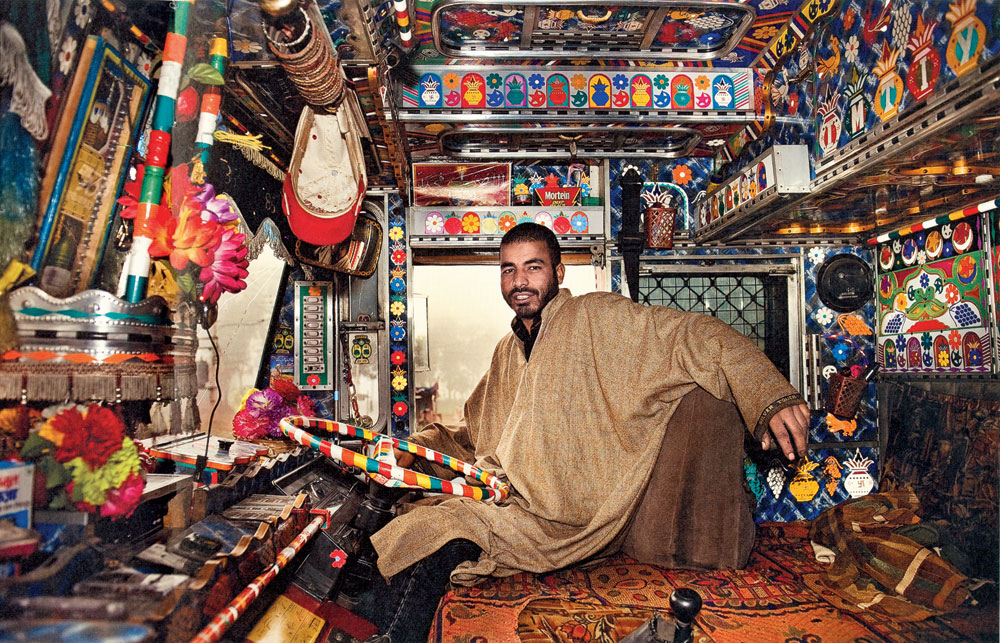 Lorry lore: Truck art is integral to the entire trade
Source: The book "Horn Please — Trucking in India"
---
Published 16.02.19, 08:55 PM
|
---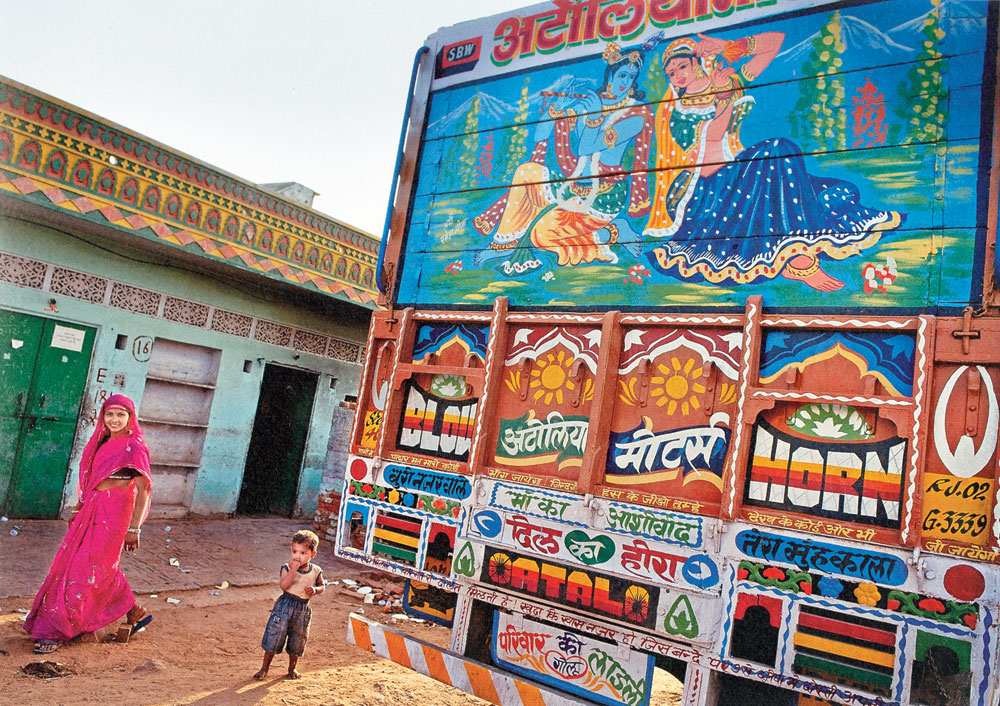 The Jains were not the only ones discovering the world of trucks and their mahouts, another documentation was happening parallely, though one didn't know of the other. Shantanu Suman's Horn Please is a documentary film that pays tribute to truck art.
Suman is a Graphic Design professor in the United States. He was still pursuing his graduation from the University of Florida in 2011 when he got interested in the concept of truck art. Along with two friends, he went around India and documented truck art for two years. "Conversations with the truck drivers led me to realise that people in this line of work rarely get anyone to lend an ear to their stories."
The documentary opens with the visual of a truck weaving its way through a hilly terrain. Khalasi Zuhoor Ahmed looks directly at the camera — a truck driver is referred to as ustaad and his helper is the khalasi — and says, "When we decorate the truck, when we drive the truck, it should look like a dulhan."
Truck art constitutes a mix of kitschy images — a cow and calf, an eagle with outstretched wings, a lion closing in on a deer, a lotus, the Tricolour, Aishwarya Rai's eyes — and talismanic items — lime and chillies strung together, a pair of old shoes dangling. One cannot miss the floral patterns and calligraphy inside and on the body. In the documentary, truck painter Raja Gharu from Jodhpur says how one driver might ask for Krishna with a flute while others want dancing sirens. Says Gharu, "If these drivers belong to the Bishnoi caste, they get a temple of Lord Jambeshwar painted on the trucks."
There are smart slogans too — "Ladki ko mat ghoor, paap hoga. Tu bhi kisi din kisi haseena ka baap hoga" or something as simple as "Prayer is power" — mostly caveats on how to be on and off road. Art and design historian Seema Srivastava explains the thought behind the catchword "Horn Please". She says, "The concept of Horn Please comes from the war period. Kerosene used to be transported from one place to another. And kerosene is a very inflammable product. So to warn people, these words were printed." Jain points out that truck art was actually the first tool of social messaging. She gives the example of "Hum Do Humare Do". "These slogans pass on messages when they travel through villages and rural areas," she says.
As trucks pick speed and rip through new lands, gain experiences new, clues about its origins remain imprinted on the body. The picture of Kali is usually a giveaway that the truck owner is a Bengali, there are others with "786" or "Ya Allah" painted on them.
As one goes through the gamut of visuals from the book and the film, it becomes clearer still that truck art is more than art; it is a life-view. And everything is integral to it, nothing is extraneous. Speaking to The Telegraph over phone Suman says, "Truck painting is a visual representation. It is a storytelling process." He adds, "When people travel to India, they go to Goa or to see the Taj Mahal, but something they miss on the road are these artworks travelling from one part of the country to another."
Divya Jain married into a transport and logistics company. Dinner table conversations at her in-laws' place were about Delhi's pollution, vehicles and how trucks should be banned from city roads. During some of these it often came up how truck drivers are an underrated lot.
Now, a truck to most urban Indians is a beast of nuisance and safety risk. One forgets to remember that the beast actually travels through far-flung geographies — Leh, Ladakh, Kashmir, Andhra Pradesh, Pondicherry — winding its way through deserts, high security international borders and no man's zones, ferrying party members to political rallies, doubling as a hearse van on occasion and filled with celebratory crowds at the time of Durga Puja and Ganpati immersions. Many months later, the Jains' dinner conversations assumed the shape of a coffee-table book.
Between the thinking and the coming together of it lay thousands of kilometres of driving along national highways, 5,000-plus interviews with truck drivers, stops at dhabas, poring over truck art and countless revelations. The book Horn Please: Trucking in India by Divya Jain and her father-in-law, Pawan, is filled with page after page of visuals — trucks in transit, trucks at odd stops, truck art, candid shots of truck drivers and so on and so forth. Four international photographers — Sephi Bergerson, Zackary Canepari, Claude Barutel and Thomas Pickard — travelled across India in trucks for over four years to capture these. Jain says photographers in India didn't seem to find the subject interesting enough. "Possibly a case of not being able to value subjects too close to us," she says.
Jain herself participated in most of the journeying. She narrates, "We happened to meet a Kashmiri truck driver in Indore. He told us he has these fixed dhabas from Kashmir to Kerala that cook Kashmiri food for him and other drivers of his ilk." Another time they met a driver from Punjab who wanted to go to Canada and get his children settled there. She recalls how he kept saying, "Five more trips and I will be able to buy tickets for my son."