Images that leave you shaken
VISUAL ARTS: Ganges Gallery's recent show 'Anthology of Anecdotes' breaks the audiences hidebound comfort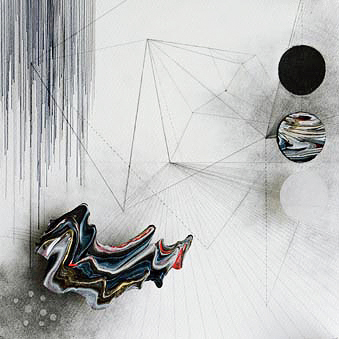 ---
Published 20.03.20, 06:45 PM
|
---
Even if you've only seen pictures of Auschwitz and /or have read Wiesel's Night from which Mahajabin Majumdar quotes in her mixed media works, the image of a tiny shoe on an adult palm with a smoking chimney in the background would leave you shaken. Arms pierced with a long pencil, that deletes the psycho-social complex called identity and imprints roll-call numbers on the skin instead, remind you of the tribal xenophobia submerged beneath cosmopolitan politesse, not exorcised.
While Hitler's Final Solution is the darkest chapter in Ganges Gallery's recent show, Anthology of Anecdotes, its fainter echoes — dressed in more palatable parlance — sharpen Chhatrapati Dutta's dissection of The Grand Plan of British imperialism into convenient capsules: Victorian architecture, a tumbledown city (the Black Town, presumably), burning houses. And the robust resistance it stoked, symbolized by Gandhi. Awry aside embedded in the leader's striding figure hints that the ideal man may be far from Vitruvian perfection. Well, independence did come. But did it bring about social justice? Prasanta Sahu's clinical appraisal of migrant labour implicitly interrogates this deception at the heart of liberal democracies that guiltlessly thrive on inequality.
The two animal heads in Arghyapriya Majumdar's little fable are invested with human vulnerability. The watchful dread of the one and the defensive coyness of the other arm them against thoughtless cruelty. Paula Sengupta's fabulist imagination lends the delicately-textured minutiae of plants a spark of quaint wonder as phantom animals turn interlopers in the miniature theatre of the Garden of Unreason. Unreason spills forth in Joydip Sengupta's fantasy of intriguing motifs that are unlinked but spring from a central human figure in each case.
Inspired by the Rig Veda's Hymn of Creation, Ushmita Sahu immerses herself in its mind-boggling imagining of nothingness, time and matter (picture). Architectural drawings attempt to impose limits on the limitless, to reduce space to manageable packages, as it were; rippling formations with paint could be inert matter in the flux of becoming; patterns of lines and dots are like a scatter of particles that merge and mutate into cells, poised between stillness and motion: a finite matrix to grasp infinity in Sahu's language.