It's an exciting time to be a part of the arts in India, feels collector Shalini Passi
Shalini Passi, patron of the Kochi-Muziris Biennale, talks all things art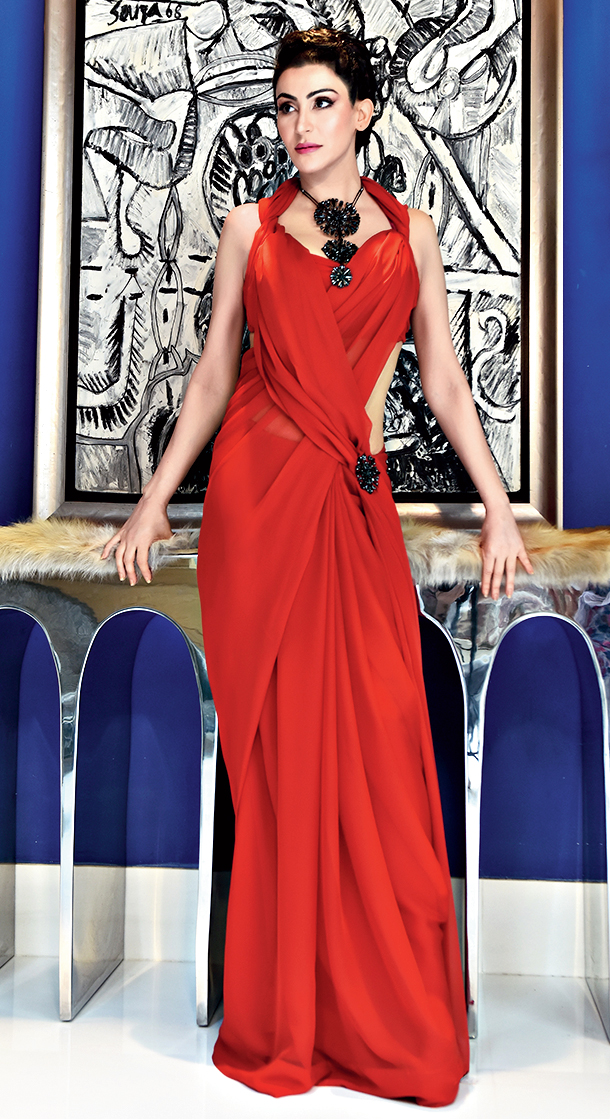 Shalini Passi, a patron of the Kochi-Muziris Biennale, with FN Souza's Man Power in the background at her house in Delhi
Sourced by T2
---
Published 01.11.18, 05:24 PM
|
---
The cream of Delhi's art-loving upper crust — from Subodh Gupta to Sanjna Kapoor, Bose Krishnamachari and Dayanita Singh — gathered at art collector and connoisseur Shalini Passi's Golf Links house recently for a peek into the making of the fourth edition of the Kochi-Muziris Biennale, which will be held in December. While curator of the Biennale, Anita Dube, took guests through the highlights of this year's calendar art event, Shalini, who is a patron of the event, also launched the Shalini Passi Art Foundation and MASH, a digital platform, alongside. t2 chatted all things art with Shalini...
Since you started collecting art, how has the art landscape of the country changed?
Indian art has become significantly more global since I started collecting. You now see Indian artists at blue-chip galleries and major international art fairs. Indian art is making itself known in the international art scene and, as a result, we are starting to see these artists become more daring and experimental in their work. It's an exciting time to be a part of the arts in India.
What is the idea behind the Shalini Passi Art Foundation?
It endeavours to create a new paradigm for artistic expression in India by supporting, educating and encouraging experimental new practices in the field of arts — including art, craft, design, architecture, fashion and jewellery — that take inspiration from India's rich cultural traditions to create a contemporary aesthetic for the region.
Art comes in different forms and sizes — installations, canvas, video art, mixed media. How do you make your selections from the vast array?
My collection is extremely broad, spanning centuries, across continents, in a variety of mediums and styles. I don't limit myself to any one particular art form or period. While I can appreciate the beauty in something exquisitely crafted or the value of a precious antique, I'm also very interested in experimental new practices. Through MASH, we have recently launched a new award with FICA (Foundation of Contemporary Indian Art) for new media art practice, and I'm very excited to see what interesting projects come out of this.
What are some of your favourites from your collection?
One of my favourite artworks is Mrinalini Mukherjee's piece Kusum, made in 1996. In this piece, the artist transforms a simple everyday material, natural rope, into extraordinary sculptural forms. She was among a number of women artists whose work established that textiles and fibres, traditionally associated with crafts, could be just as important in fine art.
Another all-time favourite piece is Anita Dube's Theatre of Sade. The installation comprises objects that look like books or artificial dentures wrapped in black velvet and presented like theatrical props, abandoned after rehearsal.
For the uninitiated, how does one differentiate between an original and a fake, which is quite rampant?
That really depends on who the artist is or who it is claimed to be. There are certain styles and techniques attributed to particular artists, which become specific markers for their works, and it is these that you have to look out for. There are various technical processes used to verify works, but then some people just have an eye.
Any favourite artists from Calcutta?
Somnath Hore, Bikash Bhattacharjee, Jogen Chowdhury, Sanchayan Ghosh and Ganesh Haloi. Calcutta has been a hub since the early 20th century and I think there is still an exciting art scene there. Galleries like Experimenter are doing great work to show and promote experimental new practices, which provides an important pathway for young artists to dream, try, occasionally fail, but ultimately grow.
How do you think festivals such as the Kochi-Muziris Biennale help in promoting art in India?
Having a biennale like Kochi is huge for India. It creates a platform without commercial agenda to showcase interesting new work. It's a place where Indians can experience global contemporary art and that kind of exposure is important for the development of an artist's practice.
It's also a stage to present Indian art to the rest of the world. Acquisition groups from prestigious galleries and museums come from all over the globe to see what is being presented here. This is a strong indication of its significance and the developing interest in art from the region.
What's exciting in the new artscape of the country? Who are the new artists on your radar?
It's always intriguing to see how contemporary artists absorb their experience and knowledge of what has gone before and project these ideas into their practice. For instance, there are a number of Indian artists who explore ideas of spirituality, inherent to India's cultural heritage, and the traditional mediums used to convey them, to create experimental new works with a contemporary aesthetic.
For example, Praneet Soi's style of painting is contemporary in its use of clean and bold lines, which could almost be described as graphic, but the way in which he disorientates our notions of pictorial space — placing foreground and background on the same pictorial plane — reminds me of the Indian traditions of miniature paintings. Other artists who demonstrate a more conceptual approach to this rethinking of their heritage are Astha Butail, whose work seeks to explore the concept of memory and living traditions that are passed down through generations; Rathin Barman, who looks at landscapes not just in terms of their physicality but the space that it occupies in the mind; and Amshu Chukki, who explores ways of storytelling through art. I also am very excited about the work of Minam Apang. Her work has an ethereal mysticism that is totally captivating.
How did your love affair with art begin and what was the first artwork you acquired?
I have always been artistically inclined. I used to paint when I was in school and college. The first artwork that I acquired was from a fellow art student. A friend of mine had made a beautiful portrait and I wanted that, so I exchanged one of my landscapes for it. After that my first serious acquisition was a work of M.F. Husain, which I thought was striking for its vivid and expressive mark-making.
I collect because it's meaningful to me to create a diverse collection where epochs and ideas can mingle side by side, but primarily I collect for myself. I have to have a personal connection with the pieces I buy.