All about B Sirkar Johuree's calendar launch
The event hosted in association with The Telegraph was an ode to woman power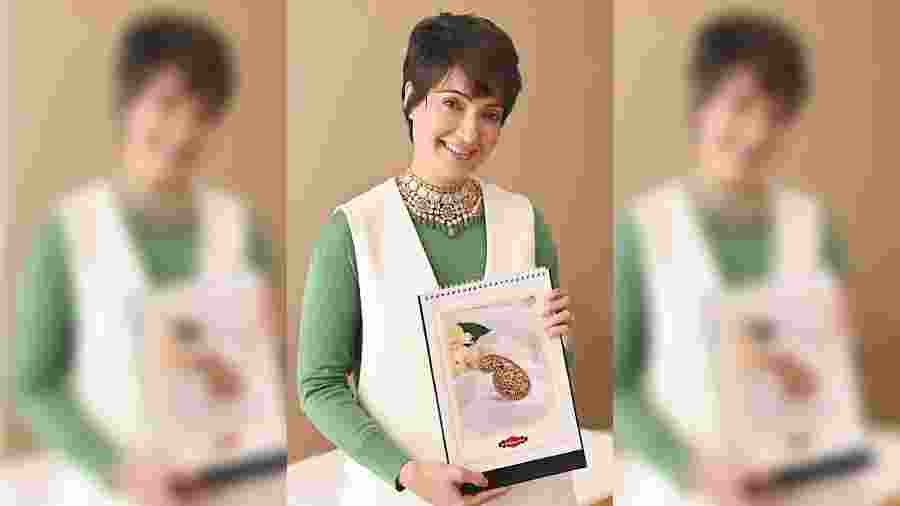 Arpita Chatterjee at the launch
Pictures: B. Halder
---
Published 11.01.23, 02:20 AM
|
---
Leading jewellery brand B Sirkar Johuree is changing the face of modern society one month at a time. It welcomed the new year with B Sirkar Johuree Calendar Launch, in association with The Telegraph, a programme that celebrated women power and the very essence of womanhood.
Hosted in Calcutta Club on January 2, it witnessed the launch of a calendar by actress Arpita Chatterjee, featuring city-based women in positions of power who have been instrumental in bringing about a change in the perception of women in business. Each page celebrates a woman who has struck the work-life balance to perfection. Each of them is leaving footprints in the business world while pursuing personal hobbies and interests seriously as well. The 12 women who appear in the pages of the calendar are inspirational in their journey and have a story to tell. The calendar is also a tribute to women from all walks of life, who carry their imperfections proudly and stand confident not because of the way they look but for their sense of achievement and self-worth. Vaishali Ray Srivastava is a leading paediatric surgeon while Samaranika Tripathy is a well-known psychologist. Swati Mitra is a teacher while Dolon Ganguly and Ratnamala Mukherjee are homemakers. Priyanka Mullick, Nilanjana Bose and Pinky Das are leaders in their family businesses. Rupali Basu, Mou Mukherjee, Shaleni S Biswas and Sayani Barman hold senior corporate jobs in diverse fields. With their example, B Sirkar Johuree hopes to inspire millions of other women and help make a positive difference in their lives.
"A professional calendar launched with women who do not belong to the modelling world is commendable. Faith in each of these ladies has made all the difference," said Arpita Chatterjee. Concept: Sree Mukherjee. Calendar photography: Ashish Saha. Models' make-up: Aniruddha Chakladar.