The Everyman Star
Actor Gajraj Rao says he has an affinity with Bengal and his ringtone is proof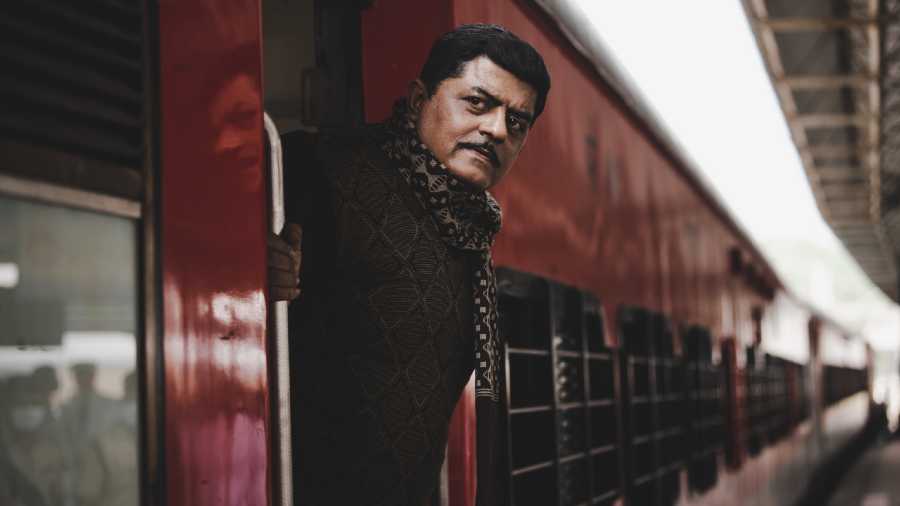 IN CHARACTER: Rao in Hungama Hai Kyon Barpa from the web series Ray
Courtesy, the actor
---
Published 27.03.22, 01:21 AM
|
---
Speaking to Gajraj Rao is like running through the script of a sharp comic film, at once witty, insightful and thought provoking. The actor who has created a distinct space for himself as the very middle-class, middle-aged, funny man — performances so nuanced and so wholesome as to carry the film along — misses no opportunity to poke a joke at his own life and situations. Of course, in between articulating thoughts on cinema and reality, character and director, audience and evolution.
The 51-year-old Rao's recent portrayals of Jeetendra Kaushik in Badhaai Ho and Shankar Tripathi in Shubh Mangal Zyada Saavdhan force you to sit up and take note. But not many may be aware that he opened his silver screen innings way back in 1994 with Bandit Queen, as the lanky misogynist son of the sarpanch. However, he considers himself to be a theatre actor first, and doesn't stop talking about his learning from the time — from the works of Harishankar Parsai, Manto, Satyajit Ray and others — which "he can never unlearn".
"Progressive theatre karta thha main, as part of the Delhi-based group Act One," he tells The Telegraph over a Zoom call from his Mumbai home. "Aisa lagta thha ki isse sab kuchh badal jayega... When you are in your 20s, you want to change the world. And by the time you are in your 40s, you have changed yourself!"
As if to illustrate his point, time, place and action converge. Rao excuses himself to answer a call from his father. "Or else he would have kept calling," he laughs. "About 10 years ago, I realised you don't gain a thing from debating with your parents — apart from anxiety and heartburn," and adds, in the same breadth, "Unko kuchh nahi hota, woh to yoga karke thik ho jatey hain. So I decided to alter my ways."
Talking about the comic space, the actor draws a parallel between the roles being scripted now and those played by, say, David and Om Prakash in the 70s and 80s. "They were character actors; they had very important parts, not secondary," he says. In keeping with the cycle of change, there is a plethora of ideas being turned into cinema and heartily consumed. "The audience is primarily young; they are hungry for good stories," he says.
Rao will appear in Maidaan, a biopic in which Ajay Devgn plays Syed Abdul Rahim who is known as the architect of modern Indian football. Set in the 50s and 60s, it is slated for a June release. "I'm not allowed to say much but I play a newspaper editor named Roychoudhuri," he says, articulating the name twice.
And he is pleased to play a Bengali character.
The man seems to have more than a romantic connect with all things Bengali; he speaks the language fluently, but that's not all. "It started with my childhood days in the railway colony in Delhi." Rao's father was with the Indian Railways, also serving as an office bearer of the employees' union. "I was particularly close to two Bengali families... And have been one with their food and ways of living ever since I was five or six years old."
Rao had many Bengali friends during his theatre days and there were also those visits to Calcutta for the annual theatre festival. His first taste of non-filmy music in Bengali happened with Sumaner Gaan. "A friend had gifted me the cassette… And you won't believe it, I've had Tomake Chai as my ringtone for the last 10 years," he chuckles. "Bada atmiyata hai… bhasha se, logon se..." he adds, with a lot of feeling.
Then comes a wicked twist in the narrative. Rao's wife too knows Bangla — her father, who was with the Border Security Force, was posted in Kalyani in Nadia district of Bengal for some time. "Bengali is our code language," he says. It happened this way. When the newly-wedded couple was living in a joint family and had to communicate privately a "zaroorat or complaint or even a snide remark", Bengali it was. For example, 'Khub beshi hoye gechhe,' we would mutter to each other in a situation of crisis," he enunciates with a deadpan face.
Bengali, it seems, is still their primary mode of communication. "Romantic batein, bachchon ko pata nahi chalta." Rao's elder child is 24 and the younger one 13, "a Badhaai Ho child," he says, laughing.
Summing up, the web series Ray may have attracted mixed reviews, but there is no denying the brilliance of Manoj Bajpayee as Musafir Ali and Rao as Aslam Baig in Hungama Hai Kyon Barpa, based on Ray's short story Barin Bhowmick-er Byaram. Says Rao, "In my understanding, Ray would have approved of it; he would have been proud of it. (Director) Abhishek Choubey did not experiment with the soul of Ray — that was intact."