A woman Haj pilgrim's account
Last year, when a new policy allowed women pilgrims to go for Haj without a male companion, 1,400 set out from India. Manasi Shah speaks to a Hajjah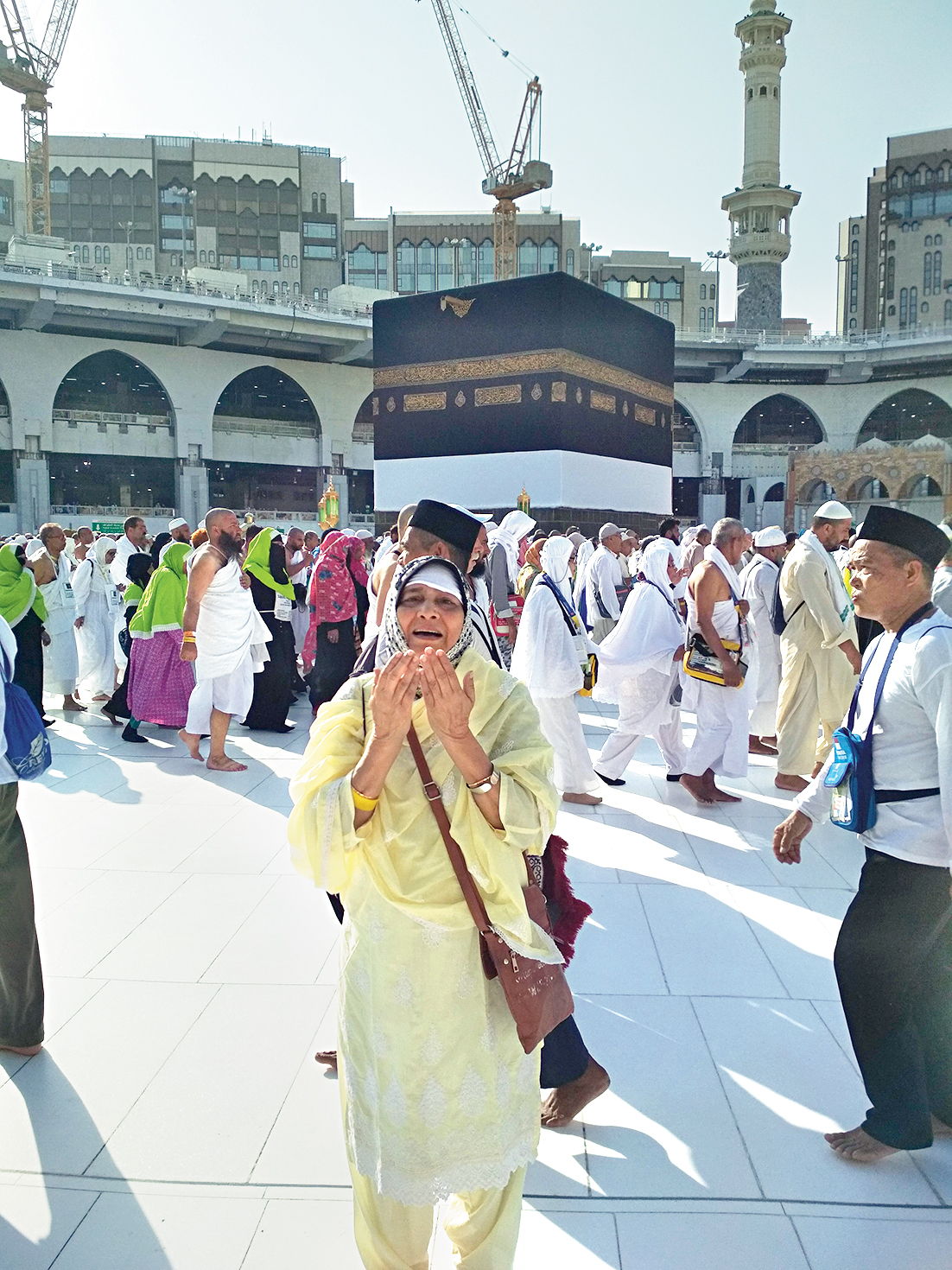 ---
---
Maqsooda Begum's lifelong khwaahish has just been fulfilled. The 61-year-old resident of central Calcutta's Beniapukur undertook the Haj pilgrimage this year. Maqsooda was one of the 48 women from Bengal who went to Saudi Arabia.

"Women have always had to go for Haj with a mehram — a male guardian who can be a father, brother, son or husband. But this year almost 1,400 women from India went without any," says Naved Akhter, Maqsooda's younger son.
Hajjah Maqsooda Begum is dressed in a lemon chikan salwar kurta; from beneath her cream dupatta, you can see her hennaed hair. Hajjah is the title bestowed on a woman Haj pilgrim; it is Haji for men. It has been three months since Maqsooda and her companions have returned. Unlike her sons, she wears her happiness with reserve. And every time she speaks about her journey, more than her words, her eyes do the talking.
It is her sons who talk about how their mother always wanted to go for Haj with their father, an IPS officer. After Maqsooda's husband, Mohammad Shahabuddin, died in 1997, she kept asking her sons to take her for the pilgrimage. Says Naved, "But we had work commitments. Besides, going for Haj is not a tour, it is a very big deal. After you return, you have to change your lifestyle."
Typically, there is a lottery system for the selection of Haj pilgrims. This year, single women pilgrims were exempted. According to the new Haj policy announced by the Haj Committee of India in November 2017, women above 45 who wish to go for Haj but do not have a male companion are allowed to travel in all-women groups of four or more.
Who actually deserves credit for this, there is a debate. The BJP claims it is their initiative. In a tweet, minority affairs minister Mukhtar Abbas Naqvi reminded of the Prime Minister's promise to facilitate as much, something he iterated in his last Mann Ki Baat address from 2017. Narendra Modi said: "When I first heard about it, I wondered how it could be possible! Who would have drafted such rules? Why this discrimination... even after 70 years of our Independence, we were the ones who had imposed these restrictions. For decades, injustice was being rendered to Muslim women but there was no discussion on it..."
But there is another version that credits the government of Saudi Arabia with having relaxed age-old rules. According to news reports, the kingdom of Saudi Arabia had altered the rules in 2014 itself.
Among the five basics of Islam, going for Haj is one. "You should go once in your life, if you are financially capable," says Naved.
Though the core Haj is only for five days, the entire trip takes about 40 to 45 days. This, of course, is true only of those whose travel has been organised by the Haj House.
Explains Nadim, Maqsooda's elder son, "Actually, one never knows if one will get a second chance or not. Family, economics, society are important factors too. So the Haj House plans it for a good length of time so one can pray well." In terms of expense, it cost Maqsooda Rs 3 lakh, which included airfare, travel within Saudi Arabia and accommodation.
She tells The Telegraph how she knew none of the other women until she embarked on the trip. She met the other three of her group at the Haj House in Rajarhat on the eastern fringes of Calcutta. "Jab humlog teeka lagane gaye thhe... When we went for vaccination," she says. Haj pilgrims are given vaccines against flu and viruses, and have to undergo training a few weeks before they leave. There are two training sessions of four to five hours, each conducted by an official of the state Haj committee. "They tell us how we will go, what we are supposed to do, what to wear, what to read (Quran and other religious texts), how much luggage to take," continues Maqsooda.
The checklist includes, apart from securing a Saudi visa, a SIM card that will work in Saudi Arabia, and so on. If there are women who have already formed their cluster of four, they register themselves. And for those like Maqsooda, the state Haj committee puts together one.
Undertaking such a long journey minus a male family member is a big step even now. Maqsooda talks about how her life as the wife of an IPS officer helped her muster courage. She says, "He would be away on duty and I had to manage everything by myself. Somehow that experience helped me take this decision to go alone."
Friends and family, close and distant — everyone came to meet Maqsooda and seek her blessings before the journey. "It is a ritual," explains Nadim.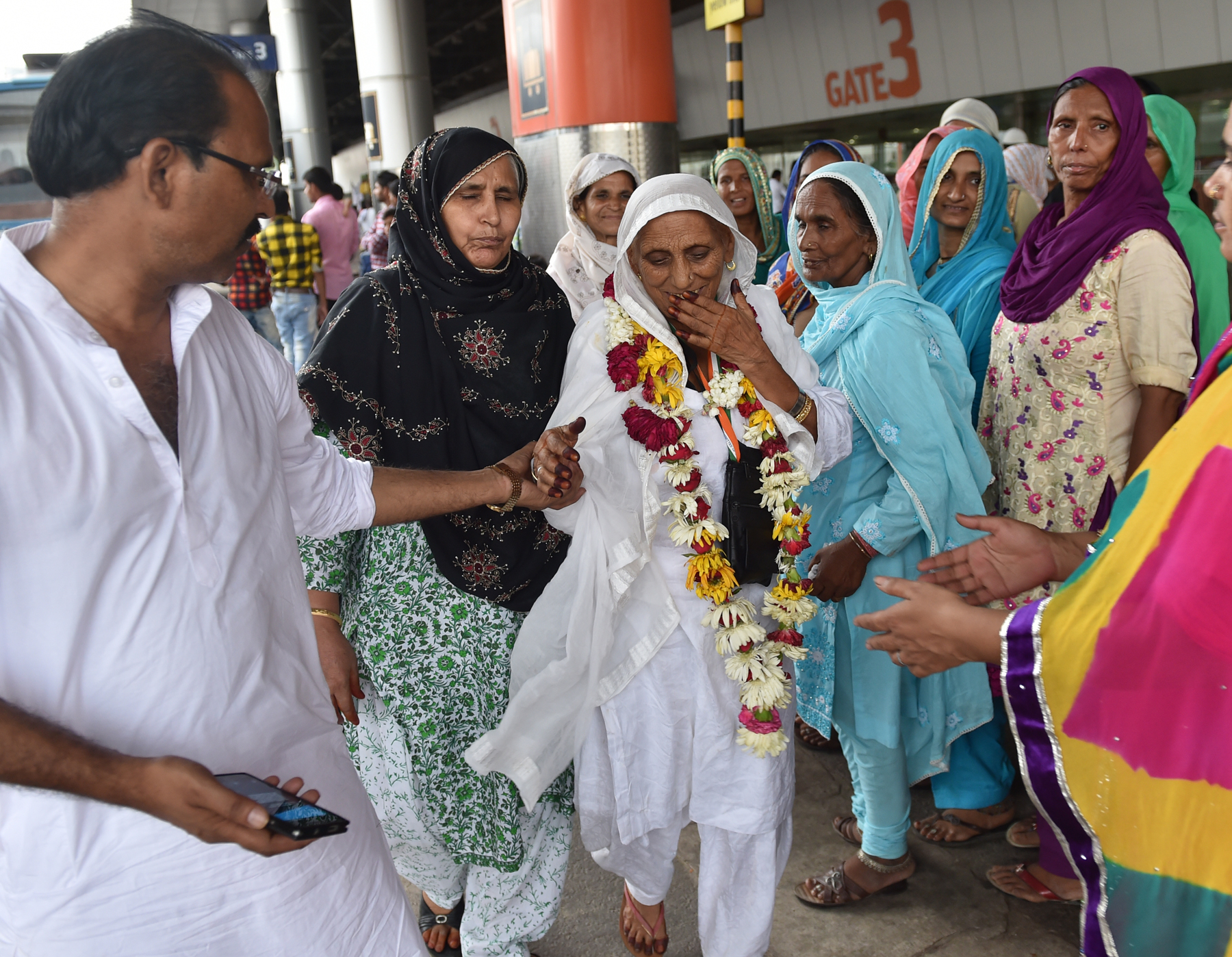 Maqsooda and her travelling companions left Calcutta on the night of July 28. The other three women are residents of different parts of Calcutta; aged 82, 54 and 48. "Humlog sab sisters ki tarah thhe... We were like sisters," says Maqsooda. Their first stop was Medina in western Saudi Arabia, where they stayed for eight days. From there they flew to Mecca, the birthplace of Prophet Muhammad.
Naturally shy, Maqsooda says that though there were many other women there, she did not interact with anyone outside her group. "The four of us were together all the time. We would hold hands and walk because there were so many people there," she adds laughing.
From the time of azan at waking up, to the last formal prayer of the day, their routine was all about ibadat (worship), padhai (studying the Quran Sharif) and tawaf (a ritual). Tawaf involves walking seven times counter-clockwise around the holy Kaaba, the black cuboid structure at the centre of Islam's most important mosque.
Naved smiles as his mother leaves the room. It is time for her evening prayers. He says, "Ammi is very happy. We were sceptical initially but it all turned out well. We were in touch with her continuously through WhatsApp video calls. In Islamic concept, this new Haj policy is a revolution." He elaborates, "Earlier there were women who were financially capable but did not have a mehram, and could not fulfill their wish. The new policy has opened the floodgates for them to venture out. It is a good opportunity for widows."
Nadim interjects: "Most women who live in villages are not courageous enough, but this is an inspiration for them too. A daughter can also accompany her mother. The 48 and 82-year-olds in ammi's group were a daughter-mother duo."
Sheikh Rakibur Rehman, executive officer of the West Bengal State Haj Committee, talks about the increased volume of applications from women this year. Rehman says, "We are extending the last date for Haj applicants."
Maqsooda had not been able to articulate what she felt when she saw the Kaaba for the first time in her life. It was almost as if she did not have the word equivalent to express her feelings. But she had told her sons that the experience was surreal. "She told us, 'Meri zindagi ki saari khwahishein puri ho gayeen. Iske upar aur kuchh khwahish nahi hai'," says Nadim.
He chokes as he reminisces how he felt that very moment. "I was in tears. We would always wonder how to fulfill this wish of hers. And now it felt like I had done half the Haj myself."