A town square smorgasbord of fish heads and tales
The musings of a 90-plus rice hotel shot through with the humdrum flavours of the neighbourhood it calls its home, and the people whom it considers family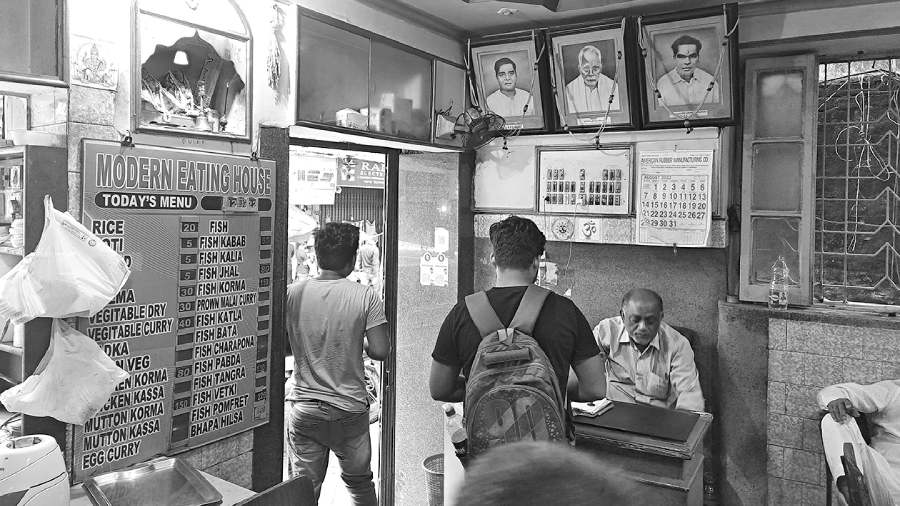 ---
Published 21.08.22, 03:10 AM
|
---
I am old, 93 years old, though I am known as the Modern Eating House of central Calcutta's Chandni Chowk. The signage at the entrance has a hut for a symbol — the kind children make when they first learn to draw. The words "Modern Eating House" are written in English, Bengali and Odia. Why Odia, did you say? Well, the family that birthed me is originally from Odisha.
Purna Chandra Sahoo was my founder. He used to sell puffed rice or muri and fritters initially. But a year after my birth, he started selling rice and fish curry and that is how I came to be known as the Odia bhaater hotel.
From then to date, I have seen how Chandni Chowk developed. I have seen Kalikata become Calcutta. I have seen the struggle for Independence, ghastly riots happening right here, on this very street where I stand.
In the early 20th century, Chandni Chowk was not as crowded as it is now. There used to be a couple of Chinese shoe shops; one of the lanes was the haunt of watch repair shops — it was called ghori bajar; Bow Barracks, once home to British troops and, thereafter, the address of the Anglo-Indian community of the city, was closeby.
Anglo-Indians would come to me for a taste of murighanto, a dish whose main ingredient is the fish head. I would hear them try to make conversation with the cook who knew no other language but Odia, and they spoke only English.
These days I rarely get to hear Odia. There is a cook who is from Odisha but he does not get the opportunity to speak in the language. The old Odia cook left three decades ago. Now, most of the staff here are Bengalis.
Some of the waiters have picked up the language because there are Odia customers who still visit me. I strain my ears to catch a phrase or two in that sweet language — "murighanto ta khaibaku bahut bhala" or "mui parshe machho khaibi". I hear them discuss how they got to know about me and the chitol muitha — a fish ball curry — from my kitchen via friends and relations back home in Odisha.
A chief minister used to order takeout from here. What was his name? Wait, it shall come to me. In the meantime, you could ask Ajay Sankar Sahoo, the grandson of Purna Chandra. I had heard Ajay's father Trilochan tell him the story when Ajay was not even 10 years old — he is 61 now.
Biju Patnaik used to come and stay at the Grand Hotel — see, I remembered the name. Someone had told him about me and the food served here. He would send for murighanto. Unlike the Bengali version, which is a mix of rohu fish head, potatoes and gobindobhog chal, a variety of rice, the Odia version is basically puffed rice cooked with fish head. Patnaik would also order the pabda jhal, bhetki paturi and parshe curry. These items are still on the menu. There are heretical new additions though, such as the fish kebab. It is rohu cooked in onion, garlic and ginger. Nothing like a kebab, I tell you.
All through the day, most of the customers who come in are shoppers who happen to be in the area or small-time tradesmen from the neighbourhood.
After Independence, the character of this neighbourhood and of this whole city changed drastically. As the city absorbed more and more people, I grew in size. A second room was added and more benches. Chandni Chowk was growing busier and hungrier by the minute. What was once the hub of government offices, now became the trade centre of the city.
The 1980s were a time for new excitement. The neighbourhood was abuzz with the news of the metro railway, there was to be a stop at Chandni Chowk. Around this time, the prime minister of the country, Indira Gandhi, was assassinated. There were riots in many pockets of the city that year, but this street was safe. We were not so lucky some years later, when in faraway Uttar Pradesh some people demolished a mosque. Ajay, who was barely 30 years old those days, would stand guard over me. Whenever I was attacked, he would call the cops. The cook would mix chilli powder and sand and keep, and whenever I was attacked he would throw them at the miscreants. Those were nightmarish times. Hashim Abdul Halim, who was those days the Speaker of the Bengal Assembly, ordered party workers of the CPI(M) to ensure that no harm came to me…
So many stories to tell, but so many interruptions that I keep losing the thread. From 11 in the morning to 10 at night the kitchen is humming. Rice is cooked in batches, one after another after another. It is served at mealtimes and enough is kept aside for the regulars who come at different points of the day.
That Bihari labourer in the corner seat has been stopping here these 40years. There is a shopkeeper who come sin every day at 4 in the evening for his fix of rice and fish kebab. Shoppers at the neighbouring e-Mall, which I hear stocks gadgets of the kind I have never seen, also stop by.
I feel pleasantly full too, once they have eaten. Now, what was I saying?