A picnic with fish fingers and a DJ, anyone?
The traditional picnic is dying as much of the preparation is outsourced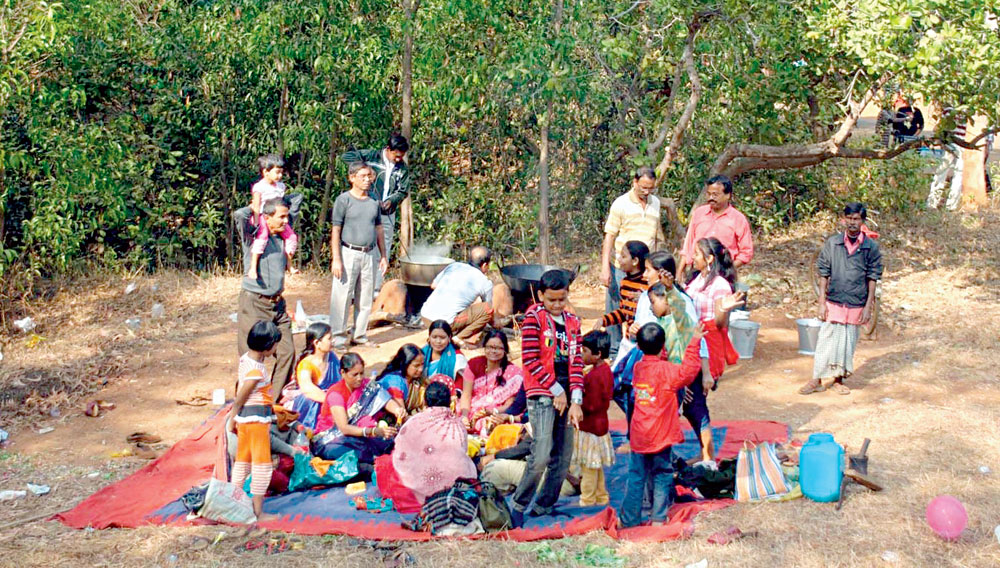 ---
---
The Bengali word for picnic is choruibhaati. Chorui means open space and bhaati, feasting. In my mind, somehow, the term had come to be punched with a passage from Bibhutibhushan Bandyopadhyay's Pather Panchali. A teenaged Durga whispering conspiratorially to her little brother: "Choruibhaati korbi, Apu?… Will you join me for a picnic, Apu?" Brother and sister then collected some wild potatoes, stole a fistful of rice, a little bit of oil from their mother's kitchen, and then gleefully stirred it all in a pot on a wood-fire.
Now I realise that it was less than a frugal meal even, much less a picnic — but all through my childhood the image held a different flavour for me.
This winter, after ages, my husband and I went on a picnic with some friends from the neighbourhood. I had not been to attend the meetings in the run-up to the big day; all I knew was that I had to pay a certain amount and that we would be going to a resort in Baruipur in South 24-Parganas.
On the appointed day, the car arrived at 7am. It was still misty and the sun was mellow. I slipped into a corner seat and nodded off. Time was when the very utterance of "picnic" worked like a magic spell, suggested a flurry of activity. A big bus would ferry a whole bunch of us to some nondescript spot. Anxious mothers would carry with them half their households — sheets to sit on, a medicine kit for emergencies, tiffin carriers heavy with snacks and flasks of tea. There would be skipping ropes, carrom boards, badminton racquets and half a dozen shuttle cocks for us.
The fathers, smartly dressed in their pullovers, would holler at each other imperiously as they loaded (rented) utensils and cutlery, crates of soft drinks and bags full of grocery for the grand cookout.
The car stopped and I woke up. We had reached the resort and someone was playing "Bidi jalaile…" Bewildered, I checked my phone; it was 8am. I was told later that a picnic without a DJ is unimaginable now, as is a wedding, a thread ceremony, a birthday — so far funerals are out.
We had barely settled down, when uniformed catering staff started to serve breakfast — fish fingers, French fries, boiled eggs, sandwiches and tetrapacks of fruit juice. In the old days, it used to be singara with cauliflower stuffing or kochuri-alur dum or luchi-bonde and jilipi.
Breakfast done, the DJ played Bryan Adams' Summer of 69. The kids headed for the swing, the teenagers for the badminton court for some net flicks, some others just sat glued to their phones, earphones in place — their parents said they were overwhelmed they had deigned to come along. The adults sat around, drinking beer, chatting, stealing covetous glances at their phones, some got up to shake a leg.
In the golden days, this was when the adults would get busy prepping for lunch. The women would chop and peel. The men would get the clay oven started, fetch more firewood; oftentimes, they would cook. But now there is no work to be done. Everything has been taken care of, paid for. The DJ started to play Pretty Woman and I got up to admire the flowers, but ended up tripping over a pair of canoodling teens, falling and flattening three dahlia plants.
The picnic menu used to be really basic. Bhaat, beguni (fried brinjal slices in batter), labra — a vegetable mix. There would be some gooey chatni — tomato — and papod, finished off with mishti doi and rosogolla. But the pièce de résistance and possibly the only thing the men actually cooked, when they did, would be the fiery mutton curry. For days on end after the picnic, they would congratulate each other on the curry, its fine balance of spices, its chilli kick, the way the meat came off at the bone, till it moved their better halves from indulgent to sour to bitter.
After lunch, the children would return to their play. The gaggle of mothers would bring out their knittings from their bottomless carrybags. The men would be busy with the cleaning up, the winding up. A quick round of tea and the picnic was over, everyone was bone tired but satiated.
That day lunchtime came and went and people barely noticed. We sat at individual tables and ate off La Opala plates. The menu was elaborate — two kinds of fries, a dal, a sabzi, fish, mutton, chatni, papod, rabri. It was good cooking. But adults and children alike were busy, first clicking and then posting photographs of the food on social media. The eating was hurried, even incidental. Only the DJ played away persistently — Samundar mein nahaake aur bhi namkeen ho gayi ho.