Amit Mitra writes to Sitharaman on distress in unorganised sector
'Your supply side policies have utterly failed,' the Bengal FM wrote, asking the union minister to stimulate demand by putting money in the hands of the people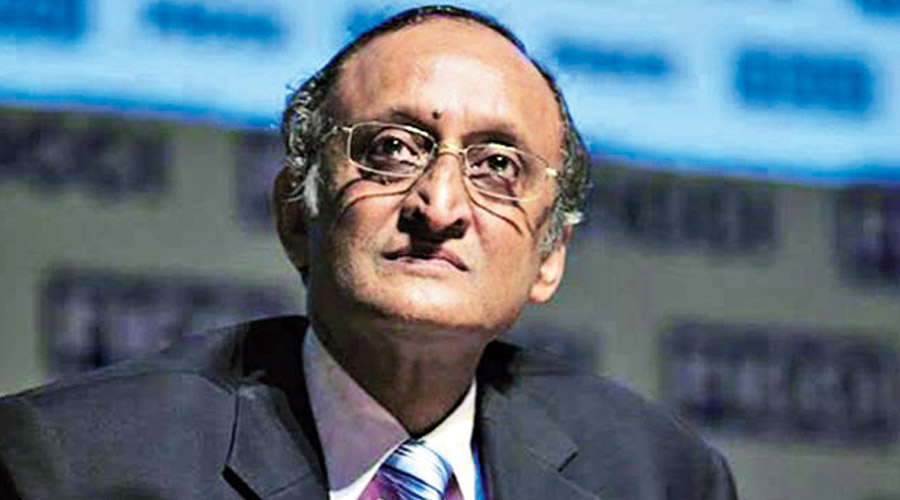 Amit Mitra
Telegraph Picture
---
Calcutta
|
Published 11.09.21, 01:25 AM
|
---
A day after the Modi government expressed confidence in the economic recovery, Bengal finance minister Amit Mitra shot off a letter to Nirmala Sitharaman, calling out the Union finance minister for failing to prevent the widespread distress in the unorganised sector and in the lives of the common man.
"Your supply side policies have utterly failed," Mitra wrote to Sitharaman, asking her to correct course and stimulate demand by putting money in the hands of the people, a policy being followed in Bengal under the leadership of Mamata Banerjee.
Mitra pointed out that the Modi government's policy to incentivise banks to lend and corporate tax cuts have failed to spur investment as businesses are unwilling to take a bet because of lack of demand.
He listed five parameters to demonstrate that the economy continues to be weak despite the chest thumping 20 per cent growth seen in the first quarter of this year.
Quoting government of India data, Mitra pointed out that the unemployment rate has shot up to 8.32 per cent, which implies 3.6 crore people are jobless today.
He linked it to the distress in the unorganised sector which contributes 60 per cent of the workers in manufacturing. As there is no work, these workforce are returning back to their rural base leading to a reverse migration. GoI's periodic labour force survey showed that those who would be lucky to get a job in their village as casual farm labourer are likely to earn half of what they got at the factories.
While income is on a downward slide, expenditure is on the rise because of spiralling inflation. Mitra noted that the wholesale price index and consumer price index at 12.3 per cent and 6.06 per cent, respectively, are eating into the meagre income of the common man. It is no surprise, Mitra argued, that private consumption has collapsed and the consumer sentiment has fallen significantly.
Private consumption, which is 56 per cent of GDP, has fallen 12 per cent below the pre-pandemic levels of 2019-20 and it is on a par with 2017-18. Consumer sentiment is also progressively falling. The RBI's current situation index fell to 48.5 per cent in May from 53.1 per cent in March.
"The informal sector has collapsed. Large corporations are not investing the surplus generated from the tax cuts. Banks have nobody to lend. We cannot come out of this rut by swamping supply side with cash. We have to boost demand by providing money in the hands of the people. The GoI is just not listening," Mitra said this evening.
Gross fixed capital formation, a proxy for investment, has fallen by Rs 2.1 lakh crore in Q1 to Rs 10.2 lakh crore from Rs 12.3 lakh crore in the Q1 of 2019-20.
Mitra argued that Bengal managed to post a positive GDP growth of about 1 per cent in 2020-21 due to its policy.
About 85 per cent of planned expenditure of the state is going to schemes like Lakshmi Bhander, which offer money directly to people.
"Marginal propensity to consume in this economic segment is 99 per cent, which means the money is coming back to the system, creating demand and spurring economic activities," Mitra said.