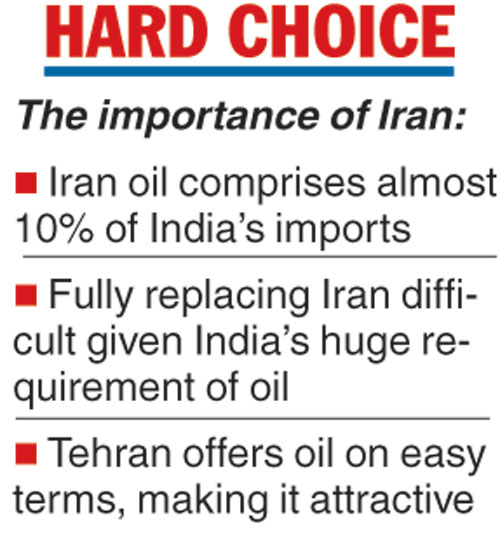 The Telegraph
Soft price trend
Global energy analyst firm Wood Mackenzie's has forecast that Brent prices will ease, averaging $74 a barrel in 2019, and supply to grow 1.6 million barrels per day in 2019.
"That's well ahead of 1.2 million barrels per day of demand growth and should lead to a healthy inventory during the year. But with Iran in the full grip of sanctions and Venezuela continuing to decline, that limited Opec spare capacity will cast a shadow over the market for some time," they said.
India's heavy dependence on oil from Iran almost rules out the possibility of imports from the Islamic nation being brought down to zero during the six-month waiver granted by the US, oil ministry officials said.
India imported 220.4 million tonnes (mt) crude in the last fiscal, of which Iran's share was almost a tenth at 9.4 per cent.
Sources said they expect India to buy 1.25mt, or nine million barrels, monthly during the waiver period.
Indian Oil Corporation and Mangalore Refinery and Petrochemicals Limited have already ordered 1.25mt for November and on Tuesday, placed their orders for December, though spokespersons of the two companies refused to comment on the latest deal.
US secretary of state Mike Pompeo was emphatic at a press conference in Washington on Monday that the Trump administration would continue negotiations with all of them to bring down oil imports from Iran to zero.
"More than 20 importing nations have zeroed out their imports of crude oil already, taking more than one million barrels of crude per day off the market. The regime today, since May, has lost over $2.5 billion in oil revenue… We continue negotiations to get all of the nations to zero," Pompeo said. The eight nations that have been granted a temporary waiver are China, India, Italy, Greece, Japan, South Korea, Taiwan, and Turkey.
"Given the favourable terms offered by Iran amid a spike in crude oil prices and the depreciating rupee, it would be difficult to bring down imports from Tehran to zero in the next 180 days," the officials said.
Cumulatively, oil imports by India from Iran in the first six months (April to September) of the current financial year increased 39 per cent to 15.05mt from 10.84mt imported in the corresponding period a year ago, latest government data showed.
Analysts attributed the spike to refiners buying in advance to limit the impact of the sanctions.
Industry sources said "it was not clear yet what individual volumes or aggregate volume the waivers entail. However, we are hopeful that the country would continue to buy about 1.25 million tonnes of oil a month until the end of the fiscal year, unchanged from November's level."
Following the US waiver, the benchmark Brent crude was trading range-bound at $72-73 per barrel in the commodity market.
Diversifying the crude basket would be difficult as Tehran offers attractive terms such as 60-day credit, free insurance and shipping.
Besides, the country's demand for petroleum products has been growing at a compounded annual growth rate (CAGR) of 5.5 per cent between 2013 and 2017.
India had planned to import about 25mt from Iran in 2018-19, up from 22.6mt in 2017-18.
Actual volumes, however, may be far less as companies such as Reliance Industries have totally stopped buying from Iran and others, too, are scaling it down in the hope of winning a sanction waiver from the US.
India has been trying to diversify its supply portfolio, with firms starting to source liquefied natural gas and oil from the US. The options before it include increasing imports from sources such as the US, Iraq, Saudi Arabia, Nigeria, Venezuela, and the UAE.
India has said that some Opec members have not made good their June decision to increase output by about one million barrels per day (bpd) or about 1 per cent of global supply.