Wheat export ban stays
Smarter way to do it is through the government to government route: Piyush Goyal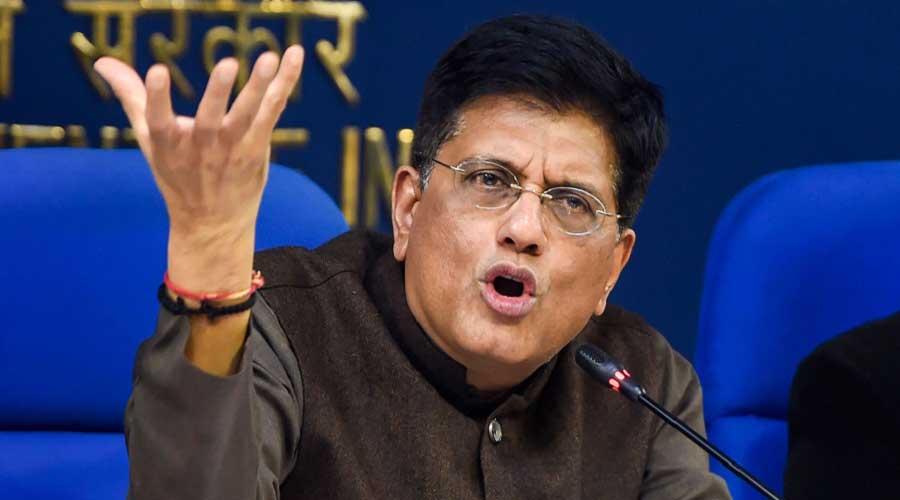 ---
New Delhi
|
Published 27.05.22, 02:46 AM
|
---
India has said it will not roll back its wheat export ban, virtually rejecting an IMF request to lift the restriction that threatens worldwide shortage and flaring prices.
Commerce minister Piyush Goyal told Reuters that India has no immediate plans to lift the ban but will continue with deals that are transacted directly with other governments.
The world's second-biggest producer of wheat banned private overseas sales of the grain on May 14 after a scorching heatwave curtailed output and domestic prices hit record highs. Global wheat prices surged after the decision.
"Currently there's instability in the world, if we were to do that (lift the ban), it would only help black marketeers, hoarders and speculators. Neither will it help the really vulnerable and needy countries," Goyal said when asked if New Delhi had any plans to allow private exports to resume.
"The smarter way to do it is through the government to government route, by which we can give affordable wheat grain to the most vulnerable poor," he said in an interview on Wednesday at the World Economic Forum in Davos.
"I do have an appreciation for the fact that India needs to feed nearly 1.35 billion people , but I would beg India to reconsider as soon as possible because the more countries step into export restrictions, the more others would be tempted to do so and we would end up as a global community less equipped to deal with the crisis," IMF chief Kristalina Georgieva told NDTV at the WEF.
Addressing the global leaders at Davos, Goyal highlighted that while a 7 per cent to 8 per cent rise in production was expected this year, severe heat waves led to early harvest and loss of production. "Given this situation, what we are producing is about enough for domestic consumption."
"Export bans are also grossly inefficient ways of addressing food security concerns, as much of the benefit of lower prices accrue to comparatively well-off households. Over the longer term, they distort incentives for farmers to invest in expanding productive capacity," Cullen S. Hendrix of Peterson Institute for International Economics, said.
Farm expert Devinder Sharma said higher exports would have led to lower procurement for the welfare schemes.
"The impact of the export ban on domestic food inflation is likely to be muted. This is a pre-emptive step and may prevent local wheat prices from rising substantially. If the ban leads to higher price of substitutes such as rice, there could be an upward pressure on other food prices," wrote Sonal Varma, chief economist for India and Asia ex Japan at Nomura, in a recent co-authored note with Aurodeep Nandi.