US firm to invest in Kesoram for fresh liquidity to lower its debt level
Farallon Capital, with $27bn AUM globally, might take a minority stake too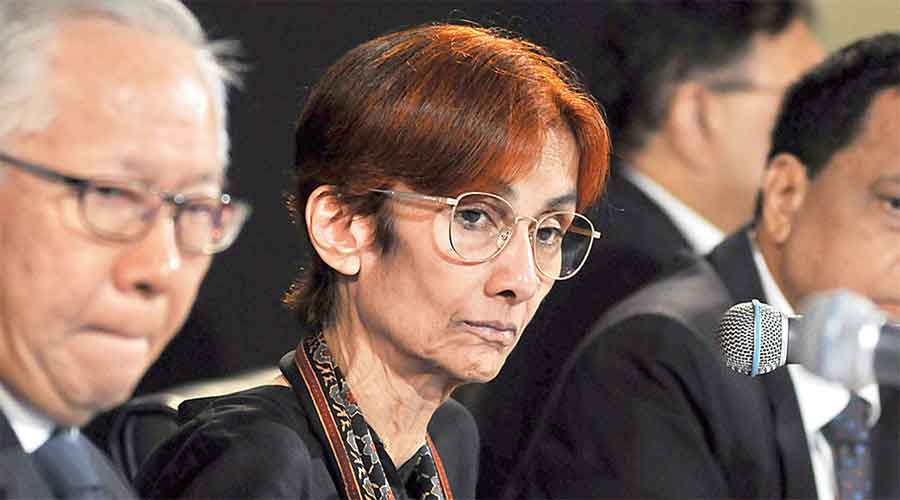 Manjushree Khaitan with other board members.
File picture
---
Calcutta
|
Published 31.07.20, 02:56 AM
|
---
Manjushree Khaitan-led Kesoram Industries is believed to have roped in US-based fund Farallon Capital to inject fresh liquidity in the company.
Kesoram, a predominantly cement producer, plans to swap the resource raised from the San Francisco-based fund with the legacy debt of Indian lenders. 
The company board passed a resolution to raise up to Rs 2,000 crore by a combination of instruments, including non-convertible debentures on Thursday. It also disclosed that Kesoram has already signed a non-binding term sheet with a potential investor but did not name it.
P. Radhakrishnan, whole time director & CFO of Kesoram, said the first priority before the company is to maintain smooth operation for which there has to be ample liquidity. "Once the liquidity is taken care of, we can focus on the operation," he pointed out, adding that it is primarily looking at raising debt now.
According to the initial plan, Farallon, which has over $27 billion assets under management globally, will lend to Kesoram to retire the majority of its Indian debt. There is also a possibility that it may take a minority equity stake. The exercise is expected to provide more flexibility to the company to pursue growth plans, without approaching multiple lenders. It has Rs 2,200 crore debt on a consolidated basis.
Once the operations and the business is stabilised with the injection of liquidity, Kesoram would embark on the second phase of capital raising by way of equity issuance. This will lower the debt level and bring down the interest cost.
Asked if the company has roped in Farallon Capital, Radhakrishnan declined to comment, adding that there could be more than one investor. A non-binding term sheet does not necessarily convert into a binding one and this deal would have to cross many dots to conclude too.
While announcing the first quarter result, Kesoram disclosed that it had defaulted on term loan and working capital facilities aggregating Rs 272.77 crore due to liquidity mismatch.
Despite April being a washout month, Kesoram posted net profit of Rs 18.10 crore on a standalone basis. However, it posted a loss of Rs 15.95 crore on a consolidated basis in Q1 after factoring in rayon and transparent paper business.