Tightrope walk: Free trade and Atmanirbhar Bharat
With world wary of China and reduce their dependence the dragon nation, analysts said India needs to get its priorities right to go to the negotiating table for a quid-pro-quo deal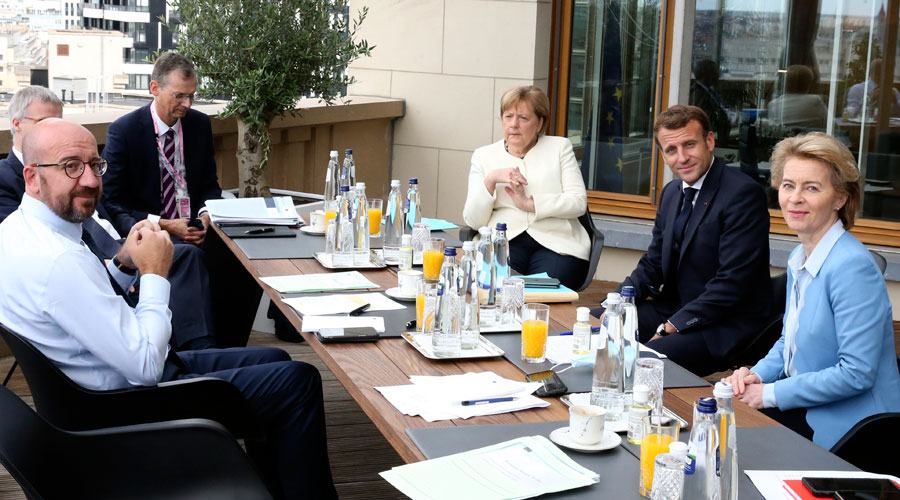 ---
---
India will need to walk a tightrope as it balances its Atmanirbhar Bharat agenda with talks on free-trade agreements with the European Union, Britain and the US amid a severe global economic slowdown.
"It is still unclear what message the government is sending out by talking about Atma Nirbhar Bharat and chalking out duties to protect the domestic industry and at the same time talking of signing FTAs with the US, the EU and Britain," said trade economist Biswajit Dhar of the Jawaharlal Nehru University.
European Commission president Ursula von der Leyen announced at the end of the EU summit in Brussels that the two sides will be working towards a free-trade agreement, though there is "still a long way to go".
Von der Leyen pointed out that any deal "needs to include our usual requirements in terms of market access, public procurement and, of course, sustainable development".
Also, India wants to start negotiating free-trade pacts with both Britain and the European Union now that the split has come through, besides working out a preliminary trade pact with the US.
The potential India-UK FTA is likely to be discussed during a trade ministerial dialogue between commerce and industry minister Piyush Goyal and international trade secretary of the UK, Liz Truss, towards the end of July.
Commerce ministry officials said they would approach the trade talks with each country or block with a strategy to get the best in the interest of the country.
India and the US are also close to concluding an initial limited trade package followed by a possible bilateral free trade agreement (FTA), New Delhi said last Thursday.
"There was a desire expressed to conclude this initial limited trade package and recognising the complementarities of the India-USA bilateral trade, discussed the possibility of an FTA," the commerce and industry ministry said in a release, after an informal discussion between Goyal and US secretary of commerce Wilbur Ross.
``It would be too early to talk about the specifics, but trade talks are always subject to hard negotiations of give and take," they said.
Sources said India is considering offering controlled opening of its dairy market if they are willing to adhere to the religious sensitivities and slashing tariffs on farm goods to the US if they provide preferential market for generic drugs.
With world wary of China and reduce their dependence the dragon nation, analysts said India needs to get its priorities right to go to the negotiating table for a quid-pro-quo deal which would protect New Delhi's interest.
Dhar said the balance needs to be there…but striking it will be difficult given the troubled times where our industry is going through a recession and. Our farmers need protection."
Sectors like textiles and software are anxious to reverse declining fortunes by improving market access to major markets such as the EU, US and Japan want trade deals to come through.
However, the Covid-19 has impacted several sectors including textiles and little data is available on the impact of economic slowdown and pandemic and how they are coping. Whether they would be competitive in the global market against countries like Vietnam, Bangladesh and what the post-Covid global economic scenario would be is also little sketchy with increased protectionism and growing unemployment across the world.
The Trump administration, keen to show some progress before the US presidential polls, is pressing for a limited trade deal. Given the differences with the US market access for its farm and manufacturing and products, medical devices, and lower duties for certain ICT products and relaxation sought by Washington on data storage and the ecommerce policy that India is working on, analysts see a bumpy ride for the trade talks.
Clearly hinting that the US would not be keen to offer too many concessions to India, Robert E Lighthizer, the US trade representative in the latest issue of Foreign Affairs Journal wrote that "letting India join the General Agreement on Tariffs and Trade with nearly a third of its industrial tariffs uncapped, for example, no doubt made sense to Cold Warriors, ….Yet the negative repercussions of that decision persist to this day, now that India has become one of the world's largest economies and, at times, a troublesome trading partner for the United States. Over the years, such concessions have piled up."
"The United States should not agree to any mechanism that would revive or replace the Appellate Body until it is clear that the WTO's dispute-resolution process can ensure members' flexibility to pursue a balanced, worker-focused trade policy. Until then, the United States is better off resolving disputes with trading partners through negotiations…. Neither old-school protectionism nor unbridled globalism will achieve that. Instead, as the United States confronts future trade challenges, it should chart a sensible middle course—one that, at long last, prizes the dignity of work," he wrote clearly hinting at the future strategy to be adopted by the trade negotiators.
The EU launched talks with India to establish a broad-based free trade agreement (FTA) back in 2007 after discussions at the seventh India-EU summit held at Helsinki the year before. However, negotiations over the proposed Bilateral Trade and Investment Agreement (BTIA) broke down in 2013 after no significant progress was made and talks were suspended in May that year. Talks resumed at a technical level in October 2017 but reached another impasse.
Major sticking points in the India-EU trade and investment negotiations have been over tariffs on automobiles, wines and spirits and the restrictions on free movement of professionals. The labour standards and environmental conditions are other impediments.