Tax axe on refiners, export levy on fuels
The government also exempted import of crude from cess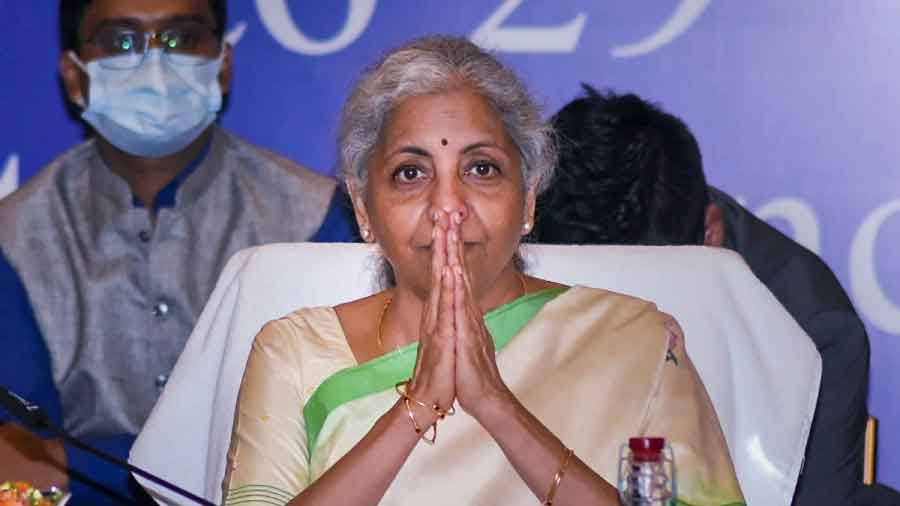 Nirmala Sitharaman
File Photo
---
New Delhi
|
Published 02.07.22, 12:58 AM
|
---
The Centre on July 1 raised taxes on the export of petrol, diesel, and aviation turbine fuel (ATF) and announced an additional windfall tax on gains made by domestic refineries. The government slapped a Rs 6 per litre tax on the exports of petrol and ATF and Rs 13 per litre on the exports of diesel.
It imposed special additonal duty of Rs 23,230 per tonne on domestically produced crude oil to take away windfall gains accruing to producers from high international oil prices. The government also exempted import of crude from cess. The Centre also framed new rules requiring oil companies exporting petrol to sell in the domestic market the equivalent of 50 per cent of the amount sold to overseas customers for the fiscal year ended March 31, 2023. For diesel, this requirement has been put at 30 per cent of the volume exported.
Finance minister Nirmala Sitharaman said: "phenomenal profits" earned from abnormal prices that refiners earned from shipping overseas led to the new taxes. "We don't grudge people earning profits," she said. "But oil is not being available (at petrol pumps) and they are being exported.to earn phenomenal profits. We need at least some of it for our own citizens and that is why we have taken this twin-pronged approach." "It is not to discourage exports, it is not to discourage India as a refining hub. It is certainly not against profit earning, but extraordinary times do require some such steps," Sitharaman said. The export tax is to deter companies such as Reliance Industries and Rosneft-based Nayara Energy from preferring overseas markets over domestic supplies. Shares of Reliance tumbled over 7 per cent on Friday, with its market valuation falling Rs 1.25 lakh crore.
Reliance fell 7.14 per cent to settle at Rs 2,408.95 apiece on the BSE. During the day, it tumbled 8.82 per cent to Rs 2,365.  ONGC tanked 13.40 per cent to Rs 131.15 apiece and Vedanta declined 4.04 per cent to Rs 213.95 on the BSE.
A windfall tax is a one-off tax on companies that have seen their profits surge extraordinarily not because of any clever investment decision they have taken or an increase in efficiency or innovation, but simply because of favourable conditions in the market. Recently, the UK levied a 25 per cent tax on "extraordinary" profits from North Sea oil and gas production to raise $6.3 billion.
Analysts estimate the windfall tax on crude oil produced domestically translates into annual revenue of Rs 66,000 crore on the basis of last year's production level of close to 29 million tonnes. Assuming the trend of exporting 5.7 million tonnes (mt) of diesel and 2.5mt of petrol in the first two months of the fiscal continues for the full fiscal, the revenue from the windfall tax and the export levy should neutralise the Rs 1-lakh-crore hit the government took when it rolled back the pandemic-era hike in excise duty on petrol and diesel.