Tata Steel secures ore supply
Logistics will play a crucial role as the company is eyeing a 32mt steel capacity by 2025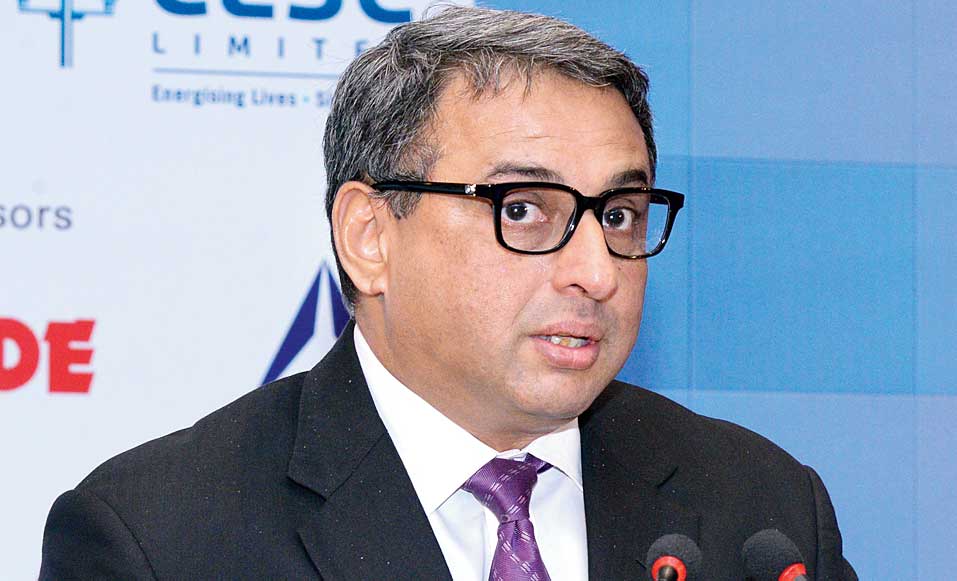 T. V. Narendran, managing director and CEO of Tata Steel Group
Telegraph picture
---
Calcutta
|
Published 28.04.19, 06:38 PM
|
---
Tata Steel plans to double iron ore output from captive sources over the next decade as the company shifts focus to fully integrating its rapidly expanding Indian operations after hiving off its overseas facilities into joint ventures.
Though the company sourced 25 million tonnes of iron ore from its mines in Odisha and Jharkhand in the recently concluded fiscal, internal demand outpaced supply as the Tatas acquired Bhushan Steel under a bankruptcy process.
The company had to buy ore from the market for Tata Steel BSL (formerly Bhushan Steel), moderating profitability, even as existing operations were fully serviced by captive iron ore mines.
Tata Steel BSL, which is being merged with Tata Steel, procured 6.5 million tonnes of ore from the market, while it received only 0.8 million tonnes from its own source. Tata Steel Ltd recorded Rs 16,428 per tonne earnings before interest, depreciation and amortisation (EBITDA) compared with Rs 8,498 per tonne EBIDTA by TSBSL.
"We have environment clearance to expand our capacity (iron ore mine) to 38 million tonnes (mt) from 25mt. We will reach there in 5-6 years… Eventually, in 10 years, our mining capacity will go up to 45-50mt," T. V. Narendran, managing director and CEO of Tata Steel Group, told The Telegraph in an exclusive interview.
While the raw material division of the company will try to extract more ore this fiscal, the big uptick will come in fiscal 2021 when the Khondbond mine is expanded to 8mt from 3mt at an investment of Rs 2,000 crore.
The expansion of mining capacity in India is usually fraught with challenges, both regulatory and social, often leading to time overruns. Khondbond also had its share of delays but it is now on track. Tata Steel's close engagement with the the local community helped.
The managing director pointed out that Tata Steel had a track record of 100 years in mining and is probably the third-largest miner in India after public sector Coal India and NMDC.
Apart from iron, the company has captive coal mines in Jharia and west Bokaro in Jharkhand and also operates chrome and manganese ore reserves.
The company is often talked about for having a competitive edge in owning captive mines — though it only manages 25 per cent of its coal requirement . Tata Steel had made a strategic choice to set up plants closer to raw material sources and away from customers, despite being advised in the late 1990s to get rid of the mines, the MD explained.
As the consumption is mostly in the north, south and the west — where the major private players are located — Tata Steel incurs Rs 2,000 per tonne extra to move the finished products to the customers. It is only after 2005, when iron ore prices decisively moved up from the historical range of $15-$20 per tonne, that the vertically integrated steel player became more competitive than the others.
Logistics logic
The name of the game is as much about extracting raw material as much as it is about moving it from the mines to the plants.
Tata Steel is often constrained by the non-availability of railway rakes to supply to Kalinganagar, leave alone Bhushan at Angul, forcing it to buy from the market. The company is planning to put up a slurry pipeline — Bhushan already has such an approval from Barbil to Angul — to carry ore, even though it will take 3-4 years.
In the interim, the company is trying to take advantage of the liberalised railway scheme that allows private players to own wagons. TMILL, a Calcutta-based logistic arm of Tata Steel, plans to buy wagons to move the raw material. Moreover, the company has tied up with the Adanis who have already started moving wagons from the Dhamra port.
Tata Steel has identified three ports best suited for each of the plants. While Paradip may be best for Angul, Dhamra is likely to work out most competitive for Kalinganagar. The proposed Subarnarekha port at the Bengal-Odisha border would be ideal for Jamshedpur.
Steel expansion
Logistics will play a crucial role as the company is eyeing a 32mt steel capacity by 2025. Last year, the company produced 16.81 million tonnes. With the acquisition of the steel business of Usha Martin, the ramp-up of Bhushan and the expansion at Kalinganagar, the capacity will reach 25mt by 2022.
"We have clear visibility going up to 25mt. There are several options to go up to 32mt after that," Narendran said.
For instance, Angul may go up to 8mt, Jamshedpur can add 2-3mt while in Kalinganagar another 5mt module may come up. These multiple options, the company feels, will give it the flexibility to scale up the India business, which earns a 25 per cent margin on EBIDTA.