Surrender plan for coal mines
Till December last year, 45 out of 73 coal mines allotted to government entities remained non-operational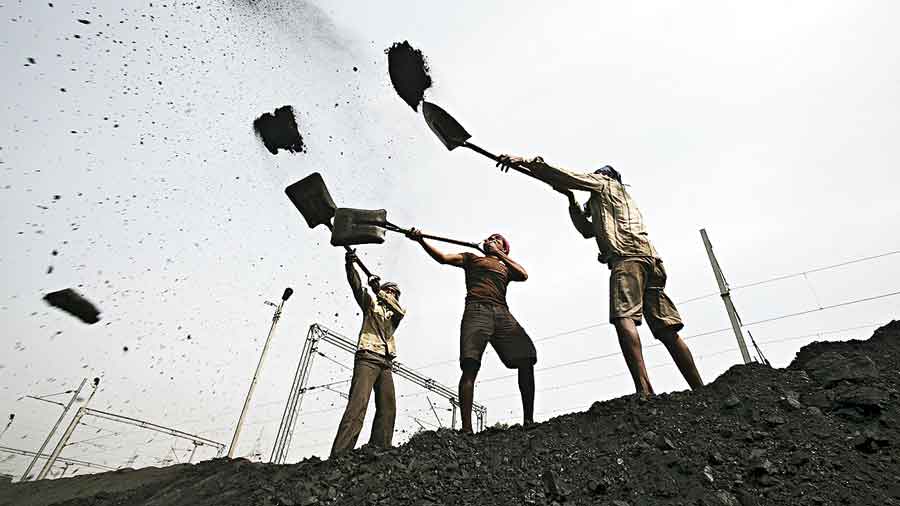 Representational image.
File photo.
---
New Delhi
|
Published 09.04.22, 03:36 AM
|
---
The Union cabinet on Friday approved a proposal to offer a one time, three-month window to central and state-owned enterprises to surrender their idle coal mines without penalty.
The PSUs will be able to surrender the mines without forfeiting bank guarantees, the government said.
"Delays were due to  law and order issues, enhancement in the area of forest from what was declared earlier, resistance of landholders against land acquisition," the government said.
Till December last year, 45 out of 73 coal mines allotted to government entities remained non-operational. The deadline to start mining has lapsed for 19 mines.
After the cancellation of coal block allocations by the Supreme Court in 2014, to avoid immediate disruption of supplies to thermal power plants, the government allotted many cancelled mines to PSUs.
The allocation route was expeditious and it was expected that the coal requirement of state power generatord would be met from those blocks.
The revenue share payable by the state and central PSUs is fixed on per tonne basis unlike the private sector who have to bid for the mines.
Given the context of allocation of coal blocks at that point of time, conditions for timelines for operationalisation were very stringent and firm, leaving no wriggle room either to the successful allottee or the nominated authority.
Penalisation for delay in bringing the mines to operation has resulted in disputes and court cases. 
"Good quality coal blocks which were allotted early can be quickly recycled back after removing technical difficulties and adjusting boundaries and offered to interested parties under the recently launched commercial coal mines auction policy," the statement said.
The early operationalisation of the blocks will provide employment, boost investment, contribute to economic development of backward areas in the country, reduce litigation and promote ease of doing business leading to reduction in import .
Rice fortification
The cabinet also decided to distribute fortified rice under all schemes.
The entire cost of fortification, which is estimated at around Rs. 2,700 crore per annum, would be borne by the Centre as part of food subsidy till its full implementation till June, 2024.
Fortification will provide nutrition to every poor person of the country to overcome malnutrition and lack of essential nutrients in women, children, lactating mothers FCI and State Agencies have already procured 88.65 LMT of fortified rice for supply and distribution, a government release said.
The Cabinet also decided on the extension of Atal Innovation Mission (AIM), till March 2023. The AIM shall work on its intended target of creating an innovation culture and entrepreneurial ecosystem in the country. This will be done by AIM via its various programs.
AIM would establish 10000 Atal Tinkering Labs (ATLs) and 101 Atal Incubation Centers (AICs). Apart from this, 50 Atal Community Innovation Centers (ACICs) would be set up. Besides, AIM would support 200 startups via the Atal New India Challenges. The total budgeted expenditure of  Rs.2000 crore shall be incurred on establishing and supporting the beneficiaries.