Successful institution building is dependent on forging result-oriented partnerships and creating new knowledge, Saif Ahmad Khan, Founder, Luhaif Digitech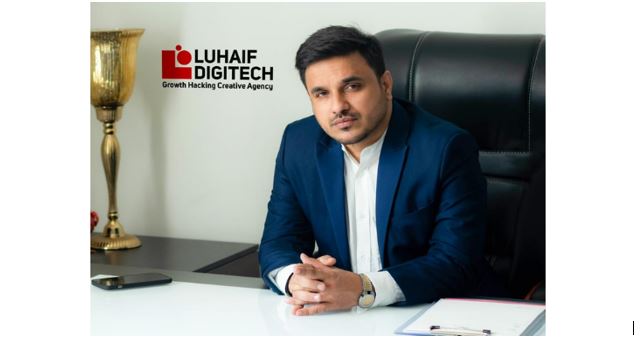 ---
Published 12.05.22, 01:10 PM
|
---
Saif Ahmad Khan, a prominent social worker who has started doing business at an early age of his life. He began intelligently with the marketing business and focused on keeping up with the local marketing requirements at an individual and company level. This has encouraged him to enter the world of digital marketing, and then expand towards the industrial sector. For 8 years, Luhaif Digitech has opened doors in the marketing industry, allowing people to leverage their insights, experience and expertise into a full-scale expansion of the entire top-of-funnel operation.
With the digital economy booming, this time is the best time to set foot into digital marketing. Digital marketing is a rapidly growing industry that comes with a lot of challenges but also provides a lot of rewards including lucrative income and career prospects. And luckily, to become a digital marketing professional, you don't need a traditional college degree in marketing. Enrolling in a credible online digital marketing certification course can help you start out your career. Digital marketing is an important asset for your business's growth and is effective in establishing an authoritative online presence. According to research, 89 percent of marketers say methods like search engine optimization (SEO), are successful. Additionally, methods like pay-per-click (PPC) advertising increase brand awareness as much as 80 percent.
From social media marketing to website development & designing, to branding and SEO services, Luhaif Digitech offers quality digital marketing services. The organisation has professional and assigned teams for all of their digital marketing services, dedicated teams work on individual tasks to make sure that the client's online profile enhances. Throughout his career, Saif always acknowledged that successful institution building is dependent on forging result-oriented partnerships and creating new knowledge. His pioneering spirit and belief in marketing and research shaped the course of the organization and is the reason that today Luhaif Digitech boasts one of the best digital marketing divisions in the country.
The company believes that the reason you have to integrate digital marketing is that you need to build relationships with your customers. One crucial aspect of digital marketing is customer service. It means that marketing experts build relationships with customers by reaching out to answer their queries, solve issues they confront about a product, and to turn them into repeat customers. Once you build a good relationship with your audience, it can enhance your business.