Strong Banerjee ties with Bandhan
Banerjee, his wife Esther Duflo and economist Michael Kremer jointly won the 2019 Nobel Economics Prize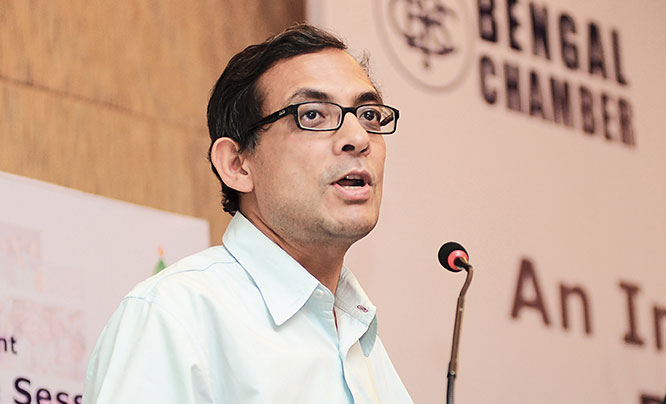 ---
|
Calcutta
|
Published 14.10.19, 06:40 PM
---
Nobel prize winner Abhijit Banerjee has played a key role in shaping a programme called "Targetting the Hardcore Poor" for microlender-turned-bank Bandhan .
Banerjee, his wife Esther Duflo and economist Michael Kremer jointly won the 2019 Nobel Economics Prize on Monday for their experimental approach to alleviating global poverty.
Chandra Shekhar Ghosh, managing director and CEO of Bandhan Bank, said that in 2006, before Bandhan became a commercial bank, the microlender had launched a programme to identify marginalised matriarchal families that lack capital, confidence and job skills and empower them with credit so that they can have productive assets and stable income.
"We have worked closely with him from 2006 onwards. He had undertaken the research study for the 'Targetting the Hardcore Poor' programme. He used to see the programme as his own. Now we have scaled down the programme but he has spoken about it in major conferences across the world," Ghosh said.
"He travels a lot to the villages to meet very poor and common people. I am very happy that I have been able to spend a lot of time with him in the villages and suburbs not only in and around Calcutta but also in distant places such as Malda and Murshidabad. Whenever he comes to the city we usually meet. Last year when I travelled to America, I had called him and we met for lunch," Ghosh said.
In a paper titled "Targeting the Hard-Core Poor: An Impact Assessment" co-authored with Esther Duflo, Raghabendra Chattopadhyay and Jeremy Shapiro, Banerjee had said: "We find that this programme was successful in notable respects. In particular, 18 months after the asset transfer and initiation of the programme, we find that participation results in substantial increases in per-capita household consumption. We also find reduced food insecurity, increased assets and improved emotional well-being."
The study had covered 1,000 eligible households in Murshidabad district.
The study also said that the programme had resulted in greater income from non-agricultural enterprises operated by households.
"If the latter source proves resilient, it is possible that the programme will result in sustained income increases for beneficiary households," it said.
Recalling Banerjee as a "very good person", Ghosh said he was happy at the selection of both Banerjee and his wife Duflo.
"I feel that it is a very right recognition," Ghosh said adding that by just looking at him, it would be difficult to realise the "vast knowledge" he holds especially in the field of poverty and its alleviation that has close connection with Bandhan.