Questions over company's debt repayment plan
Stocks in free fall, Gautam Adani loses $100 billion
Adani Enterprises sank 26.5 per cent to Rs 1,564.70 on Bombay Stock Exchange — which means the stock price has halved from the FPO floor price of Rs 3,112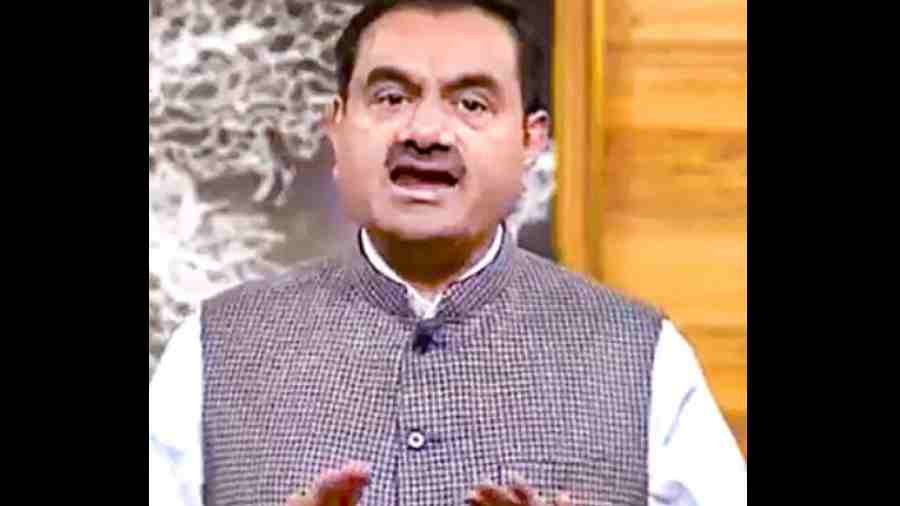 Gautam Adani addresses investors from an unknown location on Thursday.
PTI picture
---
Mumbai
|
Published 03.02.23, 02:55 AM
|
---
The meltdown in Adani group stocks and overseas bonds continued on Thursday, a day after the embattled tycoon pulled the Rs 20,000-crore follow-on public offer (FPO) of shares in flagship Adani Enterprises, with over $100 billion of paper wealth estimated to have been torched since the scandal erupted last week.
Adani Enterprises sank 26.5 per cent to Rs 1,564.70 on the BSE — which means the stock price has halved from the FPO floor price of Rs 3,112.
Stocks of other group companies also wilted. Adani Transmission, Adani Total Gas and Adani Green Energy fell 10 per cent each, Adani Ports lost 6.13 per cent. Adani Wilmar, NDTV and Adani Power each declined by nearly 5 per cent.
Stocks of the two cement makers recently acquired by the group — Ambuja Cements and ACC — bucked the trend, rising by 5.33 per cent and 0.05 per cent, respectively. But this occurred after the group led by Gautam Adani issued a clarification to swat away rumours that it had pledged the shares in these two companies to raise funds in a leveraged buyout.
The rout spread to the overseas Adani bonds which plumbed "distressed levels" — a term that means their yields are 10 percentage points above comparable US treasuries. Bond prices are inversely related to their yields which measure the return on a bond investment.
A Reuters report said the bonds of Adani Green Energy, which mature in September 2024, plunged 11.69 US cents to 60.56 cents — a record low. The securities of Adani Ports and Special Economic Zone (APSEZ) — which mature in2027 — fell 5.84 cents to 72.17cents, their lowest since October 2018.
Since US short-seller Hindenburg Research in a report on January 24 accused the Adanis of stock price manipulation and accounting fraud, group companies have lost nearly half their combined market value. The group's market losses swelled to more than $100 billion on Thursday, Reuters said.
There was more bad news for the Ahmedabad-based tycoon when Citigroup Wealth announced that it would also stop accepting Adani bonds as collateral for margin funding— following Credit Suisse's lead.
The group was also grappling with the need to fork out $34.7 billion in coupon payments on the bonds this week.
On Thursday, Adani Ports & Special Economic Zone Ltd (APSEZ) had to pay a combined $24.7 million in interest on three bonds with differing tenures. Group company Adani Transmission has to make a $10-million coupon payment on Friday. Market circles feel the Adanis are unlikely to default on these payouts.
Jo resigns
The shockwaves in the Adani empire are now rippling through its network of associates as well. On Thursday, the Financial Times reported that Lord Jo Johnson, brother of former UK Prime Minister Boris Johnson, had resigned from the board of London-based Elara Capital.
His resignation, which was dated February 1, was disclosed in a filing at Companies House — the UK's corporate registry — on Thursday.
Hindenburg Research had accused Elara of routing funds into the Adani entities through Mauritius-based funds in a manner that concealed the identity of the people who were stumping up the cash.
Elara Capital was the third largest shareholder in Adani Enterprises in the summer of 2021 with a 5.1 per cent stake. Since then, it has trimmed its holding to 1.60 per cent.
Quest for cash
The massive selloff in Adani Enterprises has raised several questions about how this might affect the company's debt repayment plans — and whether it will have the funds to underpin its grand expansion plans in renewable energy, logistics, ports and highways.
"One of the biggest challenges for the group now is to raise cash," an analyst said.
Regulators are beginning to wake up to their own responsibilities following the market turmoil. The latest reports indicate that the Reserve Bank of India (RBI) has asked banks to provide details about their exposure to the group.
Capital market regulator Sebi too is examining the allegations made by Hindenburg Research. It also plans to keep a close watch on the foreign portfolio investors who have parked money in the group's firms.
Banks were quick to suggest that they were not worried about any default on the loans they had extended to the Adani group.
The State Bank of India said its exposure to the Adani group was fully secured by cash-generating assets. Its exposure is estimated at $2.6 billion, Bloomberg reported.
Bank of Baroda disclosed that its total exposure to the group stood at Rs 7,000 crore, which too was fully secured.
The Life Insurance Corporation — which has the largest exposure to the Adani group, valued at Rs 36,474.78 crore comprising both debt and equity — has said the amount accounts for less than 1 per cent of its overall investments.