SBI, HDFC bank hike short-term fixed deposit interest rate
Banks have not revised lending rates on housing loans so far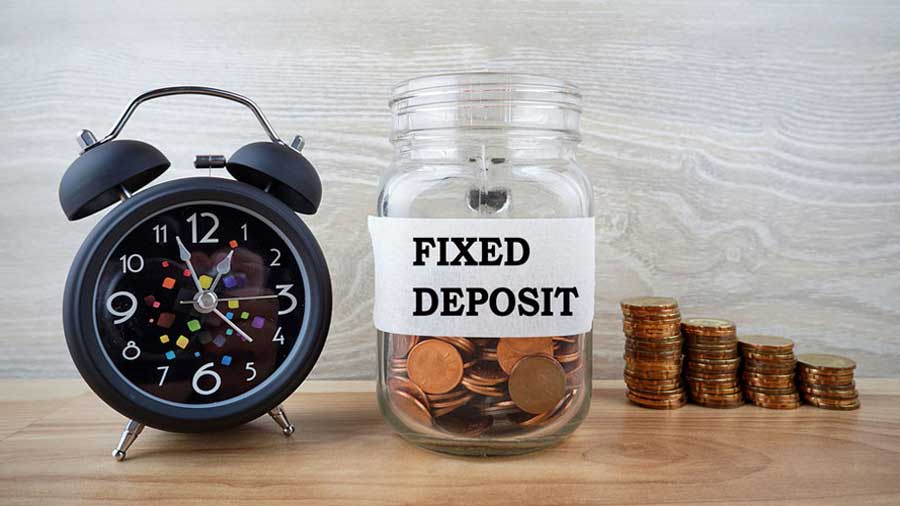 Coming months could see deposits yielding better returns.
Representational picture
---
Mumbai
|
Published 16.01.22, 01:29 AM
|
---
State Bank of India and HDFC Bank, two of the country's largest banks, have raised fixed deposit rates on select tenors by up to 10 basis points — a clear signal that interest rates are heading north.
SBI has raised the interest rate on fixed deposits below Rs 2 crore with a tenure of 1 year to less than 2 years by 10 basis points to 5.10 per cent. For senior citizens, it has been revised to 5.60 per cent from 5.50 per cent earlier. While the interest rates on other tenures remain unchanged, the changes will be effective from January 15.
The announcement came after HDFC Bank raised interest rates of FDs of three tenors by 5-10 basis points with effect from January 12.
The private sector lender will now offer an interest rate of 5.20 per cent for deposits of 2 years and 1 day to 3 years, up from 5.15 per cent earlier.
It plans to offer 5.40 per cent (5.35 per cent earlier) for FDs of 3 year 1 day to 5 years, and 5.60 per cent for FDs of 5 years and 1 day to 10 years. For senior citizens, these rates will be 5.70 per cent, 5.90 per cent and 6.35 per cent respectively.
Last month, HDFC Bank had raised the interest rate on FDs with maturity of 1 year and 1 day to 2 years by 10 basis points to 5 per cent. The decision by the two large commercial banks to increase deposit rates will bring cheer to the saving community which has been dismayed by lowball rates over the past two years.
Although the increase is not across-the-board, it does signal that the coming months could see deposits yielding better returns even as loans become expensive. Other banks may also follow the lead of these two banks and raise their deposit rates. Though banks have not revised lending rates on housing loans so far, an increase is almost certain during this calendar year.
The development comes at a time when the yields on the government securities, especially the 10-year bond, have climbed, particularly after the US Federal Reserve signalled a hawkish stance last month. Yields on the 2031 paper now stand at 6.58 per cent. It was ruling below the 6 per cent levels at the start of 2021.
This trend has been ascribed to firm crude oil prices, apprehensions of higher inflation and the anticipated increase in bond supply as the government increases its borrowings in order to boost spending in an effort to help the economy tide over the third wave of the Covid pandemic.
Moreover, the Reserve Bank of India (RBI) has been mopping up surplus liquidity from the system through its variable rate reverse repo (VRRR) auctions.
Though some experts feel that the central bank is unlikely to rock the boat by raising the reverse repo rate (currently at 3.35 per cent) in February as the third wave may moderate India's economic growth, they believe that the RBI will eventually raise interest rates later this year.
Nomura expects the RBI to start raising rates from April and has projected a cumulative increase of 100 basis points in 2022.
HEADING NORTH
• SBI: FD below Rs 2 crore for 1 year to less than 2 years @5.10%. For senior citizens: 5.60 %. Effective from January 15.
• HDFC Bank: Rates for three tenors up by 5-10 bps. Effective Jan 12