SBI to hold Yes Bank shares for 3 years
SBI is now the single largest investor in Yes Bank as it picked up 48.21% by pumping Rs 6,050 crore into the private sector lender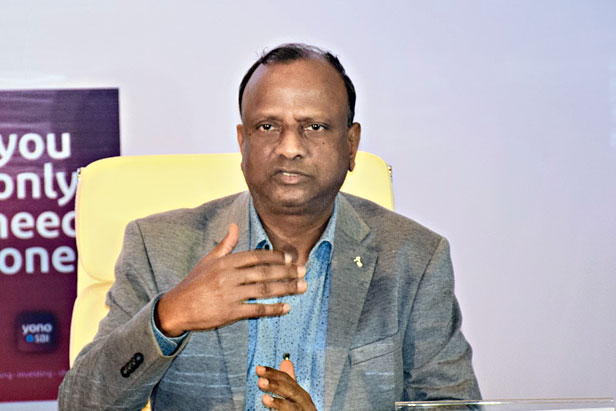 ---
Mumbai
|
Published 17.03.20, 07:43 PM
|
---
The State Bank of India, which has picked up around 48 per cent in beleaguered Yes Bank, will not sell a single share it holds in the bank, even though it can pare its stake to 26 per cent, SBI chairman Rajnish Kumar said on Tuesday.
The SBI chairman's reassurance is expected to assuage the minority shareholders of Yes Bank, who have been put in a straitjacket by the reconstruction scheme of the bank as they cannot sell as much as 75 per cent of their holdings for three years, if the number of shares they hold is more than 100. Kumar's comments are also expected to soothe ordinary depositors, who fear a loss of their savings. During the ongoing moratorium, which will be lifted on Wednesday evening, as many as third of the bank depositors had withdrawn to the maximum extent of Rs 50,000 from the bank, since the curbs were announced on March 5.
Analysts had said the lockdown on holding would stifle price discovery of the shares of the banks amid rampant speculation the shareholders may go to court to remove the muzzle on their holdings.
SBI is now the single largest investor in Yes Bank as it picked up 48.21 per cent by pumping Rs 6,050 crore into the private sector lender.
Speaking to the press, with Yes Bank CEO designate Prashant Kumar, the SBI chief said while the bank was free to sell shares above its 26 per cent holding, it will not indulge in any sale for at least three years. This comes even as investors, who have put the much needed capital in the bank, are looking at a decent internal rate of return.
The restrictions on the minority shareholders come as the Yes Bank scrip zoomed 59 per cent on Tuesday.
Prashant Kumar on Tuesday ruled out a forensic audit of the lender's books. Kumar also said there was absolutely no worry on the liquidity front and a complete operational normalcy will be restored from 6pm on Wednesday.
The retired SBI banker, who will formally take over as the chief executive and managing director on March 26 as per the rescue plan authored by the RBI, further said he expects Rs 8,500-10,000 crore recoveries in the March quarter.
as the bank has already made higher provisions of over 72 per cent from 42 per cent and that he does not expect more than the already announced 5 per cent more slippages.
"There is absolutely no need for a forensic audit on the books of Yes Bank as what we have declared in the Q3 (third quarter) results as doubtful assets are on most conservative (basis). If at all we finally book an additional Rs 8,500 crore in fresh slippages, our higher provisions at 72 per cent will make sure that the credit cost comes down in absolute terms," Kumar said.
"We have made adequate precautions. All our ATMs are full with cash. All our branches have adequate supply of cash. So, from Yes Bank side, there is absolutely no issue on the liquidity front," Kumar observed.
He also clarified that there would not be any need to depend on external sources for liquidity.
"But if there is a case, then those liquidity lines are adequately available to the bank," he said and assured depositors that there was no need to worry about the safety of their deposits.