SBI plans to invest Rs 10000 crore in Yes Bank
Assurance for SBI shareholders, Yes depositors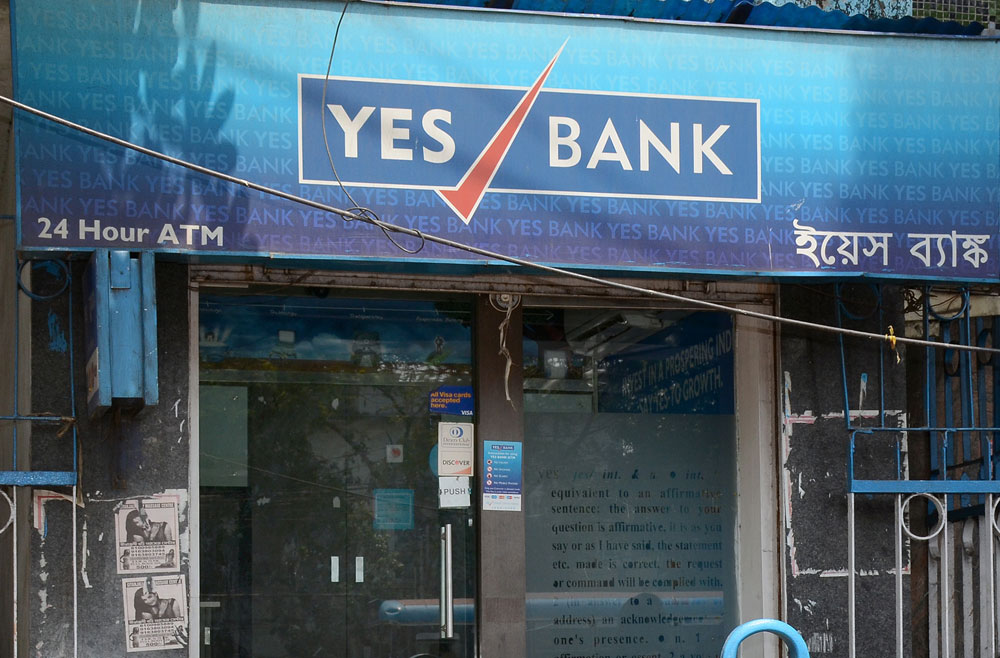 SBI has received interest from multiple domestic and foreign investors.
Telegraph file picture
---
Mumbai
|
Published 07.03.20, 06:44 PM
|
---
State Bank of India (SBI) chairman Rajnish Kumar on Saturday said the total investment by the PSU lender in Yes Bank will not exceed Rs 10,000 crore even as it has received queries from multiple investors who are keen to pick up a stake in Yes Bank.
The country's largest bank is set to acquire up to a 49 per cent stake in Yes Bank, which has been struggling to raise capital. Initially, it will be investing up to Rs 2,450 crore by subscribing to 245 crore shares of the private sector lender at a price of Rs 10 per share.
On Friday, the RBI had announced a draft reconstruction scheme called Yes Bank Ltd Reconstruction Scheme, 2020. Suggestions will have to be sent to the banking regulator by March 9. According to the scheme, SBI will have to stay invested in Yes Bank for at least three years with a minimum stake of 26 per cent.
At present, the authorised capital of Yes Bank stands at Rs 800 crore. This will be raised to Rs 5,000 crore. Similarly, the number of equity shares will be raised to Rs 2,400 crore.
The SBI chief said his investment and legal team was conducting a due diligence on the reconstruction scheme and the bank will give its responses to the RBI by Monday.
He added that SBI has already received queries from multiple domestic and foreign investors who are keen to partner the PSU lender in Yes Bank. Kumar said if SBI becomes the sole investor in the bank and picks up a 49 per cent stake, the immediate investment requirement will be Rs 2,450 crore.
Though he did not disclose the identity of these potential investors, Kumar said the bank will be also mindful of the RBI and Sebi regulations while bringing in any such investor.
"There are many potential investors. After seeing the scheme, they have approached us and there are some good names. Whatever and whoever is the co-investor or has willingness, there are a few things we have to keep in mind. Anybody who wants to go above 5 per cent will have to meet the fit and proper criteria of the RBI. If they are FIIs, they have to be eligible under FPI or FDI guidelines. There are certain regulatory norms when it comes to investment in the financial sector, particularly banks," he said.
He added that SBI's investment team will discuss with the investors, work out the details according to the regulatory guidelines and then present a plan to the regulator along with some other names. However, no firm decision has been taken on this till now.
Hoping that SBI does not have to play a trouble shooter at all times, Kumar defended the decision to invest in Yes Bank as he referred to the systemic implications that could result if the bank went bust.
"Any enterprise, irrespective of the ownership, is a national asset. If it closes down, it is a huge loss to everyone — employees, the ecosystem which an enterprise supports," he said, adding that the involvement of SBI in resolving the crisis at the private lender will allay the fears of investors and depositors.
"Today if the resolution has to happen, you need a credible name with the investors, creditors and depositors of the bank. With SBI standing behind it, there will be stability in the financial market," he said. Moreover, SBI's investments, he disclosed, have always yielded value.
Kumar also sought to assure shareholders of SBI that they do not have to worry about the impact of the proposed investment on the bank's balance sheet as the funds infusion will only have a marginal impact on its capital adequacy ratio.
At an event in Calcutta, Hero Enterprise chairman Sunil Kant Munjal said, "It is a good thing that SBI is coming in with a 49 per cent stake and if they do that in the next few weeks, it would be back to normal."
IndusInd move
IndusInd Bank has deferred its plans to raise funds using additional tier-I instruments. The original plan was to borrow in local or foreign currency through AT-1 instrument or tier-II capital. The board meeting of March 9 has also been deferred.