Rights issue on Jet Airways revival radar
Debt-ridden airline accepts resolution plan to plug a funding gap of around Rs 8,500 crore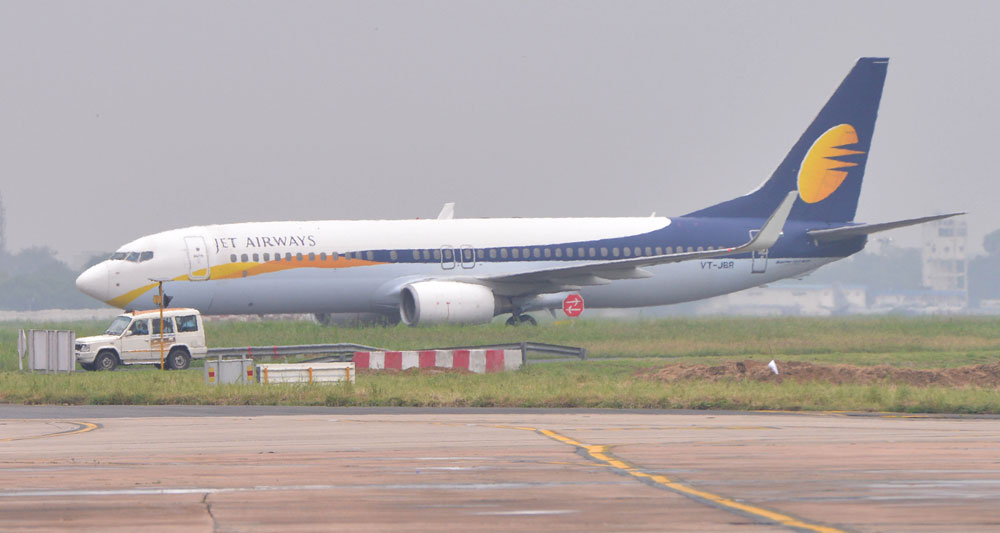 A Jet Airways aircraft
Picture: Prem Singh
---
Mumbai
|
Published 15.02.19, 07:58 PM
|
---
Crisis-hit Jet Airways may come out with a rights issue that could see the participation of promoter Naresh Goyal and Etihad.
The board of the full service carrier had approved a bank-led resolution plan (BLPRP) on Thursday to plug a funding gap of around Rs 8,500 crore.
While this includes equity infusion apart from debt restructuring and sale or sale & lease back of aircraft, the buzz is that the airline could come out with a rights issue for its existing shareholders.
The size of the proposed rights issue could be around Rs 4,000 crore and it could be offered at a discount to the current market price.
Interacting with analysts on Friday, the senior management of the airline declined to divulge the specifics of the draft resolution plan that had been proposed by the State Bank of India, the lead lender.
They, however, hinted that the shareholding structure could again change depending on the infusion of capital by various shareholders and the details of the resolution plan will be announced once the various approvals are received.
The draft resolution plan entails the allotment of 11.40 crore shares to the lenders in liue of the outstanding debt. This will give the banks a little over 50 per cent stake in the airline. This will also lead to promoter Naresh Goyal's stake coming down to around 25.5 per cent in the airline, while that of Etihad will fall to around 12 per cent.
During the conference call, the Jet Airways management added that while the banks will not become promoters, the company will be professionally run and the existing structure of a senior management team reporting to the board of directors will not change.
The gross debt of the airline stood at over Rs 7,600 crore for the quarter ended December 31, 2018, of which aircraft debt is around Rs 1,700 crore.
The airline owns 16 aircraft; it could also raise another Rs 1,500 crore through their sale and leaseback.
Meanwhile, a business news channel on Friday reported that the National Investment and Infrastructure Fund could get up to 20 per cent stake in Jet Airways.
Investors reacted positively to the resolution plan with shares of Jet Airways ending with gains of almost 3 per cent, or Rs 6.75, at Rs 232.55. During intra-day trade, the stock gained 7.55 per cent to hit a high of Rs 242.85.
The full-service carrier is holding an extraordinary general meeting on February 21 where it will seek shareholders' approval to convert part or the entire debt into equity.
One of the items on the agenda is to increase the authorised share capital from
Rs 200 crore consisting of 18 crore equity shares and two crore preference shares each to Rs 2,200 crore. This will consist of 68 crore shares and 152 crore preference shares.